Bitcoin's Ordinals are down bad from their May peak, but determining exactly how far the hype has dropped has pundits and experts feuding.
A contentious debate stirred last week after a report surfaced showing Bitcoin Ordinal sales volumes had dropped 97% from May to August.
DappRadar's report indicated "declining interest" in the wider NFT space, with trading volume for unique active wallets on Ethereum and Polygon dropping by 22% and 60%, respectively.
Figures for Ordinals were purportedly far more pronounced, however.
Bitcoin Ordinals are Bitcoin's version of non-fungible tokens (NFTs). They are digital artifacts inscribed onto individual satoshis, the smallest denomination of a Bitcoin (BTC).
Per DappRadar, unique active wallets for Ordinals also fell from their June peak of 85,316 to just 6,708 as of August 14, marking a whopping 92% drop.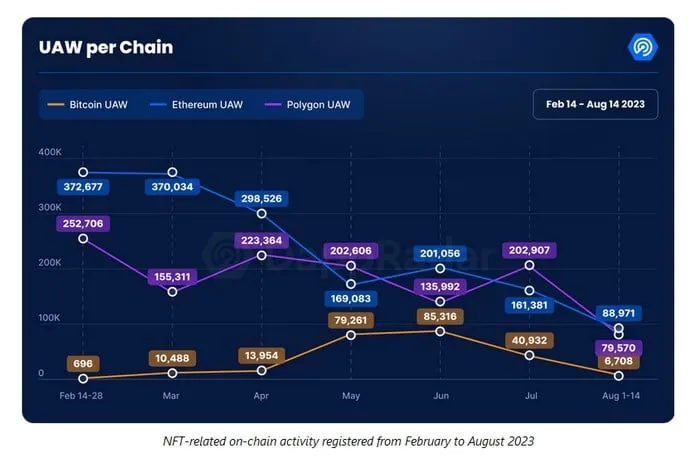 As expected, these numbers led some to speculate that Ordinals are dead, landing hefty pushback from some in the Ordinals community.
Bitcoin entrepreneur and head of the Bitcoin Frontier Fund Trevor Owens fought the FUD with a lengthy Twitter post claiming DappRadar's report had been a "hit piece" with "highly inaccurate" information.
He told Decrypt that he would "have liked to find some value" in the report, but "when the data is wrong it's difficult to find anything redeeming," claiming there are "clear indexing errors in their tech."
Ordinals, apples and oranges
Several other on-chain data providers offered different figures than those published by DappRadar.
For example, Crypto Slam, a multi-chain NFT data provider, has sales volumes for May sitting at $195 million, a far cry from the $452 million reported by DappRadar.
A Dune Analytics dashboard puts Ordinals sales volumes for May at roughly $154 million, closer in line with Crypto Slam's figures.
July volumes on Crypto Slam were $65 million, while DappRadar's report showed $35 million. Although the Dune dashboard clocks $50 million, the percentage drops, again, line up with Crypto Slam rather than DappRadar.
Cross-referencing between Crypto Slam and Dune Analytics, both indicate a May to July drop of 67% and 69% in sales volume, respectively.
It's still quite a brutal fall, but it showcases a vast difference from DappRadar's 92% figure.
Beyond these figures, what raised the most red flags for Ordinals fans was comparing entire months to just two weeks in August. For Owens, "the calculation that determined the 97% [drop] was based on 14 days in August and 31 days in May" was the most egregious bit of the report.
Several other prominent Bitcoin Ordinal fans echoed the sentiment, including Doggfather, the pseudonymous creator of the Frens Protocol, an Ordinals-based social graph on Bitcoin. He told Decrypt that "the most obvious error of the reporting was comparing full months to August's fifteen days."
Jake Gallen, head of NFT and Strategy at Emblem, a tool that lets users store tokens across blockchains, also told Decrypt the numbers aren't entirely right. "They included BRC-20 transaction volume data in some areas but not others," he explained, adding that "volume is down but there are also tens of thousands of transactions per day."
'Ordinals an odd beast', says DappRadar
Senior Communications Manager for DappRadar, Robert Hoogendoorn told Decrypt "Ordinals are an odd beast," which require a "unique methodology."
He doesn't label the current discussion as a controversy, and that they "aim to be open and transparent about how we track things."
Hoogendoorn shared a prepared statement from DappRadar that countered the "strong criticism from Ordinals community members questioning the credibility of our data and analysis."
"Our team members are experienced Web3 analysts and reporters" and "the data published is accurate," reads the statement.
Although DappRadar acknowledged "potential discrepancies," due to BRC-20 swaps made through marketplaces, the team explained that "we're mainly focusing on NFTs [and] Inscriptions. Unlike other platforms that track transactions not visible on the block explorer and which remain unconfirmed, we've chosen to exclude such data."
That said, neither Hoogendoorn nor DappRadar addressed the concerns regarding reporting on numbers for an incomplete month for August.
"What's more, DappRadar tracks trades on marketplaces such as Unisat and Ordinals Wallets, markets that peaked earlier this year and were perhaps not covered by competitors," the statement continues.
Regardless of which numbers users turn to, though, the reality is still pretty bleak for Ordinals. But that's true for much of the industry.
According to Isabel Foxen Duke, former communications director for the Ordinals protocol, the market "is down after a hype cycle," but she told Decrypt "It's hard to take seriously the idea that Ordinals are going away."
"Historical inscriptions will always have value to collectors at a certain price," she concluded.