Existing companies have increasingly leveraged blockchain technology – either on the infrastructure or consumer-facing side – to boost consumer appeal and enhance their tech stacks. Brands that do this effectively are able to attract a larger customer base and stay ahead of the curve as crypto grows in popularity. Crypto adoption by enterprises is on the rise, and a few examples of companies that have integrated web3 into their platforms in unique ways are highlighted below.
Tiffany & Co
Tiffany & Co recently launched an "NFTiffs" collection created exclusively for CryptoPunks holders. The collection had only 250 NFTs and were priced at 30 ETH each (~$50k at the time). NFTiffs – which essentially give holders access to diamond pendants that look like their Punk – sold out within just 20 minutes of their launch and generated $12.5M for Tiffany.
To power the drop, Tiffany used Chain, a web3 software solutions platform that partners with large companies to integrate with blockchain technology in various ways. As Hypemoon noted, digital identities are beginning to be expressed more in the real world, particularly when it comes to the categories of blockchain and crypto. Further, a brand as iconic as Tiffany entering into the NFT sphere is indicative of incumbent web2 companies showing an appetite for crypto at large.
Tiffany & Co NFTiff pendant. Source: Twitter
Space Runners x Balmain
Metaverse fashion brand Space Runners has partnered with Balmain to create digital counterparts to their iconic Unicorn sneakers, bridging the divide between Balmain's physical and digital brand. Before this collaboration, Space Runners had not worked on a "phygital" project as they mostly specialize in metaverse fashion.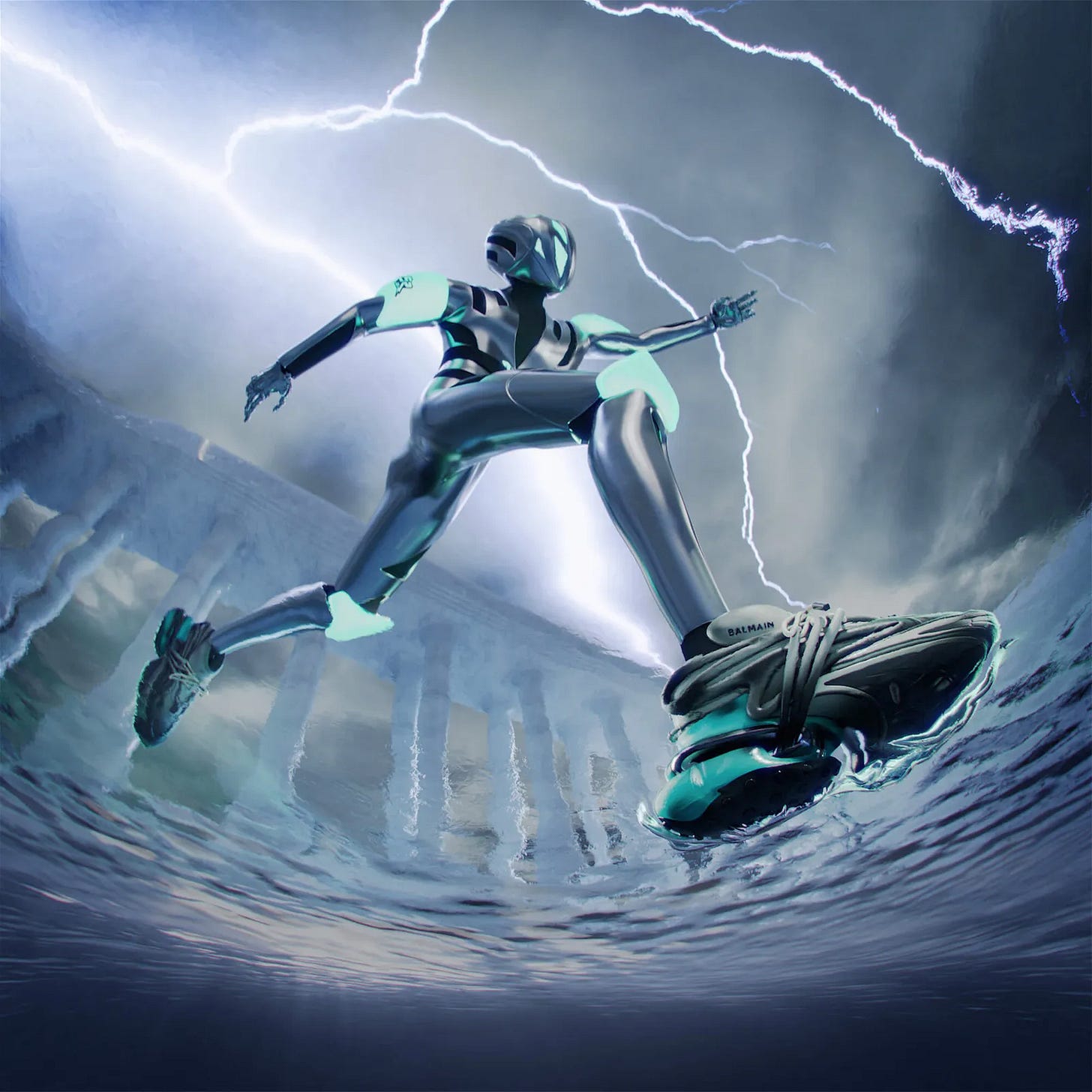 Source: Balmain, Space Runners, Vogue
Balmain has been quick to adopt web3 technology, but this is Balmain's first step into translating their physical product to the metaverse fashion sphere: this launch will be its first full NFT collection. The waitlist for the Balmain x Space Runner's collab will open up within the next week and the sale will go live in March, according to Vogue. One of Balmain's goals in this launch is to help bring their strong web2 community over to web3: "We have a very engaged and active Web2 community, and little by little we are educating them into Web3, and also building a bridge between Web2 and Web3 communities," Balmain CMO Txampi Diz said. Diz also cited the strong link between the sneaker community and web3 community, saying "they are very intertwined." According to Vogue, the project will debut at NFT.Paris.
Nike
About a year ago, Nike acquired metaverse fashion company RTFKT as an initial step into blockchain for the massive company. Beyond the acquisition, Nike is stepping into the crypto world in other ways, said Business Insider. Nike recently got a patent for an "avatar for social network services," and another for "intelligent electronic shoes." Another initiative is building out a metaverse space on popular game Roblox, Nikeland, allowing users to purchase metaverse goods with in-game currency.
A recent drop from RTFKT. Source: OpenSea and RTFKT
Further, Nike is launching a new platform called .SWOOSH, which allows users to trade virtual Nike gear that can be used "as wearables in games or other immersive experiences." The vice president and general manager of Nike Virtual Studios, Ron Faris, also stated that "We are shaping a marketplace of the future with an accessible platform for the web3-curious. In this new space, the .SWOOSH community and Nike can create, share, and benefit together."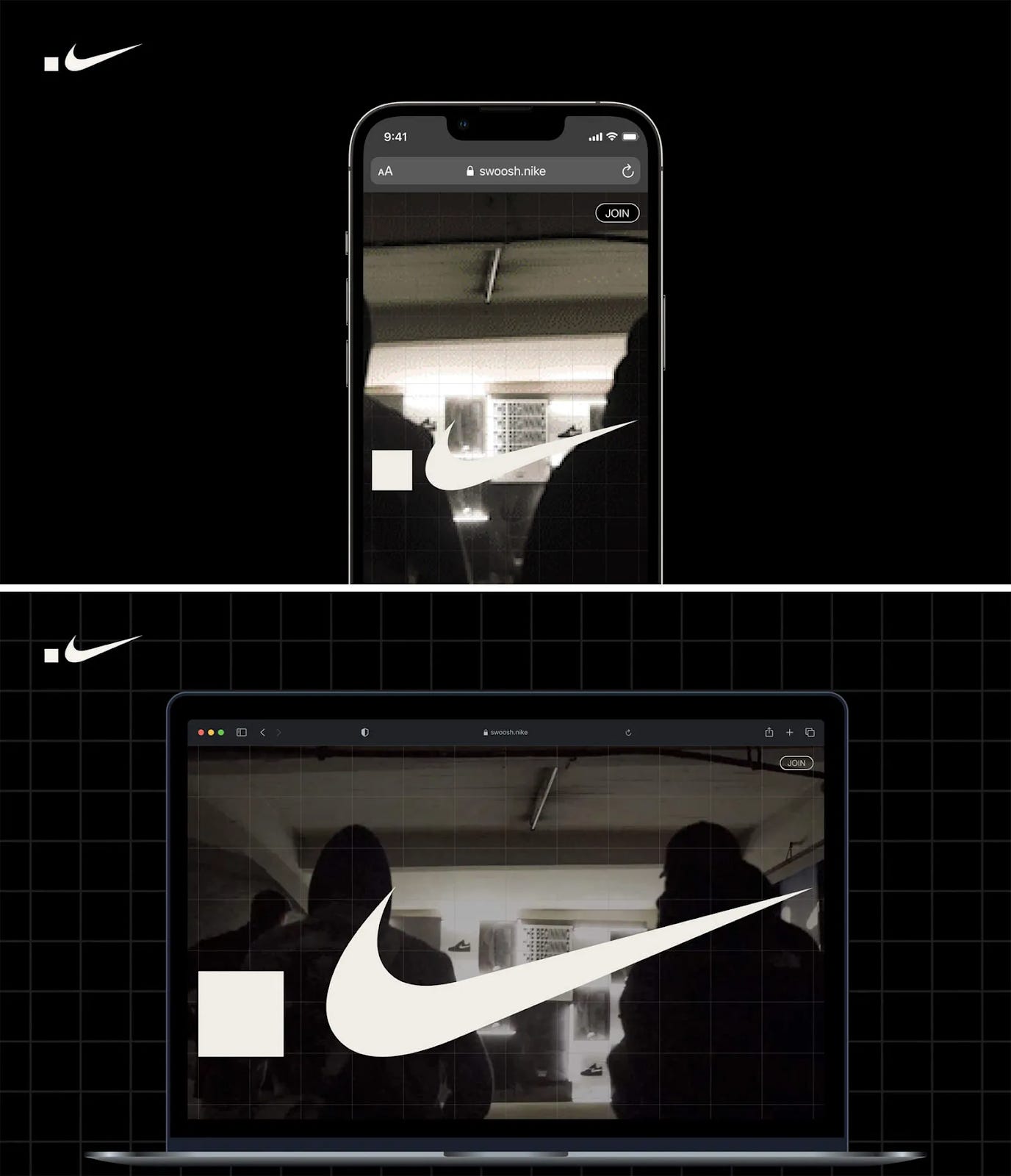 .Swoosh by Nike. Source: Nike and Vogue Business
Nike's push into virtual reality and crypto, like Tiffany, puts them in a better market position as this technology is increasingly demanded by users. From RTFKT and web3 products, Nike has made more than $185M, putting them ahead of competitors Adidas and Puma, which have made around $11M and $1.3M, respectively. According to Vogue Business, RTFKT has also generated $1.29B in secondary royalties.
Starbucks
Starbucks recently introduced Odyssey, a blockchain-backed rewards initiative powered by Polygon that builds on top of their current rewards program. "The experience allows members to participate in a series of entertaining, interactive activities called 'Journeys.' Once a Journey is complete, members will earn collectible 'Journey Stamps' (NFTs) and Odyssey Points that give access to new benefits and immersive coffee experiences that they cannot get anywhere else," said Starbucks. The Starbucks Odyssey market will be powered by Nifty Gateway.
Source: Polygon
Starbucks has an incredibly impressive loyalty program, with active Starbucks Rewards members reaching over 27M in Q3 of 2022. By integrating blockchain technology into their program, Starbucks is leveraging web3 to reach a larger audience via an immersive and rewarding experience for its users.
Companies are embracing blockchain in other ways as well:
These examples are just a few exciting events around companies welcoming NFTs and blockchain technology into their platforms and products. As the NFT market grows, many different types of enterprises will accept web3 in various ways and I'm looking forward to seeing it unfold.