Bitcoin has been leading the attention of the analysts. But the one altcoin that managed to remain standing in the eyes of investors is ADA. A decent yet moderately notable asset has managed to receive the second breath of fame. Despite being a utility token for a cutting-edge layer-3 tech stack, it has received numerous outlooks for its future.
In this article, we'll dot the i's and cross the t's of ADA's potential movements with the aid of analysts' sharp eye.
Let's kick into high gear!
How's ADA been doing?
Since its surge in 2021, Cardano did not show any specific bullish sentiment. Just by contrast, it entered the bear era until it levelled its volatility. Still, it has remained to show spiky trends, continuously decreasing in price. As of October 20, 2023, it reached the price of $0,25.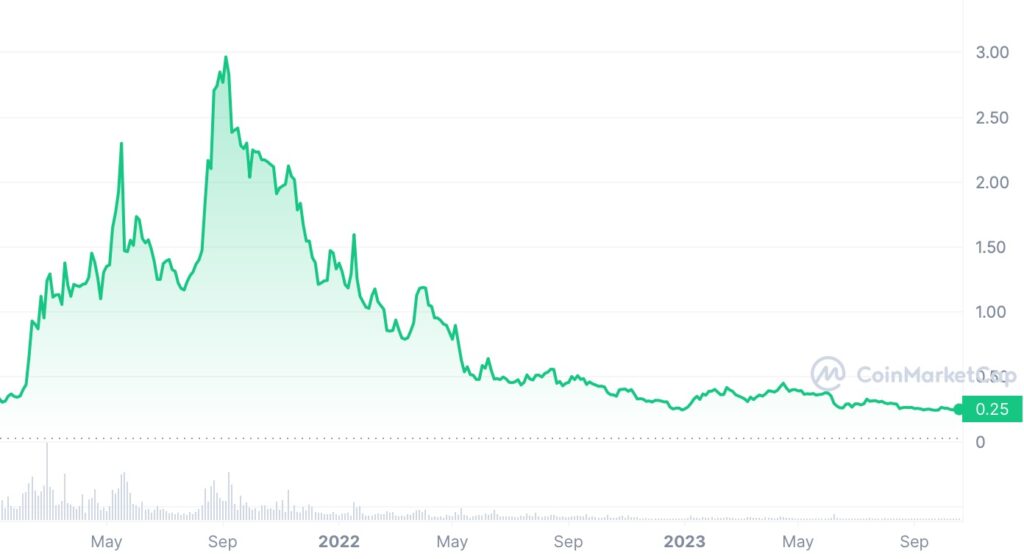 The notable thing is: the interest to ADA did not comply with its actual price. The high volume of it was indicated even at its lowest. Namely, in June 2022, its capitalisation reached almost $650 million at the price of ca. $0.51.
As of October 19, the market cap of ADA is relatively low and counts $8,551,996,724, which seems to be a fair number for such a price. This didn't stop investors from keeping the faith in the asset. But what reasons do they support such claims with?
Breaking Trend
Many analysts converge in the point that ADA got the sentiment switched. This radical turn took place in July 2023, when the asset took the course to the bullish triple-bottom area.
The RSI indicator also demonstrates a distinct bullish sentiment. Currently it is reading 50.19 that means a considerable bullish divergence owing to the triple bottom pattern.
What is more, the 4-hour MACD indicator is now heading for the bullish zone.
---
For your education:
RSI is used as a momentum indicator to gauge whether a market is overbought or oversold.
The RSI rate above 50 during an upward trend indicates an advantage for bulls. A reading below 50 suggests bears are in charge.
An RSI reading above 50 during an upward trend indicates an advantage for bulls. A reading below 50 suggests bears are in charge.
While the RSI is at the 50 line, it demonstrates considerable bullish divergence throughout the triple bottom pattern. This very divergence occurs when an increase in the RSI accompanies a decrease in price. It often precedes bullish trend reversals.
---
What's Behind the (Broken) Trend?
Dan Gambardello outlined a potential explanation for ADA's movements. In his opinion, "altcoins like Cardano are going to absorb a massive portion of the trillions of dollars about to enter this space".
He also dispelled a prejudice about Cardano's bearish outcomes, arguing that ADA is indicating similarity to the previous halving cycles.
As Cardano price fizzles out towards its bottom, it's shocking to see how many people come to the conclusion that this signifies weakness. ADA is doing exactly what it did last cycle. It's simple data. It's not difficult to see what's happening if you zoom out
A rather similar, yet not so optimistic outlook is cited by Benjamin Cowen. He notes that the trend is broken, and ADA is about to decrease by 50%, reaching 400 satoshi in relativity to BTC.
According to Cowen's analysis, Cardano experienced a critical breakthrough of a key trendline, triggering a phase of accumulation before entering a subsequent downtrend.
Despite a brief consolidation phase, ADA's gradual departure from this period led to the erosion of vital support levels.
---
In a nutshell, it is possible that ADA's price action continues to reflect a tenacious effort to resist the downward pressure and retain a foothold within the symmetrical triangle. Crucially, the traders should be incredibly cautious as volatile ADA's market is turning the tides of the trend. This future tangles between bullish sentiment and bearish trend, maintaining a fragile balance. But it should not come as a decision basis for you.
Pivotally, in order to gain trading success, establish the guiding principle, which is: always do your own research. Do not consider this article financial advice or a call to specific action. Use it as an educational basis for your own strategy instead.