Hong Kong, 28 August 2023 – HashKey Exchange, the first licensed retail virtual asset exchange, announces its official launch today. Together with executives from the HKSAR government, top-tier banks, insurers, and Big 4 auditing firms, HashKey Exchange held the grand launch in Hong Kong. Direct USD and HKD transfers from bank accounts are supported. Fiat trading pairs are now available on the Web end, starting with BTC/USD, ETH/USD, USDT/USD at launch with more to come.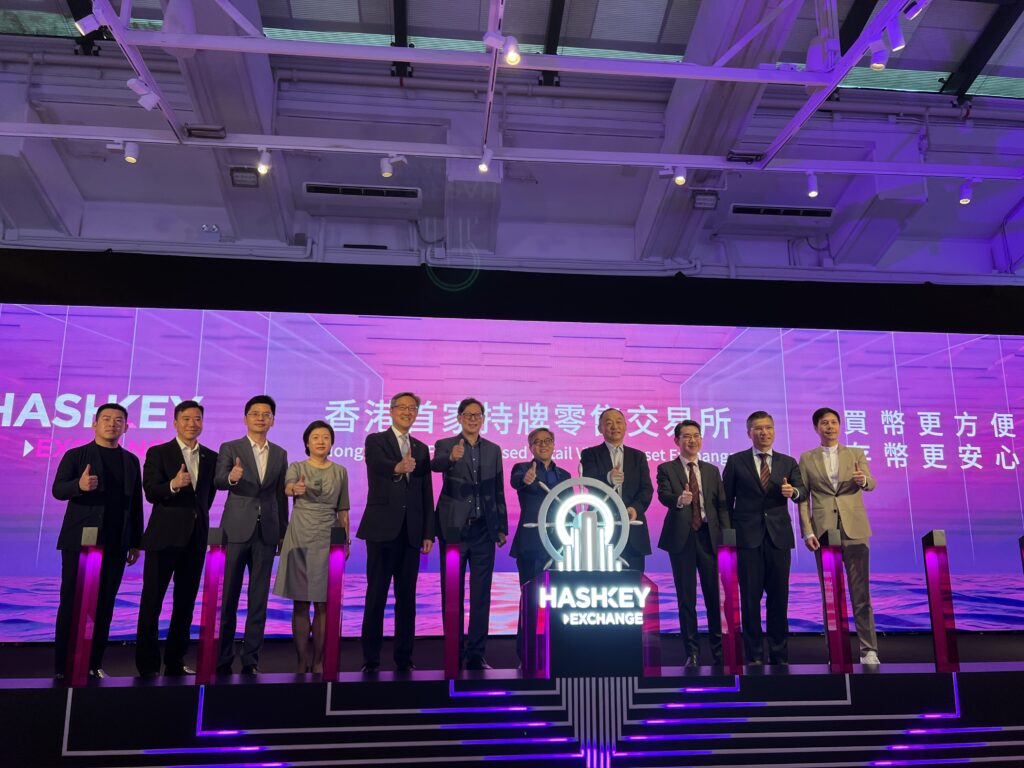 Setting Sail in the Web3 Era in Hong Kong
The HashKey Exchange Grand Launch was successfully held today at the Maritime Museum Central, Hong Kong. Joseph Chan Ho-lim, JP, Undersecretary for Financial Services and the Treasury, Dr. Jimmy Chiang, Associate Director, InvestHK, Norman Chan Tak-lam, GBS, JP, Chairman, Hong Kong Web3 Association delivered their speeches, extending their congratulations to HashKey Exchange for its official launch and offering insights into the development of the Web3 industry in Hong Kong.
Dr. Xiao Feng, Chairman and CEO of HashKey Group, announced the official launch of HashKey Exchange and its retail trading services. Mr. Lu Weiding, Chairman of Wanxiang Group, joined 10 distinguished guests in turning the symbolic "helm," marking the start of Hong Kong's Web3 era. Speeches were delivered by Mr. Ronald Lu, CEO ZA Bank, Mr. Thomas Crasti, Partner at PwC, and Mr. Zhang Sizheng, CEO of AIA Hong Kong.
Hong Kong's First Licensed Retail Virtual Asset Exchange is Live Now
Livio Weng, COO of HashKey Group, unveiled the next-generation high-performance trading system, the "HEX Engine," supporting 5,000 transactions per second (TPS) to deliver a more stable, faster, and user-friendly trading experience. Weng also announced a comprehensive upgrade to institutional business solutions, offering robust API interfaces and enhanced account management features (including the Omnibus Account) to provide brokerage and institutional clients with deeper trading liquidity and smoother experiences.
As an lisensed entity under the Hong Kong Securities and Futures Commission, HashKey Exchange has devoted substantial resources to establish a native compliance product framework. Covering a comprehensive spectrum including user admission inspection, anti-money laundering (AML) inspection, transaction monitoring, and intellectual property (IP) oversight, creating a complete regulatory closed-loop system. This system spans the entirety of internal operational processes, ensuring a robust compliance safeguard for investors.
HashKey Exchange Boasts 6 Key Features:
• Fiat Currency Deposits and Withdrawals: In partnership with leading commercial banks, we offer USD/HKD fiat currency deposit and withdrawal services, allowing direct transfers between bank accounts and HashKey fiat accounts.
• Fiat Trading Pairs: Providing retail customers with fiat trading pairs such as BTC/USD and ETH/USD, with plans to support additional fiat currencies and pairs, including HKD in the future.
• Licensed Custody: Independent licensed custody system subject to regular inspections by the securities regulators. We hold a TCSP (Trust or Company Service Provider) license.
• Cold and Hot Wallet Separation: 98% of digital assets are stored in cold wallets and 2% in hot wallets, ensuring the security of the majority of assets.
• Asset Insurance: HashKey Exchange pioneers in the industry by introducing professional insurance institutions to provide insurance for client assets under custody.
• Authoritative Auditing: The platform strictly adheres to regulatory requirements, undergoing audits and compliance checks by the Big 4 accounting firms, fully complies with various regulatory provisions, establishing itself as one of the most secure exchanges globally.
HashKey Exchange is currently operating 24/7, strictly adhering to the SFC's user registration and KYC requirements. The platform supports USD and HKD fiat deposits and withdrawals, offers trading pairs like BTC/USD, ETH/USD, and plans to introduce more virtual asset pairs following regulatory guidelines.
HashKey Exchange has officially launched a zero trading fee promotion, effective immediately, offering all customers zero commission trading on all transactions. To celebrate the launch, HashKey Exchange introduced the Triple Award campaign "HashKey Grand Launch Festival" which includes benefits for new users and HSK (HashKey Ecosystem Points) mystery box giveaways.
For more details about HashKey Exchange's products, please visit www.hashkey.com."
About HashKey Exchange
On a mission to set the bar for virtual asset exchanges in compliance, safety, and security, HashKey Blockchain Limited (HashKey Exchange) is Hong Kong's first licensed virtual asset exchange for retail users. HashKey Exchange has recently received approval from the Securities and Futures Commission (SFC) of Hong Kong to operate a virtual asset trading platform under Type 1 (Dealing in securities) licence and Type 7 (Providing automated trading services) licence. As HashKey Group's exchange business, HashKey Exchange provides all-in-one trading services for both professional investors (PI) and retail investors. HashKey Exchange has obtained ISO 27001 (Information Security) and ISO 27701 (Data Privacy) management system certifications.
Stay tuned for more details about HashKey Exchange.
Follow us on Twitter and LinkedIn.
For media enquiries and more information, please contact:
HashKey Exchange
Luna Wang
Senior PR Manager
luna.wang@hashkey.com
About HashKey Group
HashKey Group is an end-to-end digital asset financial services group in Asia. The Group provides a complete ecosystem across the entire digital asset landscape, ranging from trading, custody, venture investment, technologies to Web3 infrastructure. HashKey's senior team has decades of investment and trading experience and deep market insights gained from tier-one banks, regulators and FinTech ventures. By bringing together the most advanced blockchain research and development and technologies, HashKey identifies potential opportunities and delivers end-to-end solutions that operate within regulatory frameworks with the highest compliance standards. The Group has operations in Hong Kong, Singapore and Japan, and extensive partnerships with FinTech and blockchain solutions providers, academic institutions and associations.
Website: https://www.hashkey.com/
Twitter: https://twitter.com/HashKeyGroup
Chinese Twitter: https://twitter.com/HashKeyGroupCHI