HashKey Web3 Ecosystem Sparks the Innovation of Tomorrow and Empower the Real Economy
Hong Kong, 30th October 2023 – The VIP Opening Ceremony of Hong Kong FinTech Week 2023 (HKFW) was successfully held at the Hong Kong office of HashKey Group on October 30. Mr. King Leung, Head of Financial Services and Fintech of InvestHK, Mr. Bojan Obradovic, Chief Digital Officer of HSBC Hong Kong, Dr. Xiao Feng, Chairman and CEO of HashKey Group, and Ms. Karena Belin, CEO and Co-Founder of WHub, participated in the opening ceremony and delivered speeches.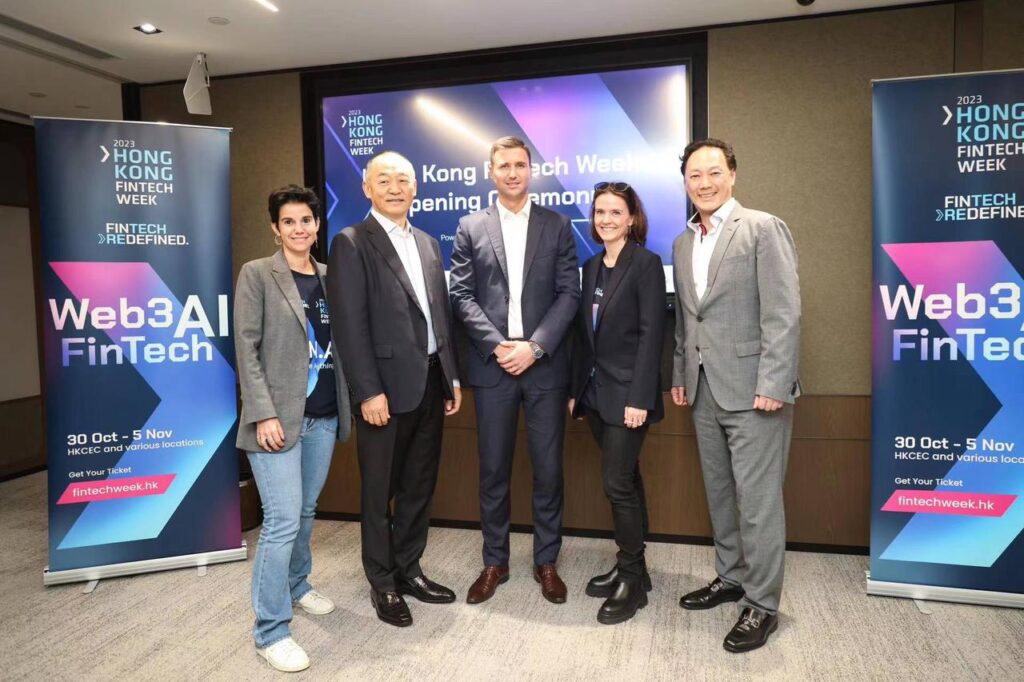 The eighth edition of HKFW, themed "Fintech Redefined, aims to shape the future of fintech across various dimensions of financial services and beyond. HashKey Group is proud to be the "Gold Plus Sponsor" of this pivotal event.
As the organiser of the Hong Kong FinTech Week, Mr. King Leung, Head of Financial Services and Fintech of InvestHK said, "With unified support across the public and private sectors in Hong Kong, our sponsors and industry players like HashKey have played a crucial part in the ecosystem. Their support has been a valuable contribution to FinTech Week, making this year's event possible and even better than ever before. We are thrilled to welcome guests from all over the world as we reclaim our position on the global stage. We are ready to showcase our competitiveness as the leading fintech hub of Asia and establish ourselves as the destination where new models, rules, and value creation redefine the fintech landscape."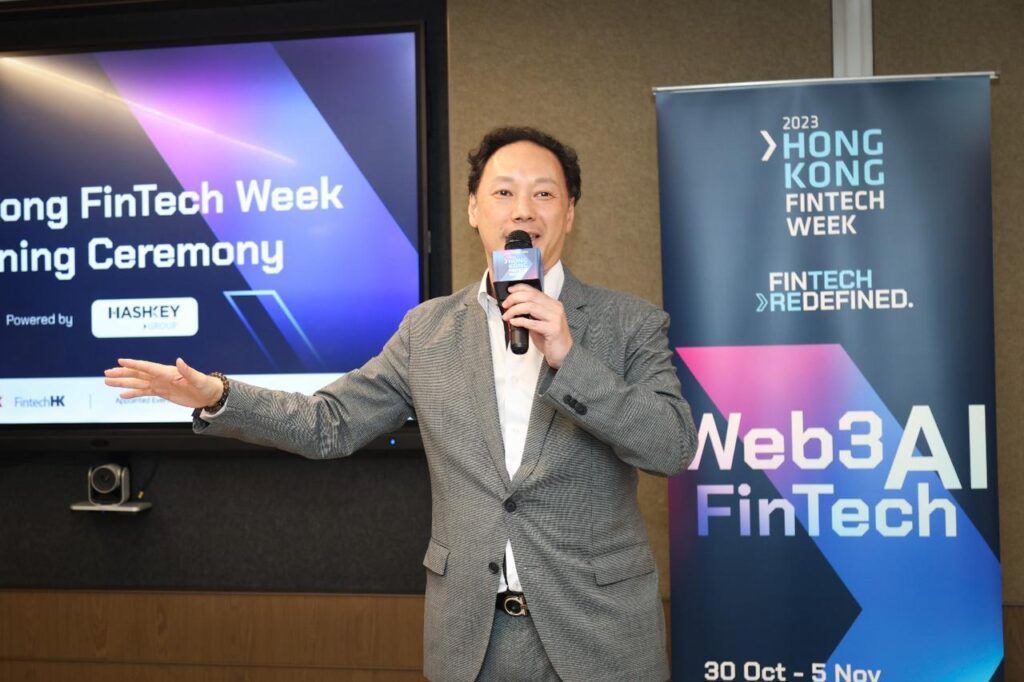 Dr. Xiao Feng, Chairman and CEO of HashKey Group, said, "HKFTW is the flagship event for the Hong Kong FinTech community. Fintech innovation is a key development area in Hong Kong, and the emergence of disruptive technologies like Web3 has already changed many existing business models, creating new opportunities for the industry. During this HKFTW, we will once again witness the power of innovation and explore more real-life applications of fintech. HashKey will also collaborate with other market participants to accelerate industry innovation and regulatory compliance, creating greater value to power the broader real economy."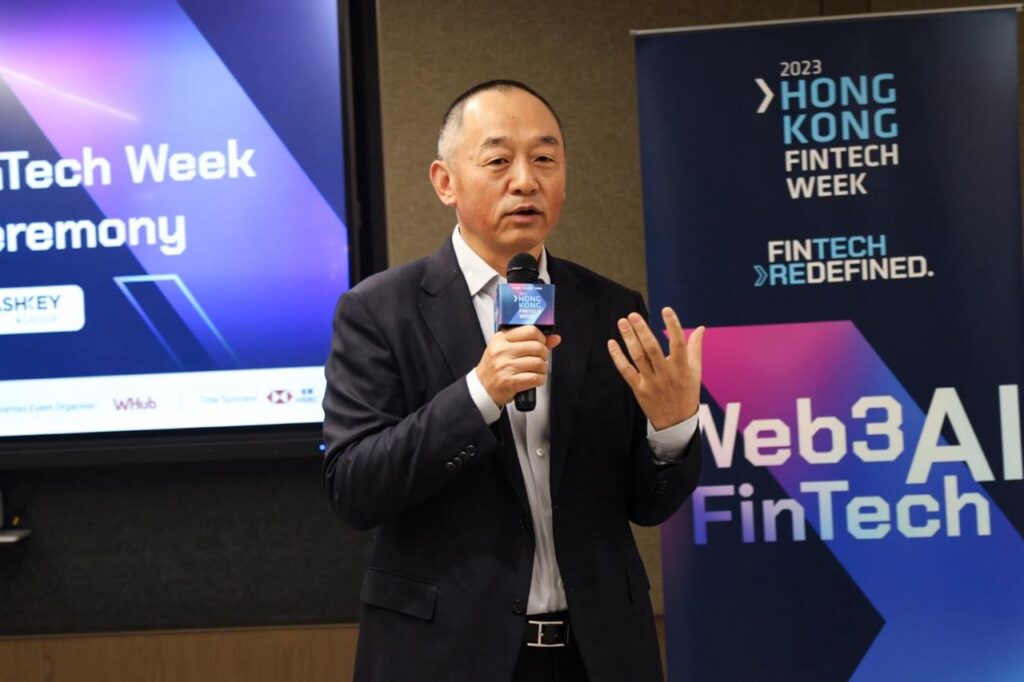 During the opening ceremony, HashKey Group also unveiled its full-stack Web3 ecosystem. By constructing a compliant, collaborative, and "all-win" Web3 ecosystem, HashKey Group aims to provide trustworthy services to one billion global users, making digital assets massively accessible.
The HashKey Web3 ecosystem includes HashKey Exchange, a licensed virtual asset exchange regulated by the Hong Kong Securities and Futures Commission; HashKey Capital, a global asset manager investing exclusively in blockchain technology and digital assets, managing over US$1 billion in client assets since its inception; HashKey Tokenisation, advises on, and executes, the tokenisation of various types of assets, with a particular focus on Web3 native asset; HashQuark, a world-leading blockchain node validation service provider; HashKey Wealth, a wealth management brand; HashKey NFT, a Web3 application; and Future3 Campus, a Web3-oriented incubation platform.
HashKey has consistently upheld the principle of compliance within its Web3 full ecosystem. Over the years, HashKey has engaged in extensive dialogues with regulatory authorities, exploring the path for stable and healthy industry development. Currently, the associated entities within the HashKey ecosystem hold multiple licenses in the region, including Types 1, 4, 7 and 9 License in Hong Kong, as well as an in-principle approval for a CMS license for fund management in Singapore. From this perspective, HashKey Group is one of the largest and best regulated institutional providers of digital assets in Asia. As a pioneer, HashKey Group strives to provide financial technology services to investors and users that are safe, transparent and trustworthy. The regulated Web3 ecosystem advocated by HashKey also allows more people to see the possibilities of compliant digital economic development and promotes Hong Kong's innovative finance into a virtuous cycle of growth."
During the Hong Kong FinTech Week, HashKey Group will participate in discussions on "Real World Asset Tokenisation", "Bringing Digital Assets and Web3 to power the broader Real Economy" and other topics, together with many industry leaders to jointly explore the innovative frontiers of future finance."
About HashKey Group
HashKey Group is an end-to-end digital asset financial services group in Asia. The Group provides a complete ecosystem across the entire digital asset landscape, ranging from trading, custody, venture investment, technologies to Web3 infrastructure. HashKey's senior team has decades of investment and trading experience and deep market insights gained from tier-one banks, regulators and FinTech ventures. By bringing together the most advanced blockchain research and development and technologies, HashKey identifies potential opportunities and delivers end-to-end solutions that operate within regulatory frameworks with the highest compliance standards. The Group has operations in Hong Kong, Singapore and Japan, and extensive partnerships with FinTech and blockchain solutions providers, academic institutions and associations.
Website: https://www.hashkey.com/
Twitter: https://twitter.com/HashKeyGroup