The "Asian Institution Night" event, organized by Circle, Legend Trading, Cobo, and Flashwire, took place on September 14th in Singapore. The event was attended by notable guests, including Circle CEO Jeremy Allaire, Legend Trading & Flashwire CEO Hao Chen, Cobo COO Lily, and more. Over 150 traditional financial and cryptocurrency institutions registered to participate, including more than 10 banks such as DBS, Standard Chartered, GLDB, BCG Group, and others. During the event, speeches were delivered by representatives of the organizers, including Circle CEO Jeremy Allaire, Cobo COO Lily, and the joint CEO of Legend Trading and Flashwire, Hao Chen.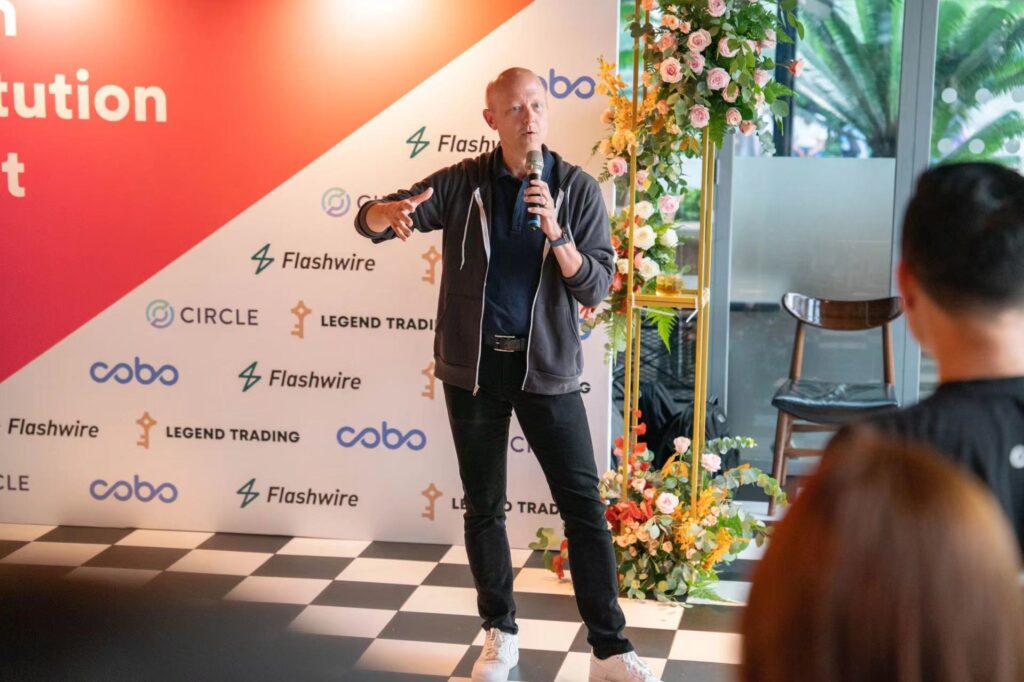 In Hao Chen's speech, he mentioned that Legend Trading, founded in 2019 in Palo Alto, the heart of Silicon Valley, specializes in fiat-to-crypto OTC and payment services. This location symbolizes not just a physical space but also the spirit of innovation and pioneering. Like numerous entrepreneurs and traders, Legend Trading confronted significant challenges during the COVID-19 pandemic and bear markets. However, they found that overcoming these difficulties made them more robust, resilient, and better equipped to navigate the ever-evolving crypto industry. They never foresaw that their company would expand to this extent, now serving over 800 institutions and countless retail users from more than 100 countries.
In 2021, Flashwire, Legend's sister company, embarked on its journey, offering digital banking, crypto debit cards, and institutional lending services. They secured $10 million in series A funding earlier this year. Additionally, they plan to offer tailored solutions to clients, such as sharing compliance tools and procedures with web3 institutions, enabling them to focus on product development while meeting regulatory requirements across jurisdictions.
Following this, Hao Chen highlighted that Asia is not only one of the world's fastest-growing economies but also a hub for technological innovation and digital finance. He emphasized that Singapore, in particular, presents vast opportunities and a fintech-friendly regulatory landscape. In response, they established local subsidiaries in the region last year, and their team is rapidly expanding. Additionally, he expressed his enthusiasm in announcing investments in local Singaporean companies, all of which are regulated financial institutions. This strategic move will enable them to gain a deeper insight into the local market and culture, thereby reinforcing their presence in the region.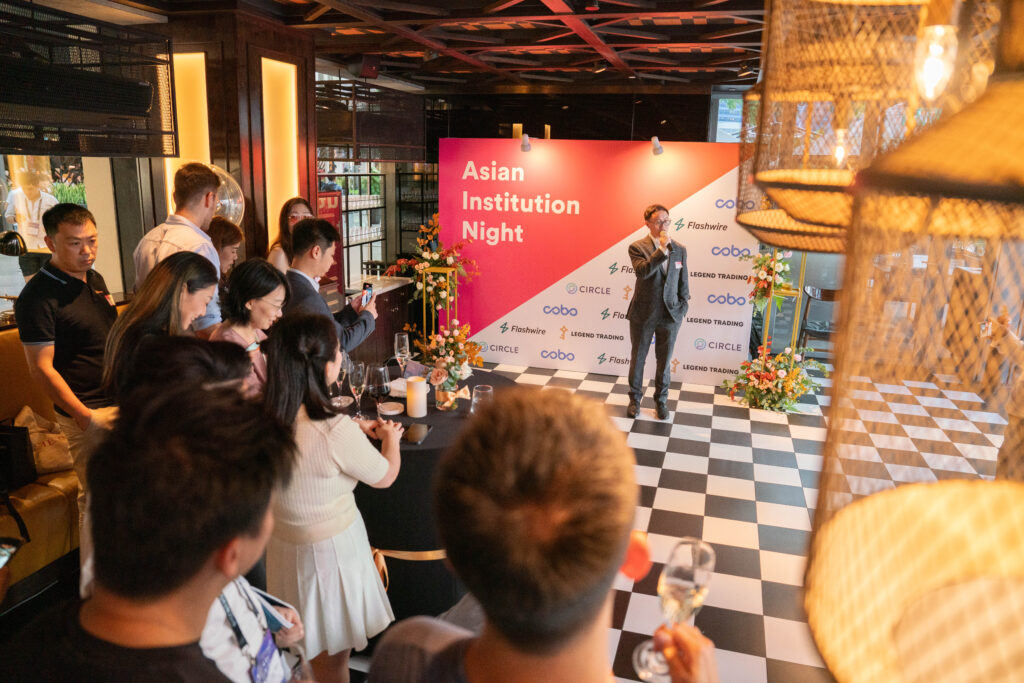 Continuing, Hao Chen discussed partnerships, highlighting that in addition to their crypto-oriented collaborators like Circle and Cobo, they have cultivated robust relationships with numerous entities within the traditional finance sector. These partnerships serve to bolster their offerings and services while simultaneously creating a vital connection between conventional finance and the cryptocurrency realm.
In the end of his speech, Hao Chen acknowledged their key team members, including Curis Wang, the co-founder and COO of Legend Trading, Yijia Wang, the co-founder and CBO of Flashwire, and Weida Cao, the co-founder and COO of Flashwire. These individuals bring a wealth of industry experience, having worked for various traditional internet companies, as well as large crypto exchanges, bitcoin miners, and prime brokerages throughout their careers.
During Lily's (Cobo COO) speech, she highlighted the complexity of the crypto space due to high volatility, security risks, and increased entry barriers. She noted that companies like Circle, Cobo, and Legend Trading are laying the groundwork for the next bull market through stablecoins, wallet solutions, and fiat onramps. Lily emphasized that global cryptocurrency firms are focusing on Asia as a primary battleground. Governments in the region, such as Singapore and Hong Kong, are paving the way for the vibrant growth of cryptocurrencies in Asia by providing clearer regulatory frameworks, encouraging real-world use cases, and tokenizing real-world assets (RWA tokens).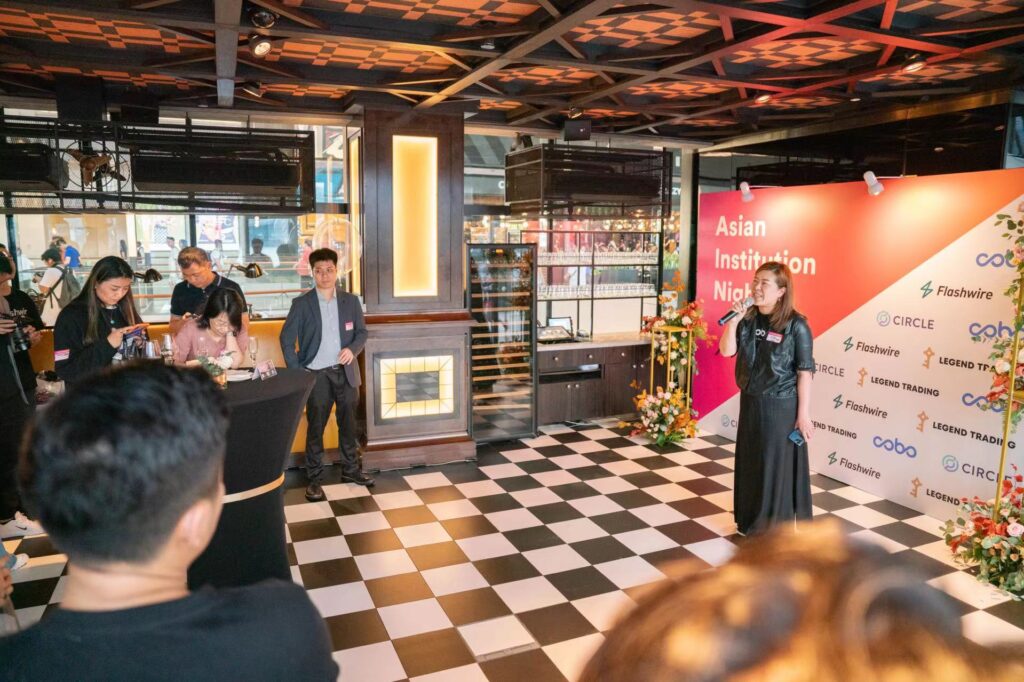 Looking back at the entire Token 2049 event and considering the insights from the numerous participants in "Asian Institution Night" and the content of the speeches, it is evident that Asia, being a market of enormous potential, is closely monitored by cryptocurrency companies globally. Notably, companies like Circle and Legend Trading, which have grown beyond their local origins, are actively and wholeheartedly participating in the development of the cryptocurrency industry in Asia. As Lily mentioned, financially developed regions in Asia, such as Singapore and Hong Kong, are embracing cryptocurrencies through clearer regulatory frameworks, contributing to the growth of the cryptocurrency industry in the region.