by Kate Irwin
Raini Studios' The Lords of Light is like Hearthstone, but chock-full with crypto memes and famed personalities.
Hearthstone, but make it crypto? It's not a completely new concept, but Raini Studios' debut game The Lords of Light fits the bill—and then some. And it differentiates itself from card-battling rivals by leaning into the culture (and memes) of its crypto heritage.
Raini shared the open beta of its turn-based card strategy game—with NFTs available across Avalanche, Ethereum, and BNB Chain—at last week's Game Developers' Conference in San Francisco.
Attendees battled against AI-powered bots with free-to-play card decks onsite at the sizable Avalanche GDC booth—and again at an afterparty hosted by Web3 gaming infrastructure firm Stardust, where RGB lighting, loud music, pizza, and ping-pong action flooded the venue.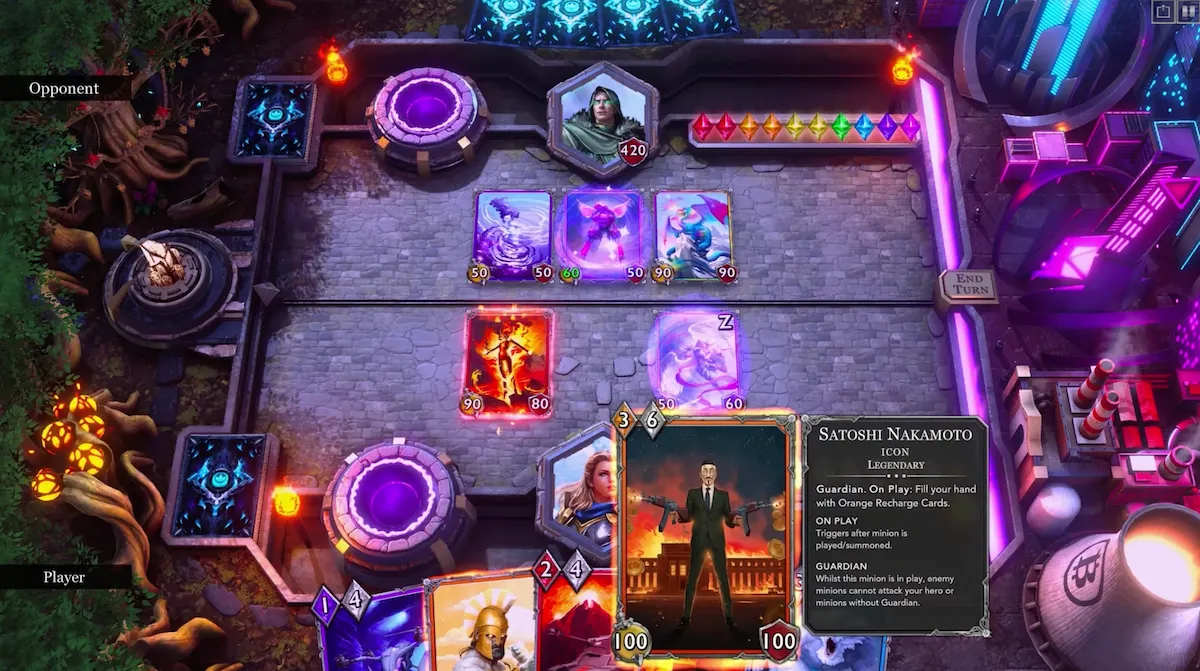 "One of the big things we're doing different to a lot of Web3 games [is] we're not building a Web3 game, we're building a game. It's such a crazy concept," Raini Studios' Senior Designer Marty Burgess told me over the sound of the music.
It's a view that game developers harnessing NFTs and blockchain technology have shared lately, in a clear and emphatic pushback of early play-to-earn games like Axie Infinity that were broadly chided for simplistic gameplay and token-centric design.
Players are clearly expecting a lot more from the next generation of Web3 games, and Raini sought to draw potential users in at the event. The venue was packed as people jostled past us at the playtest table, but the game's high-quality visuals, crypto-themed animations, and strategy managed to hold my attention.
"If and when you choose to engage with the Web3 side of things, that's when you can own NFTs, unlock the cards," Burgess explained when I asked about the game's NFTs. "It's a very optional part of our experience."
That said, Burgess and the Raini team believe in a multi-chain future, in which multiple networks can provide traders with plenty of options.
"We genuinely believe that a critical aspect of true decentralized player ownership of assets is that the players should be able to decide where they want to store their cards, and as such, our client supports all three chains equally," Burgess explained.
While the game offers a free-to-play mode with a basic deck, the NFT versions of cards can be traded on secondary marketplaces. Lords of Light recently launched its open beta for PC and Mac on the Web3 game store Elixir, with plans to fully launch on the larger-scale Epic Games Store in June.
Upon its Epic launch, Raini Studios also plans to launch an Avalanche utility token, Photon, which Burgess explained is designed to be for in-game purchases. He likened Photon to gems in mobile games like Clash Royale, which are the game currency players purchase with fiat money and then use to buy in-game assets.
Truly a Web3 Game
Even in a relatively crowded pool of NFT-driven card games out there, including Gods Unchained, Skyweaver, and Splinterlands, Raini opted for a different kind of vibe for The Lords of Light—one that embraces the crypto world's outsized personalities and sometimes goofy memes.
Lords of Light offers plenty of funny cards with flashy animations, featuring nods to disgraced FTX co-founder and ex-CEO Sam Bankman-Fried, Binance founder and CEO Changpeng Zhao, Twitter CEO Elon Musk, stockbroker and Bitcoin skeptic Peter Schiff, and the Winklevoss twins of crypto exchange Gemini. Pseudonymous Bitcoin creator Satoshi Nakamoto and Ethereum creator Vitalik Buterin are also in the mix.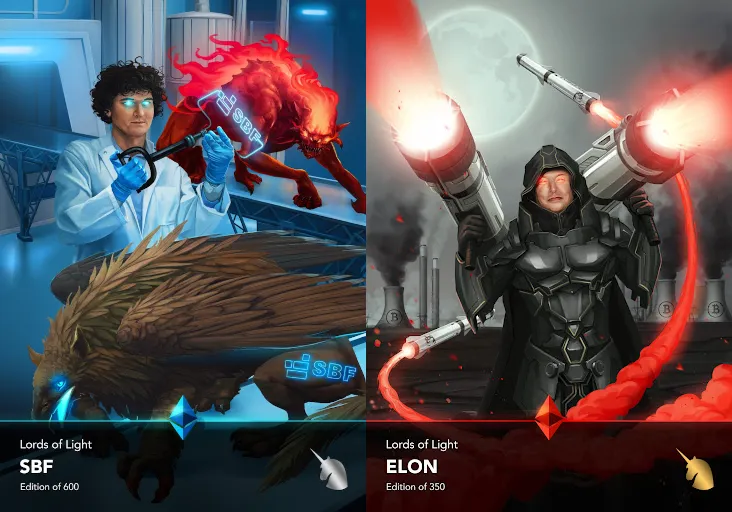 Other crypto culture references include the bear market, the Doge meme (the inspiration for Dogecoin), Lamborghinis (the one-time favorite luxury sports car of crypto investors), and even the Pudgy Penguins NFT collection. There's also cards for crypto terms like "cold storage" and "memecoins."
Burgess claimed that some of the celebrities referenced in the game are aware that they've been made into cards, adding that "CZ's cool with it." But the "Elon" card doesn't list a last name for a reason.
"I don't want to get sued by a multi-billionaire," he said. "This could be any Elon. There's lots of Elons out there with rocket launchers!"
Before starting a match, players must select their hero or main character and then customize their deck to their liking. And yes, each hero starts with 420 health because Raini's team "thought that was funny," Burgess admitted.
At the beginning of every turn, the player has to decide whether to "stake" a card or not—a reference to locking up one's crypto tokens for "yield" or financial rewards over time. But in Lords of Light, "staking" allows players to discard a card each turn in exchange for gems of a specific color, which can then be used to play another card.
There are seven different classes that correspond to specific gem colors, but any hero can be played with any deck—though some are stronger matches than others. Some cards create passive buffs (or boosts) to your hero or "nerfs" to weaken your enemy, while others deal damage or steal enemy life points.
Even so, the core gameplay is pretty straightforward—you typically stake a card, then play another card onto the board, and then see if there are any options for attacks on the enemy.
After watching Burgess successfully beat his colleague at the Stardust event, I thought I'd give the game a try myself. Though I'm less of a strategist and more of an aim-and-shoot gamer, I figured that surely the Lords of Light AI bot couldn't be too hard to beat… right?
Wrong! While the difficulty can vary widely depending on your opponent and their deck of cards, it's been thoughtfully designed for the more hardcore strategic gamers among us. Even though I was a bit out of my element, the game is still plenty of fun—even if you lose.
While Lords of Light might strike some as one big crypto in-joke or a bit too familiar in terms of card-battling mechanics, the unique pairing of memey content and strategic combat strikes a compelling mix. It gives this Web3 game a competitive spirit and perhaps esports potential on the horizon as it expands soon to a wider audience.