by Marcus Lu, Graphics/Design by Rosey Eason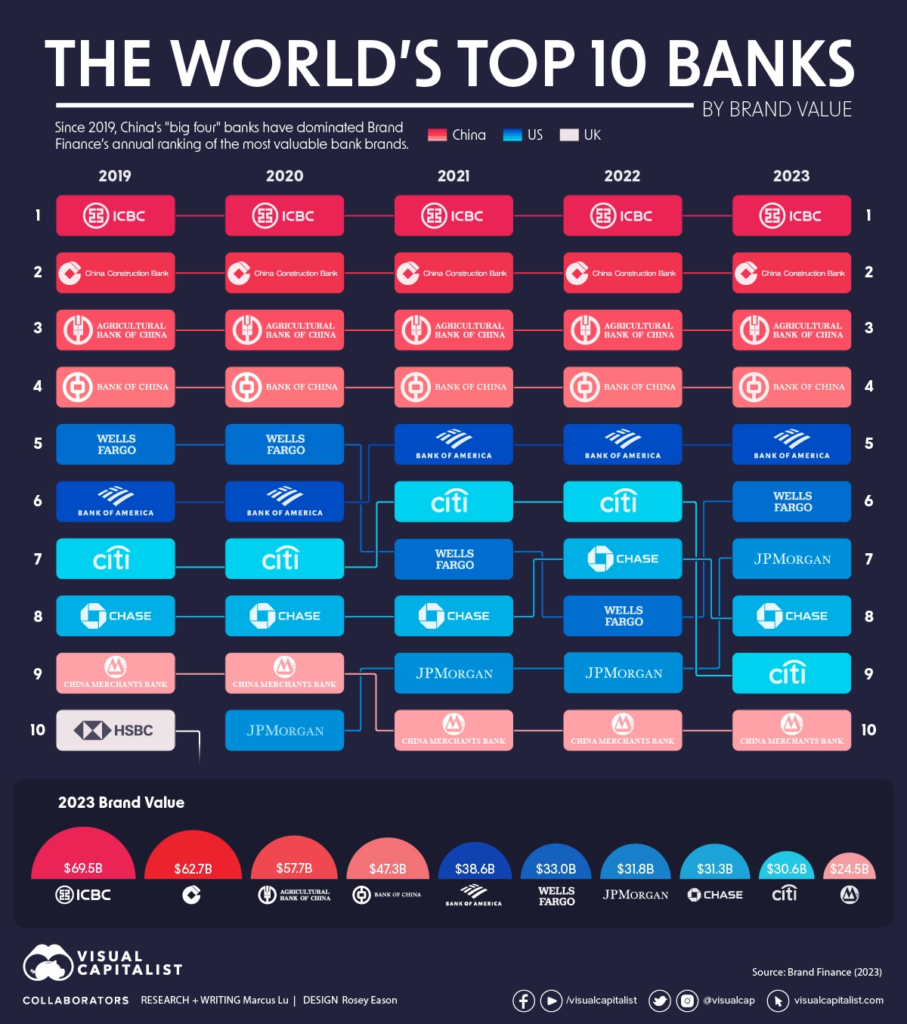 The World's Most Valuable Bank Brands (2019-2023)
Since 2019, Chinese banks have held the top four spots on Brand Finance's Banking 500—an annual ranking of the most valuable bank brands.
Brand value in this context is a measure of the "value of the trade mark and associated marketing IP within the branded business". In other words, it measures the value of intangible marketing assets, and not the overall worth of the business itself.
In this infographic, we've visualized the Banking 500's top 10 brands since 2019 to show you how the ranking has evolved (or stayed the same).
Top Bank Brands of 2023
The 10 most valuable bank brands of 2023 are evenly split between China and the United States. In terms of combined brand value, China leads with $262 billion to America's $165 billion.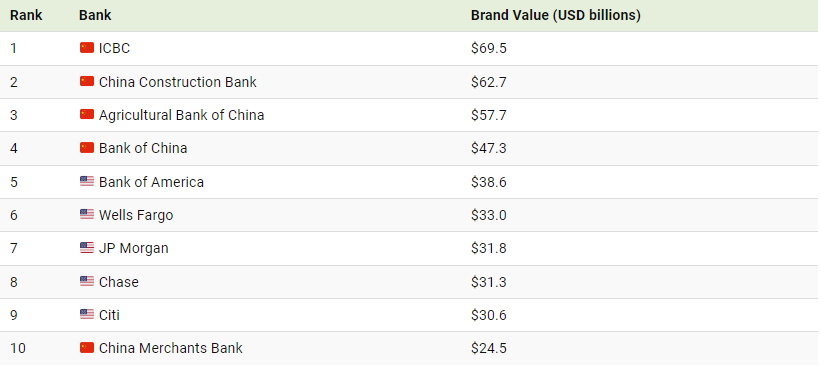 Chinese banks have a massive market to serve, which helps to lift the perceived value of their brands. For example, Industrial and Commercial Bank of China (ICBC) serves over 500 million individuals as well as several million business clients.
It's worth noting that ICBC is the world's largest bank in terms of assets under management ($5.5 trillion as of Dec 2021), and in terms of annual revenues ($143 billion as of Dec 2022). The bank was founded just 39 years ago in 1984.
After ICBC, the next three spots are occupied by the rest of China's "big four" banks, all of which are state-owned.
The fifth to ninth spots on this ranking are occupied by an assortment of America's largest banks. Despite a string of controversies in recent years, Wells Fargo rose from eighth in 2022 to sixth in 2023. This goes to show that large corporations can often recover from a scandal in a relatively short period of time (e.g. Volkswagen's Dieselgate).
Coming in tenth is China Merchants Bank, which is China's first "joint-stock commercial bank wholly owned by corporate legal entities".
Top Asset Management Brands
Brand Finance's 2023 ranking also includes a separate category for asset managers.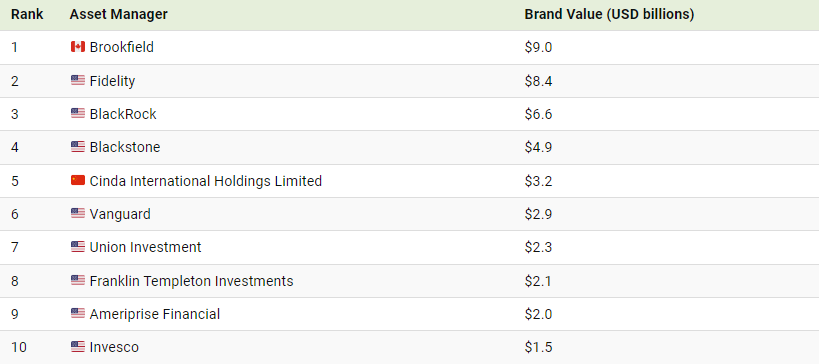 Given America's leadership in financial markets, it's no surprise to see eight out of the 10 firms listed here as being based in the United States. The number one spot, however, is held by Canada's Brookfield. The Canadian alternative asset manager is building a strong brand through its investments in renewable energy and other high-value infrastructure.