by angelilu, Foresight News
TOKEN2049 is set to be held at Marina Bay Sands in Singapore from September 13th to 14th. Over 3,500 companies and institutions as well as more than 10,000 attendees is expected to participate. The topics will revolve around the ever-evolving regulatory landscape in the crypto sphere, artificial intelligence, Web3 Games, NFTs, metaverse, scalability, interoperability, and more. Speakers invited now include Joe Lubin ( Ethereum co-founder and ConsenSys founder ), Stani Kulechov (Aave founder and CEO ), and Mike Novogratz (Galaxy Digital CEO).
Furthermore, Ethereum Singapore 2023 will take place in Singapore from September 10th to 12th. This event will be divided into two sections: Summit and Hackathon. Attendees will include Ethereum founder Vitalik Buterin, Ethereum Foundation executive director Aya Miyaguchi, and Arbitrum co-founder Ed Felten.
Foresight News has compiled a schedule of events and activities for Token2049 for readers' reference, which currently includes 76 events. The side events are most concentrated from September 9th to 14th, with 5 events on September 10th, 16 events on September 12th, 18 events on September 13rd, 6 events on September 14th and 13 events on September 15th.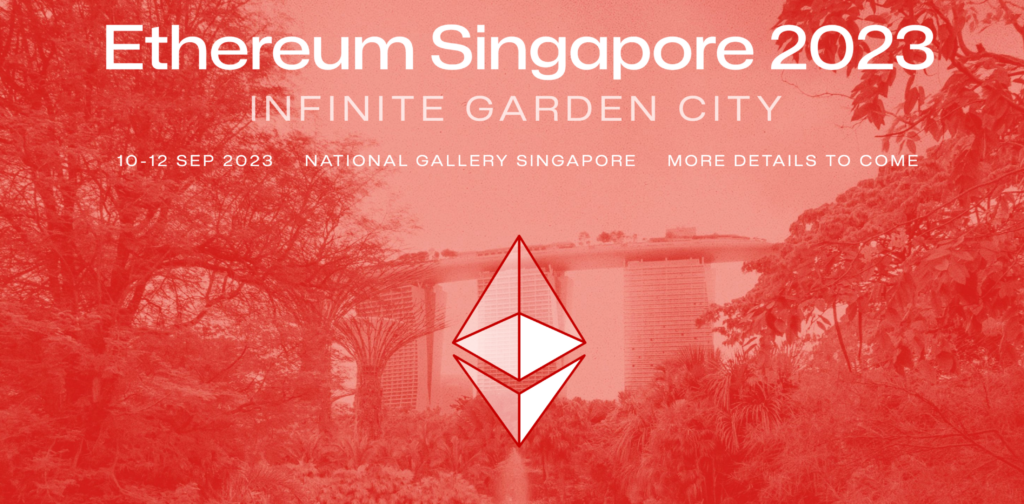 September 9th
【Web3 Basketball – SeeU in Singapore】
Time:September 9th 18:00 – 20:00
Host:SeeDAO
Type:Social Sports
Location:Barker Road, Acs Sports Complex, Singapore
Link:https://forms.gle/G9ZpSPSx2Pp67jMC8
September 10th
【ThreeDAO Camp(万物创造营 )S1 Graduation Demo】
Time:September 10th 09:00 – 18:00
Host:万物岛 ThreeDAO
Type:Demo
Location:Open house,Singapore
Link:https://wj.qq.com/s2/12838042/2305/
【Ethereum Singapore2023 Conference】
Time:September 10th 00:01 – 17:00
Host:Ethereum Singapore
Type:Summit
Location:Supreme Court Terrace, L4 Mezzanine
Link:https://www.ethereumsingapore.com/conference
【Ethereum Singapore2023 Hackathon】
Time:September 10th 00:01 – 17:00
Host:Ethereum Singapore
Type:Hackathon
Location:Ngee Ann Kongsi Auditorium & Foyer, B1
Link:https://www.ethereumsingapore.com/hackathon
【BuilderCamp S1 AlphaDay】
Time:September 10th 09:00 – 18:00
Host:ThreeDAO
Type:Hackathon
Location:Open house,Singapore
Link:https://wj.qq.com/s2/12838042/2305/
【Web3 Frisbee – SeeU in Singapore】
Time:September 10th 17:00 – 21:00
Host:SeeDAO
Type:Social Sports
Location:The Lawn,8A Marina Blvd, Singapore 018984
Link:https://docs.google.com/forms/d/e/1FAIpQLSfXsZ-68bPvdjm3H9jTqIM0n5kdgzPH1Z2J1F2PgVUEuVE9_A/viewform
【DApp x GrowthCon: Next-Gen Games, Social and Infra】
Time: September 10th, 9:30 AM – 6:00 PM
Host: W3W, Sending Labs, Double Protocol, Polygon
Type: Summit, Social
Event Scale: 300 attendees
Location: Sands Expo & Convention Centre, 10 Bayfront Ave, Singapore 018956
Event Link: https://lu.ma/1b3yowqg
September 11st
【Future Hack – Hackathon Event】
Time:September 11th 09:00 – 00:00
Host:TOKEN2049
Type:Hackathon
Location:Virtual
Link:https://docs.google.com/forms/d/e/1FAIpQLScAr6LbRykMAnZetSlcYeRgHFNwJ1apr0R8bjM42Tp1tJ5SLQ/viewform
【All That Matters 2023】
Time:September 11th 09:00 – 05:00
Host:All That Matters
Type:Summit
Location:Hilton Singapore Orchard ,333 Orchard Road, Singapore
Link:https://events.bizzabo.com/atm2023/page/2725831/tickets
【TOKEN HACK】
Time:September 11th -15th 09:00 – 12:00
Host:TOKEN2049
Type:Hackathon
Location:Online
Link:https://docs.google.com/forms/d/e/1FAIpQLScAr6LbRykMAnZetSlcYeRgHFNwJ1apr0R8bjM42Tp1tJ5SLQ/viewform
【DeSoc Unleashed】
Time:September 11th 13:00 – 17:00
Host:Tako Protocol
Supporter:Mask, Moledao
Type:Summit
Attendance Size:200 Participants
Location:DISTRii Singapore
Link:-
【ABGA Web3 Gaming Hackathon Final】
Time:September 11th 14:00 – 18:00
Host:ABGA
Type:Hackathon
Location:Sands Expo & Convention Centre 10 BayfrontAvenue Singapore, 018956 Singapore
Link:https://www.abga.asia/web3-gaming-summit-2023
【Crypto Derivative Trading: Play Moneyball for Predictable Outcomes】
Time:September 11th 18:00 – 20:00
Host:Nicholas Levenstein
Type:Dinner
Location:Levant Bar,32 Tras St, Level 4,Singapore 078972
Link:https://www.levenstein.net/events
【Bitget Welcome Dinner】
Time:September 11th 18:00 – 22:00
Host:Bitget Wallet, Foresight Ventures
Type:Dinner
Attendance Size:50 Participants
Location:Invited Only
Link:-
【ChainUp 6th Anniversary Party】
Time:September 11th 19:00 – 23:00
Host:ChainUp
Type:Dinner
Location:-
Link:https://lu.ma/gwn9h6bu
【ABGA Afterparty】
Time:September 11th 21:30 – 01:30
Host:ABGA
Type:Dinner
Location:10 Bayfront Avenue, Singapore, 018956 Marina Bay Sands
Link:https://www.abga.asia/web3-gaming-summit-2023
【ABCDE ZK Hacker Camp】
Time:September 11th N/A – Overnight
Host:ABCDE
Type:Hackathon
Location:Online
Link:https://docs.google.com/forms/d/128cimlspqKBj4EfAAB9dUIN4zgG0og4u4r837Ul1VJo/viewform?edit_requested=true
【Aptos WorldTour Hack Singapore】
Time:September 11th
Host:Aptos Foundation
Type:Hackathon
Location:TBA
Link:https://aptosfoundation.org/events/singapore-hackathon-2023
【TimeStamp】
Time:September 11th
Host:Cointime
Cohost:ChainUp, ABCDE Capital, 新火科技
Type:Summit
Location:Fullerton Hotel
Link:https://twitter.com/Cointime_global/status/1681618593887424516
【Build For Miracle】
Time:September 11th
Host:BlockBeats, MetaStone Group
Type:Summit
Location:Singapore PARKROYAL COLLECTION Hotel
Link:https://www.theblockbeats.info/flash/162399
【ABGA Web3 Gaming Summit 2023】
Time:September 11th – 12th
Host:ABGA、DeGame
Type:Summit
Attendance Size:5000 Participants
Location:Marina Bay Sands Exhibition Center, Singapore
Link:https://www.abga.asia/web3-gaming-summit-2023
【Manga Mosaic-A Tapestry of Creators' Masterpieces】
Time:September 11th -25th
Host:UneMeta, OKX
Cohost:Aki Network
Type:Exhibition
Location:XM Studios(809 French Rd, Kitchener Complex Level 3, Singapore 200809)
Link:-
September 12nd
【Meta Era Summit 2023】
Time:September 12th 08:30 – 00:00
Host:Meta Era
协办:BitMart、CertiK、iPollo、Web3hub
Type:Summit
Location:Pacific Ballroom, Level 1, 7 Raffles Avenue, Singapore
Link:https://www.eventbrite.com/e/meta-era-summit-2023-tickets-692088965727
【BlockBeats & STEPN City Walk】
Time:September 12th 09:00 – 12:00
Host:BlockBeats, STEPN
Type:Hiking
Location:MacRitchie Reservoir Park, Singapore
Link:https://docs.google.com/forms/d/e/1FAIpQLSfZW0y_JQ4ZiTn-DsTaB-j4PC3qkvzO31XMz3UXvBXeBnUoLQ/viewform
【Bitget EmpowerX Summit】
Time:September 12th 09:00 – 18:00
Host:Bitget
Cohost:Bitget Wallet, Foresight Ventures
Type:Summit
Attendance Size:1000 Participants
Location:Level 4, Stamford Ballroom, Lavender Conference Center, Singapore
Link:https://www.eventbrite.com/e/empowerx-bitget-summit-tickets-658171287037
【Ordinals Summit 2023】
Time:September 12th 09:00 – 22:00
Host:Ordinals Summit
Type:Summit
Location:PARKROYAL COLLECTION Marina Bay,6 Raffles Blvd, Singapore 039594
Link:https://ordsummit.com/
【MOBILE MOMENT – VERTU WEB3 PHONE METAVERTU OPEN DAY】
Time:September 12th 10:00 – 17:00 PM
Host:VERTU
Type:Summit
Location:F4-P118 Bayfront Avenue, Marina Bay Sands Singapore, Singapore
Link:https://www.vertu.boutique/
【DeCompute 2023】
Time:September 12th 10:30 – 19:00
Host:Silence Laboratories
Type:Summit
Location:8 Somapah Rd,Singapore 487372
Link:https://www.decompute.xyz/
【Coinstore Brand Launch Conference 2023】
Time:September 12th 13:00 – 16:00
Host:COINSTORE
Type:Summit
Location:The Fullerton Hotel Singapore 1 Fullerton Square Singapore, 049178 Singapore
Link:https://www.eventbrite.com/e/coinstore-brand-launch-conference-2023-tickets-689973969717?aff=ebdsoporgprofile
【Design, Build and Scaling of Web3 Games】
Time:September 12th 13:00 – 17:00
Host:GasZero, Polygon,Tencent Cloud
Type:Party
Attendance Size:100-150 Participants
Location:OGBC;20, Cecil Street #04-07 PLUS Building Singapore 049705
Link:-
【Stablecoin Standard Launch Event】
Time:September 12th 13:30 – 16:30
Host:-
Type:Summit
Location:-
Link:-
【HashKey Space Homerun】
Time:September 12th 14:00 – 21:00
Host:HashKey
Type:Summit
Attendance Size:150 Participants
Location:-
Link:-
【Arweave Day in Asia】
Time:September 12th 15:00 – 17:00
Host:Forward Research,PermaDAO
Type:Summit
Location:TBA
Link:https://mp.weixin.qq.com/s/SxRj8kqVv5AIyKl_55qzSQ
【The Future of Enterprise Blockchain and Digital Assets】
Time:September 12th 17:30 – 20:30
Host:Centre for Finance, Technology & Entrepreneurship
Type:Summit
Location:TBA
Link:https://www.eventbrite.co.uk/e/global-launch-of-the-blockchain-and-digital-assets-programme-in-singapore-tickets-666863415427
【BitMEX's TOKEN2049 Eve】
Time:September 12th 17:30 – 21:00
Host:BitMEX
Type:Dinner
Location:-
Link:https://lu.ma/BitMEXTOKEN2049
【Beyond Alpha with DWF Labs】
Time:September 12th 18:00 – 00:00
Host:DWF Labs
Type:Dinner
Location:TBA
Link:https://lu.ma/BeyondAlphaWithDWFLabs
【Threed's Swarming Hunt: 2049 Edition】
Time:September 12th 19:00 – 23:00
Host:-
Type:Game
Location:-
Link:-
【TOKEN2049 Exclusive Speaker Dinner】
Time:September 12th 20:00 – 22:00
Host:TOKEN2049
Type:Dinner
Location:Vue,OUE Bayfront, 50 Collyer Quay Rooftop Level 19
Link:-
【Deepcoin Grand Party】
Time:September 12th 21:30 – 01:30
Host:Deepcoin
Type:Dinner
Location:CÉ LA VI Singapore
Link:https://docs.google.com/forms/d/e/1FAIpQLSeLAbHi1nbq7hapWwcf4c2euoXLK9sDpNfJBhZTL3bDJrv3sA/viewform
September 13rd
【R3al World @ Token2049: Interoperability, Web3's Disruption Point 】
Time:Sep. 13th, 14:00-21:00
Co-host: IoTeX, Future Money Group
Sponsor: Hashkey Capital, Sumsung NEXT, EV3, exaBITS, Bitget, Sph3re
Location: Skai Suites, Level 69 of Swissotel The Stamford
Event link:https://lu.ma/r3al-world-token2049
【Milken Institute Asia Summit】
Time:September 13th 09:00 – 18:00
Host:Milkeninstitute
Type:Summit
Location:Four Seasons Hotel
Link:https://milkeninstitute.org/events/asia-summit-2023
【Oasys GameWave Genesis Hackathon Demo Day】
Time:September 13th
Host:Oasys
Type:Hackathon
Location:-
Link:https://www.oasys.games/
【VNTR Capital Investors Roundtable Singapore】
Time:September 13th 09:00 – 13:00
Host:VNTR
Type:Summit
Location:-
Link:https://www.vntr.vc/event-singapore-September 142023
【Lunch Mixer /w RabbitX & Fluo】
Time:September 13th 12:00 – 15:00
Host:Milkeninstitute
Type:Social Party
Location:Yardbird Southern Table and Bar
Link:https://lu.ma/27w7w3r1
【Digital Artisans】
Time:September 13th 16:00 – 21:00
Host:ITAK
Type:Social Party
Location:-
Link:https://lu.ma/23x355v9
【Sunset Mixer with Global Web3 Builders】
Time:September 13th 17:30 – 21:30
Host:Talent@Web3 & Nicole Nguyen
Type:Social Party
Location:TBA
Link:https://lu.ma/p8jh3gts
【DeFi Jam: Igniting Synergies 】
Time:September 13th 18:00 – 22:00
Host:DeFi Jam
Type:Social Party
Location:EMPRESS
Link:https://lu.ma/tfv5huo4
【BEYOUD SCALING】
Time:September 13th 18:00 – 22:00
Host:Scalingx
Type:Dinner
Location:2 Stamford Road, Level70,#70-02 SwisstelThe Stamford.Singapore 178882
Link:https://docsend.com/view/bbuzeqeinm9f6jfn
【Private Dinner by Scalene, Stella, and Sparklabs】
Time:September 13th 18:00 – 20:00
Host:Scalene
Type:Dinner
Location:-
Link:https://lu.ma/firesidebonds
【Social Afterglow】
Time:September 13th 18:00 – 00:00
Host:Tako Protocol
Type:After Party
Attendance Size:300 Participants
Location:1880 Member Club
Link:
【Private Intimate Dinner by Scalene, Stella, and Sparklabs】
Time:September 13th 18:00 – 20:00
Host: scalene.xyz、Stella/Alpha、Sparklabs
Type:Dinner
Attendance Size:20-30 Participants
Location:Invited Only
Link: https://lu.ma/firesidebonds
【Web3 Frisbee – SeeU in Singapore】
Time:September 13th 18:15 – 21:00
Host:SeeDAO
Type:Social Sports
Location:The Lawn,8A Marina Blvd, Singapore 018984
Link:https://docs.google.com/forms/d/e/1FAIpQLSfXsZ-68bPvdjm3H9jTqIM0n5kdgzPH1Z2J1F2PgVUEuVE9_A/viewform
【EXCLUSIVE ROOFTOP PRIVATE PARTY】
Time:September 13th 19:00 – 23:00
Host:CoinW
Type:Dinner
Location:Level 57, Marina Bay Sands SkyPark, Hotel Tower 3, 1 Bayfront Avenue, 018971
Link:
【Token2049 Huobi X Tron Afterparty】
Time:September 13th 19:00 – 23:00
Host:HUOBI
Type:Dinner
Location:MARQUEE Singapore 2 Bayfront Avenue B1-67 Galleria Level, The Shoppes at Marina Bay Sands
Link:https://www.eventbrite.com/e/huobi-tron-token-2049-afterparty-tickets-686547350607?aff=oddtdtcreator
【Near x Amazon: Art, Drinks & Social】
Time:September 13th 19:00 – 21:00
Host:SEED Labs
Type:Social Party
Location:Asia square tower 1, 8 Marina View, Singapore 018960
Link:https://lu.ma/NEARxAmazon
【DAO Maker & CLS Global: Networking Event around investments & trading】
Time:September 13th 19:00 – 00:00
Host:CLS Global
Type:Social Party
Location:Moon Rooftop Bar & Lounge Pte. Ltd. 70 Anson Road #27-01 Singapore, 079905 Singapore
Link:https://www.eventbrite.com/e/dao-maker-cls-global-networking-event-around-investments-trading-tickets-687938220737?aff=ebdssbdestsearch&from=19642e4a304e11ee925bcefcad09d511
【Coinstore 19th Cryptalk: Gamefi Night】
Time:September 13th 19:00 – 22:00
Host:Coinstore
Type:Social Party
Location:The Spot,Singapore 5 Straits View #01-26/27 Marina One East Tower Singapore, 018935 Singapore
Link:https://www.eventbrite.com/e/19th-cryptalk-after-party-tickets-689939065317?aff=oddtdtcreator
【RabbitX High Rollers 5K Buy-In NLHE】
Time:September 13th 20:00 – 05:00
Host:RabbitX
Type:Game
Location:-
Link:https://lu.ma/u65blozd
【TOKEN2049 VIP week: VCs and Builders together】
Time:September 13th 22:00 – 05:00
Host:Alexander
Type:Summit
Location:-
Link:https://www.eventbrite.ch/e/token-2049-vip-week-vcs-and-builders-together-tickets-690285200617
September 14th
【GASHO 2.0 Japan – VIP Networking Drinks (Exclusive Launch)】
Time:September 14th 18:30 – 20:30
Host:GASHO
Type:Social Party
Location:Art District SG(Art Gallery)
Link:https://lu.ma/gasho-token2049
【Creator Nations – VIP Networking Event】
Time:September 14th 19:00 – 22:00
Host:WeWork
Type:Social Party
Location:WeWork Singapore,5 Temasek Boulevard, Singapore
Link:https://www.eventbrite.com/e/creator-nations-token-2049-week-vip-networking-event-tickets-605028044167
【Rewrite the System: An OKX Web3 Party】
Time:September 14th 19:00 – 23:00
Host:OKX
Type:Dinner
Location:-
Link:https://www.okx.com/cn/opens-soon
【DeFiance Capital & Friends Party】
Time:September 14th 19:30 – 22:30
Host:DeFiance Capital
Type:Dinner
Location:-
Link:-
【5A Party】
Time:September 14th 20:00 – 23:00
Host:Arcane, Animoca, ArkStream, ABCDE, Alibaba
Type:Summit、Party
Attendance Size:180-200 Participants
Location:Skai Restaruant
Link:-
【Immersive Tintin Adventures】
Time:September 14th 21:00 – 03:00
Host:Secret Tintin
Type:Dinner
Location:TBD
Link:https://docs.google.com/forms/d/e/1FAIpQLSfirZu_tTekKdg6BUHHWANf9_oLXU2D6I6Kc4JO08aaYoWmHg/viewform
September 15th
【ABCDE ZK Hacker Camp – Demo Day】
Time:September 15th 09:00 – 18:00
Host:ABCDE
Type:Hackathon
Location:One Raffles Place
Link:https://docs.google.com/forms/d/128cimlspqKBj4EfAAB9dUIN4zgG0og4u4r837Ul1VJo
【2ND Annual Global Digital Assets Investment Summit】
Time:September 15th 09:00 – 17:00
Host:Falcon Business Research
Type:Summit
Location:Havelock Road, Four Points by SheratonSingapore,Riverview,Singapore
Link:https://globaldigitalassetssummit.com/
【Stablecoin Summit】
Time:September 15th 09:00 – 17:00
Host:Unitas foundation & XREX
Type:Summit
Location:Jubilee Ballroom, Raffles Hotel, 03-26 North Bridge Rd, Singapore 189768
Link:https://www.stablecoinsummit.com/event-details-registration/stablecoin-summit-2023-2
【CreatorCampS2 OpenClass】
Time:September 15th 09:00 – 18:00
Host:ThreeDAO
Type:Hackathon
Location:Open house,Singapore
Link:https://docs.qq.com/form/page/DWkxIcGVZRG9OdVFq
【Singapore Grand Prix 2023 – F1 Race】
Time:September 15th 10:00 – 22:00
Host:Singapore F1 Race
Type:Competetion
Location:Marina Bay Street Circuit
Link:https://www.formula1.com/en/racing/2023/Singapore.html
【Sui Builder House Singapore】
Time:September 15th 10:00 – 19:00
Host:SUI
Type:Summit
Location:72-13 Mohamed Sultan Road, 239007 Singapore
Link:https://bh.sui.io/2023-09-singapore
【Sui Foundation Builder House】
Time:September 15th 10:00 – 17:00
Host:Sui Foundation
Type:Hackathon
Location:72-13 Mohamed Sultan Road 239007 Singapore
Link:https://bh.sui.io/2023-09-singapore#rsvp
【What The FLock?! AIxWeb3 Hackathon】
Time:September 15th 12:00 – 23:00
Host:FLock.io
Type:Hackathon
Location:50 Gambas Cres, Singapore 757022
Link:https://lu.ma/tki2nc2p
【Next Block: Charting a course for the Next Generation of Technology】
Time:September 15th 16:00 – 23:00
Host:Lycaon Creatives
Type:Dinner
Location:-
Link:https://partiful.com/e/K1SfpaClowZykfczwJV6
【NLC Client Dinner】
Time:September 15th 17:00 – 19:00
Host:NLC
Type:Dinner
Location:-
Link:-
【Web3 Frisbee – SeeU in Singapore】
Time:September 15th 18:15 – 21:00
Host:SeeDAO
Type:Social Sports
Location:The Lawn,8A Marina Blvd, Singapore 018984
Link:https://docs.google.com/forms/d/e/1FAIpQLSfXsZ-68bPvdjm3H9jTqIM0n5kdgzPH1Z2J1F2PgVUEuVE9_A/viewform
【AFTER 2049 – The Official TOKEN2049 Closing Party】
Time:September 15th 19:00 – 03:00
Host:TOKEN2049
Type:Dinner
Location:Ce La Vi Singapore, Marina Bay Sands Tower 3
Link:-
【Free Your Mind Festival】
Time:September 15th 21:00 – 04:00
Host:noiseGPT
Type:Party
Location:River Valley Road,Clarke Quay,Singapore
Link:https://discord.com/invite/CUEN2A3GuJ
September 16th
【Web3 Basketball – SeeU in Singapore】
Time:September 16th 18:00 – 20:00
Host:SeeDAO
Type:Social Sports
Location:Barker Road, Acs Sports Complex, Singapore
Link:https://forms.gle/G9ZpSPSx2Pp67jMC8