This list is made by: angelilu, Foresight News
Translated by: Leah, Foresight News
Japan Blockchain Week 2023, one of the largest blockchain events in Japan, will take place from June 18th to July 9th. This event will bring together Web3 entrepreneurs, investors, developers, media, and government agencies from Japan and around the world to explore the latest advancements in blockchain technology.

The Japan International Crypto Summit, IVS Crypto 2023, will also be held from June 28th to 30th. Last year, the event attracted over 2,000 attendees. This year, IVS Crypto aims to attract over 250 speakers, 100 venture capitalists, 100 side events, and 10,000 participants.
Foresight News has compiled a schedule of events and activities for Japan Blockchain Week 2023 for readers' reference, which currently includes 90 events.
June 21th
【Tokyo Blockchain Tech Meetup】| Time:18:00—20:30 | Location: Meguro Central, Square 17F, 3-1-1 Kami-osaki, Shinagawa-ku, Tokyo JAPAN | Host:AWS、double jump.tokyo | Link: https://aws-startup-lofts.com/apj/loft/tokyo/event/af73789e-25ae-4f1f-bf9f-57337cea0c62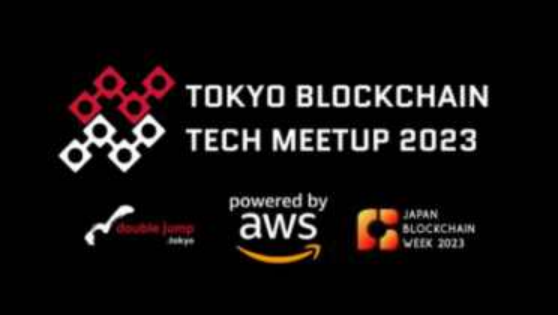 June 22th
【Non Fungible Tokyo 2023】| Time:9:30 — 18:00 | Location:东京都千代田区丸の内3-5-1 | Host:Non Fungible Tokyo | Link: https://nonfungible.tokyo/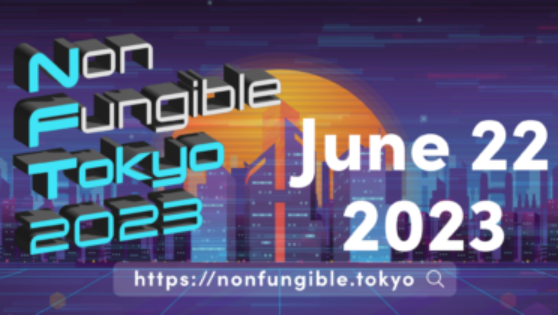 June 23th
【Crypto Art Fes 2023】| Time:10:00 – 18:00 | Location: Shibuya Hikarie,8F,Creative Space 8/COURT | Host:BeyondConcept | Link: https://conata.world/caf
【Oasys Tokyo HACKJAM】| Time:June 23 th – July 12th | Location:東京都港区三田1-4-1 住友不動産麻布十番ビル | Host:Oasys | Link: https://oasys.framer.website/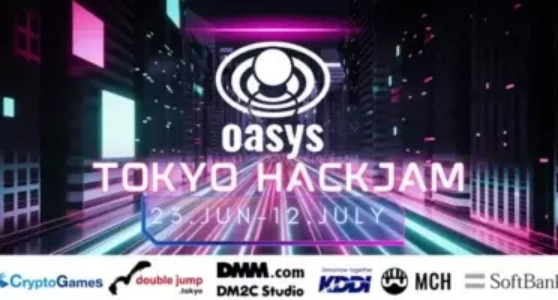 June 24th
【BOOOST!! CONNECT:Web3 Entertainment Summit】| Time:12:00 – 16:00 | Location:Register to check | Host:Emoote | Link: https://lu.ma/mcbvvx88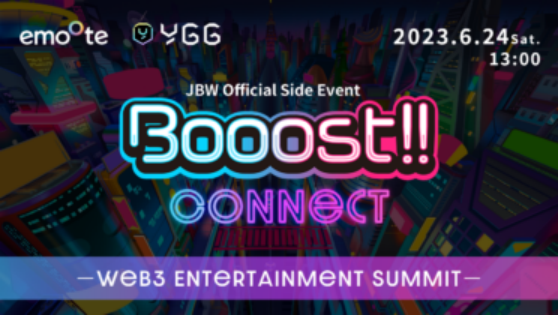 【Japan Blockchain Week Tokyo wrap up party】| Time:17:30 – 20:30 | Location:Shibuya City, Tokyo | Host:Japan Blockchain Week 2023 | Link: https://lu.ma/jbw2023_wrapup
June 25th
【MEV DAY】| Time:13:00—15:30 | Location:東京都港区六本木1-3-40 | Host: Tané Ethereum JP | Link: https://lu.ma/tde60gu8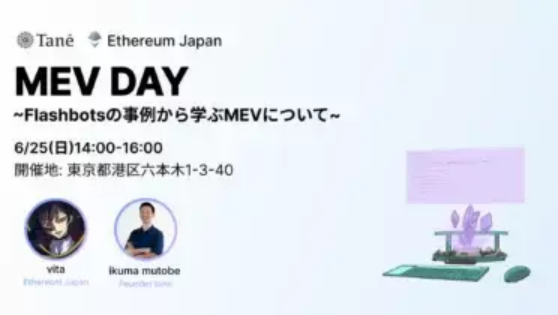 【「XRP Ledger」BUIDLERS BOOTCAMP】| Time:15:00—20:00 | Location:桜丘フロントⅡ | Host:Simon_AKINDO & kinjo | Link: https://lu.ma/hr3-ameyumi
【BAYCJapan Summer2023 JBW ver】| Time:17:00—20:00 | Location:Register to check | Host:BAYCJapan | Link: https://lu.ma/BAYCJapansummer2023_jbw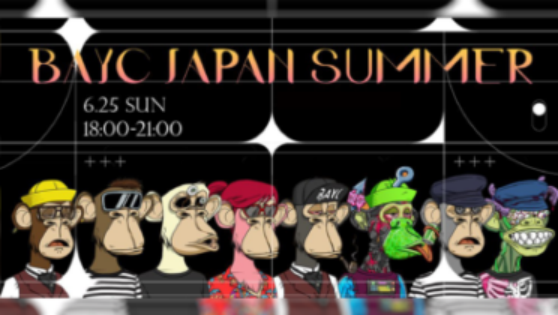 June 26th
【GSF Friends Pitch Tokyo & DOJA Tokyo】| Time:13:00—19:00 | Location:POTLUCK YAESU | Host:DOJA TOKYO | Link: https://dojatokyoeng2.peatix.com/
June 27th
【IVS BootCamp Shiga】| Time:12:00—11:00 | Location:Shiga prefecture滋賀県 | Host:Upstream BootCamp 事務局 | Link: https://docs.google.com/forms/d/e/1FAIpQLSeDK_xOd69WQt7mLlWU1fuEvG5nqXXCNGxctMmuRTYHwj8kig/viewform
【Startup & VC Meet Up! In OSAKA ~ IVS2023 The previous day festival ~】| Time:12:00—15:00 | Location:akippa株式会社 OSAKA OFFICE(大阪市浪速区) | Host:Creww, Incubate fund | Link: https://spot.creww.me/com/event230627_vc
【IVS XR Night】| Time:16:00—20:30 | Location:in Kyoto city Only registraters know | Host:CharacterBank、MyDearest、Pretia Technologies、VARK | Link: https://www.moguravr.com/ivs-xr-night-2023/
【Public Speaking Workshop @27th】| Time:17:00—18:30 | Location:中京区観音堂町456 | Host:Ema Streit | Link: https://confident-speaking.peatix.com/view
【「Kyoto Overseas Business Center」Official Concierge Event】| Time:17:00—22:45 | Location:GION BAR M16 | Host:Kyoto Overseas Business Center | Link: https://www.facebook.com/events/919923709276548/919924492609803
【Web3 Cheers Night】| Time:18:00—20:00 | Location: KYOTO Chambers | Host:KEKKAI | Link: https://lu.ma/p0f6rwds
【IVS eve Festival Crypto Survival Strategy Information Exchange @ Gion [Free for students].】| Time:19:00—21:00 | Location:Bar Seeks | Host:Stir Network | Link: https://lu.ma/eqkicly8
June 28th
【Morning Run for IVS Crypto Kyoto (4km)】| Time:07:30—08:30 | Location:Kyoto Subway 「Sanjo」 Station, Exist 5 | Host:Shuto Sakai | Link: https://www.strava.com/clubs/1125128/group_events/1397787
【Public Speaking Workshop @28th Morning】| Time:08:30—10:00 | Location:中京区観音堂町456 | Host:Ema Streit | Link: https://confident-speaking2.peatix.com/view
【Bouncing ideas off of investors and running in the morning】| Time:07:00—08:30 | Location:Kamo river | Host:W fund, IncubateFund | Link: https://docs.google.com/forms/d/e/1FAIpQLSes4wlel6uzWAIKmnK48wUWQpMXRLm9iDs1URLyA3oqZvKx9Q/viewform
【Challenge yourself to an authentic sword fighting experience with a sword fighting master or actor as your instructor! Walk around the movie village & experience the sword fighting!】| Time:07:50—10:00 | Location:Toei Kyoto Studio Park| Host:Kyoto Prefectural Government | Link: https://ivs.beedream.co.jp/#activity_03
【Apprenticeship with a Traditional Craftsman? Icchin Ceramics】| Time:08:00—09:30 | Location:148 Imakumano Minamihiyoshicho, Higashiyama Ward, Kyoto | Host:Kyoto Prefectural Government | Link:https://ivs.beedream.co.jp/#activity_04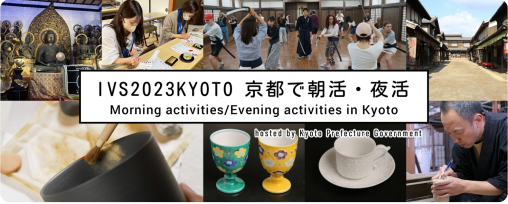 【Special prayer at Josei-in Temple for「Paradise in this world, Paradise in the next world」wish fulfillment (full)】| Time:08:00—10:00 | Location: Sokujo-in Temple| Host:Kyoto Prefectural Government | Link: https://ivs.beedream.co.jp/#activity_01
【Experience traditional Japanese techniques! Kintsugi experience (with a take-home gift)】| Time:09:00—10:00 | Location:POJ Studio | Host:Kyoto Prefectural Government | Link: https://ivs.beedream.co.jp/#activity_02
【Shisha & Crypto Night feat. IVS Kyoto 2023】| Time:10:00—23:00 | Location:Shisha Cafe & BAR Honoka (焔ノ香) | Host:Shisha & Crypto Night feat. IVS Kyoto 2023 | Link: https://thorn-shield-d48.notion.site/presents-IVS2023-Kyoto-5a4369f31d894396b9ea5d13cb78e4eb
【IVS Kyoto Hacker House】| Time:14:00—14:00 | Location:Register to check | Host:Incubatefund, Skyland Ventures | Link: https://lu.ma/ifsky
【Headline Happy Hour (Int'l)】| Time:16:00—18:00 | Location:Stand Umineko Koto CRAFT BEER STAND | Host:Networking | Link: https://lu.ma/i6c4rm8l
【Tohoku Prefectural Assembly】| Time:16:30—18:00 | Location:To be announced | Host: | Link: https://docs.google.com/forms/d/e/1FAIpQLSf6TteX2bz8vwq2jO3BlyTljiKMRrKjww600I-LssFrnFAv6Q/viewform
【Kyoto VC MEETUP in IVS2023KYOTO】| Time:17:30—19:30 | Location:QUESTION 1F | Host:Kyoto VC MTG | Link: https://peatix.com/event/3590167
【Startups x TBS: Talk about the future「Wednesday Night Party」】| Time:17:30—20:00 | Location:Register to check | Host:TBS Innovation Partners | Link: https://docs.google.com/forms/d/e/1FAIpQLSdeJY7rbAwY71KvjDVuHXXDZdv-uwYpq2gLyaenr8ZFdu4wDA/viewform
【Startups x VC NIGHT】| Time:18:00—20:00 | Location:Modern Terrace | Host:XTech Ventures | Link: https://docs.google.com/forms/d/e/1FAIpQLSdVPEYPW-3gmI30trTtQ9a59X-kBiZYvmJftnO_fJ__2Bvsgg/viewform
【Oasys Special Event at Nijo-jo Castle】| Time:18:00—20:00 | Location:Nijo-jo Castle | Host:Oasys | Link: https://www.eventbrite.com/e/oasys-special-event-tickets-641134830537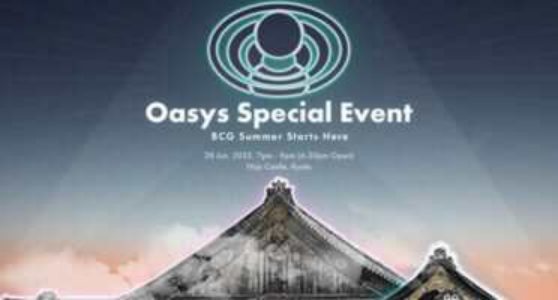 【Web3 Shining Golden Pavilion】| Time:18:00—20:00 | Location:BROOKLYN NIGHT BAZZR | Host:CGV FoF, UneMeta | Link: https://lu.ma/yydxtbar
【First IVS Matching Night!】| Time:18:00—21:00 | Location:ABURU | Host:IVM | Link: https://wibcojp.notion.site/IVS-2fb9622203e5454d82ea0d22a977eafd
【CHAIN UTOPIA // IVS Kyoto & JBW Side Event】| Time:18:00—04:00 | Location:West Harlem | Host:shiftbase | Link: https://lu.ma/chainutopia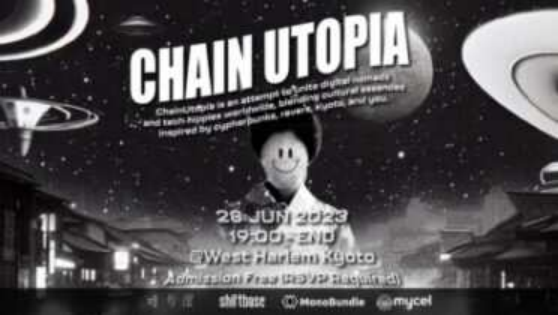 【BAR KRYPTO】| Time:18:30—22:00 | Location:Register to check | Host:BAR KRYPTO | Link: https://docs.google.com/forms/d/e/1FAIpQLScApkK6uUoMwr7TdCdR-dbsJ185nFfB427-FnhaozkfWgqyug/viewform
【BONSAI NFT CLUB meet-up】| Time:20:00—22:00 | Location:秘密基地植物園とカフェバー | Host:BONSAI NFT CLUB | Link: https://lu.ma/qngc244z
【Japanese DAO Night With IVS】| Time:21:00—23:00 | Location:BROOKLYN NIGHT BAZAAR | Host:DAOAsia | Link: https://lu.ma/buygy6aw
【Gate Web3.0 Night】
Time:18:00—21:00 | Location:都市中京区一之船入町386−2 河原町通二条下る 島津製作所旧本社ビル | Host:Gate | Link: https://peatix.com/event/3612038/viewGate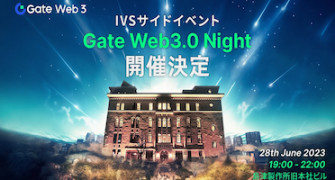 June 29th
【[Morning Activity] Kyoto Central Market Early Morning Vending Tour】| Time:04:00—05:30 | Location:〒600-8842, Suzakudonokuchi-cho, Shimogyo-ku, Kyoto-shi | Host:Industrial Innovation Promotion Office, Industry and Tourism Bureau, Kyoto City | Link: https://www.city.kyoto.lg.jp/sankan/page/0000312542.html
【Special prayer at Josei-in Temple for「Paradise in this world, Paradise in the next world」wish fulfillment (full)】| Time:06:30—08:30 | Location:Sokujo-in Temple| Host:Kyoto Prefectural Government | Link: https://ivs.beedream.co.jp/#activity_07
【Morning Run & Walk in Kyoto powered by PlanetDAO】| Time:07:00—08:00 | Location:Kamo River | Host:PlanetDAO | Link: https://lu.ma/rhxzxjd3
【Bouncing ideas off of investors and running in the morning】| Time:07:00—08:30 | Location:Kamo River | Host:W fund, IncubateFund | Link: https://docs.google.com/forms/d/e/1FAIpQLSes4wlel6uzWAIKmnK48wUWQpMXRLm9iDs1URLyA3oqZvKx9Q/viewform
【Builder House Kyoto, Japan】| Time:07:00—19:00 | Location:Ace Hotel Kyoto | Host:Sui | Link: https://bh.sui.io/2023-06-kyotoo
【Public Speaking Workshop @29th Morning】| Time:07:30—09:00 | Location:中京区観音堂町 456 | Host:Ema Streit | Link: https://confident-speaking3.peatix.com/view
【Headline x Women In Tech PowHer Lunch】| Time:11:30—13:00 | Location:Okazaki-An | Host:Headline Asia team | Link: https://lu.ma/l6xzqdo4
【Founders Forum @ Web3 KYOTO】| Time:12:00—15:30 | Location:Ritz Carlton KYOTO | Host:MESON NETWORK | Link: https://lu.ma/u8tv45le
【CRYPTO FRIENDS in Kyoto】| Time:15:00—19:00 | Location:268 Nishiwakamatsucho | Host:Crypto Baby & KudasaiJP | Link: https://lu.ma/cryptofriends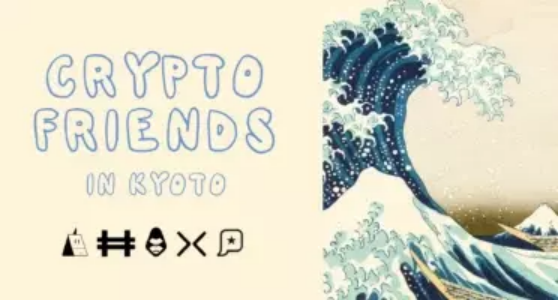 【Headline VIP Networking hour】| Time:17:00—19:00 | Location: | Host:Headline Asia team | Link: https://lu.ma/ekurctc3
【|AFTER PARTY|AI+Crypto Hackathon@KYOTO】| Time:17:00—20:00 | Location:アンデパンダン | Host:YOUTRUST | Link: https://lu.ma/after-party
【Axie Labs Vol.8 in Kyoto】| Time:17:00—20:30 | Location:THE VR ROOM KYOTO | Host:BreedClub | Link: https://twitter.com/axielabs_japan/status/1667337509800644611?s=20
【SHINSEKAI YAKAI】| Time:17:00—21:00 | Location:Coffee Base BnA | Host:株式会社SHINSEKAI Technologies | Link: https://shinsekai-yakai.peatix.com/
【Regen House in Kyoto】| Time:17:00—21:00 | Location:Register to See Address | Host:CryptoBase | Link: https://lu.ma/regenhouseinkyoto
【IVS party night for Gen-Z「TAKE MY BREATH」】| Time:17:00—22:00 | Location:y gion | Host:Shuren Goto, Taku Anada | Link: https://ivs2023-gen-z-takemybreath.peatix.com/
【IVS Kyoto Side Event – Global Meetup 2023- 】| Time:17:30—21:00 | Location:Beer Pub Takumiya | Host:Innovation Dojo Japan | Link: https://idj-kyoto-global-meetup.peatix.com/
【Public Speaking Workshop @29th Evening】| Time:17:30—19:00 | Location:中京区観音堂町 456 | Host:Ema Streit | Link: https://confident-speaking4.peatix.com/view
【「Meetup Event」International Student × Entrepreneurs】| Time:17:30—19:30 | Location:GOCONC | Host:一般社団法人京都知恵産業創造の森, 京都リサーチパーク株式会社, 生田グローバル株式会社 | Link: https://open.kyoto/calendar/7579/
【Astar & GSR Event | IVS Crypto】| Time:17:30—20:30 | Location:The Westin Miyako Kyoto Bar Moonlight | Host:Team GSR | Link: https://lu.ma/yksjajc5
【PORKER PARTY 2023 in Kyoto】| Time:17:30—22:30 | Location:じゃんけんポーカー京都河原町店 | Host:Porker Party Commitee | Link: https://twitter.com/nfpt_live/status/1663161342331850752?s=46&t=VetG2iu3k5DuKjl-23kvLw
【IVS Mahjong Night Featuring M League】| Time:17:30—22:30 | Location:KAGAN HOTEL | Host:Tatsuya Kawamura, Shiho Takai, Koichi Maruo | Link: https://snow-crafter-83a.notion.site/d536129f80ea4dc4b0d6d4925f911b10?v=6146ab5c3cf94f0980c3b2d1528862d0
【IVS Kyoto Women's Networking Event】| Time:18:00—20:00 | Location:Register to see address | Host:Tokyo Women in VC | Link: https://tokyowomenvc.org/
【Crypto Deep Talk Night powerd by Mercoin】| Time:18:00—20:00 | Location:平安神宮会館「栖鳳殿」 | Host:Mercoin | Link: https://mercari.connpass.com/event/286705/
【EXPO Bar, Keihanna Branch, IVS Edition】| Time:18:00—20:00 | Location:京都ハンディクラフトセンター | Host:MIRATORIE | Link: https://expo-sakaba-keihanna.peatix.com/
【IVS Official Event | The Gion Night powered by SHAKE!】| Time:18:00—20:30 | Location:WORLD KYOTO | Host:SHAKE executive committee | Link: https://t.livepocket.jp/e/73o4o
【「Free Admission!」AKIVERSE Networking Night 2023(IVS Crypto 2023 KYOTO Side Events)】| Time:18:00—21:00 | Location:BROOKLYN NIGHT BAZAAR | Host:AKIVERSE | Link: https://akiverse-ivskyoto2023.peatix.com
【Investors Night @ IVS Kyoto】| Time:18:00—20:00 | Location:Register to See Address | Host:WebX, COINPOST | Link: https://lu.ma/webx23.investors.night
【Azuki Kyoto Garden】| Time:18:00—20:30 | Location:Register to see address | Host:Azuki | Link: https://lu.ma/azukikyotogareden
【IVS Crypto CHAYA – Chaya [Startup✕Enterprise Night in Kyoto]】| Time:18:00—21:00 | Location:Fortune Garden | Host:Ginco, CoinCheck | Link: https://ivs-crypto-chaya.peatix.com/
【Generative AI Meetup in Kyoto】| Time:18:00—21:00 | Location:wallkyoto | Host: | Link: https://generativeaimeetupinkyoto.peatix.com/
【HR Startup Meetup ~ IVS beginners are welcome! ~】| Time:18:00—21:00 | Location:To be announced | Host:TOKUMORI, Givery | Link: https://coterrace.notion.site/IVS2-6-29-HR-Startup-e8e0f80c75b9458c85cfe8bf7fd336c1
【BAM!(Blocto-Aptos-METAPIXEL) Kyoto Takeover】| Time:18:00—21:00 | Location:Register to see address | Host: | Link: https://lu.ma/bam
【Sunset Cocktails IVS Kyoto – Quantstamp x Softbank @ Fortune Garden】| Time:18:00—21:00 | Location:Fortune Garden | Host:Quantstamp, Softbank | Link: https://lu.ma/Sunset-Cocktails-IVS-Kyoto
【Space Meetup In Kyoto】| Time:19:30—21:30 | Location:韓国ドラム缶焼肉×ビアガーデン in 京都八坂 アパホテル | Host:MoonshotManClub | Link: https://lu.ma/9sv6oxv9
【CBD Chill Night IVS2023KYOTO】| Time:20:00—23:00 | Location:To be announced | Host:CANNABIS DAO | Link: https://www.eventbrite.com/e/cbd-chill-night-ivs2023kyoto-tickets-645359165637
【Let's enjoy board game to build your team】| Time:20:00—21:30 | Location:ジャンカラ三条河原町店 | Host:NovolBa | Link: https://novolba-eventivs.peatix.com/view
【GameFi Suinami Wave in Japan】
Time:16:00—19:00 | Location:アメリカングラフィティーズ,American Graffities, 236 Yamazakicho, Nakagyo Ward, Kyoto, 604-8032, Japan | Host:Cubic Games、​Legend of Arcadia | Link:https://lu.ma/GameFiSuinamiWaveinJapan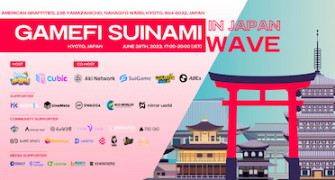 June 30 th
【Special prayer at Josei-in Temple for「Paradise in this world, Paradise in the next world」wish fulfillment (Trial Version)】| Time:07:00—08:30 | Location:Sokujo-in Temple | Host:Kyoto Prefectural Government | Link: https://ivs.beedream.co.jp/#activity_08
【Public Speaking Workshop @30th Morning】| Time:07:30—09:00 | Location:中京区観音堂町456 | Host:Ema Streit | Link: https://confident-speaking5.peatix.com/view
【IVS 2023 Kyoto Side Event 6/30 – Meditation at Zen temple】| Time:07:00—09:00 | Location:Joju-ji Temple | Host:Kyoto Meditation Center | Link: https://www.getyourguide.com/kyoto-l96826/ivs-2023-kyoto-exclusive-meditation-at-joju-ji-temple-t469968
【Engineer Meet Up@Kyomachi Family】| Time:08:00—09:30 | Location:Register to check | Host:IncubateFund, Skyland Ventures | Link: https://lu.ma/ifeg
【Blockchain Game Summer】| Time:14:00—17:00 | Location:VICEORESIDANCECLUB | Host:pph, Chris Zhu, Jialin | Link: https://lu.ma/o5elqc1l
【For Managers and Investors] Asset Management and Lifestyle Learning from the World's Leading Family Offices】| Time:17:00—19:00 | Location:Fortune Garden | Host:LUCA | Link: https://lu.ma/i27ovkqr
【Public Speaking Workshop @30th Evening】| Time:17:30—19:00 | Location:中京区観音堂町456 | Host:Ema Streit | Link: https://confident-speaking6.peatix.com/view
【Student Web3 & Metaverse Super Conference in Kyoto】| Time:17:30—20:30 | Location:ABURU | Host:WeCreate3 | Link: https://wecreate3inkyoto.peatix.com/
July 1 th
【IVS Workation Biwako】| Time:09:00—19:00 | Location:Shiga prefecture
滋賀県 | Host:Upstream BootCamp 事務局 | Link: https://ivsbiwako.studio.site/
【Kyoto city Field trip with Spurcle】| Time:09:00—14:00 | Location:Kyoto City | Host: | Link: https://docs.google.com/forms/d/e/1FAIpQLSf6TteX2bz8vwq2jO3BlyTljiKMRrKjww600I-LssFrnFAv6Q/viewform
【NFT COLLECTION IN OSAKA III】| Time:11:00—17:00 | Location:Kyocera Dome Osaka 9F Sky Hall | Host: | Link: https://twitter.com/Nftcolor22/status/1670991640121729024
【This is the Kyoto Sauna】| Time:12:00—17:00 | Location:雲海と星空のホテル テラスリゾートAsago | Host:WOOD CHAIN Inc. | Link: https://kyo-sauna.peatix.com/view
【INTERCHAIN JAPAN】| Time:14:00—19:30| Location:Roppongi Grand Tower | Host:INTERCHAIN | Link: https://lu.ma/7mmsjjlc
【NFTx Possibilities of Traditional Culture「Proof of Japan x FabCafe Kyoto」】| Time:17:00—20:00 | Location:FabCafe Kyoto | Host: | Link: https://fabcafe.com/jp/events/kyoto/NFT_x_traditional_crafts
July 2th
【「Maiko」Viewing of dances and photo session in support of Mameyui-san】| Time:14:30—18:30 | Location:Ifuji | いふじ | Host:Kyoto Culture NFT LLC | Link: https://lu.ma/l9i8rgh1
July 5th
【Web3BB Summer2023】| Time:9:00-18:00 | Location:The National Art Center,TOKYO | Host:Pivot Tokyo | Link: https://www.web3bb.pivot-tokyo.com/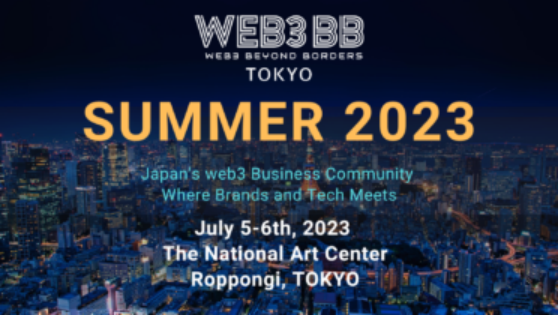 July 25th
【Tokyo Web3 Infinity Night】| Time:18:00-21:00 | Location:B1F, Chitosekaikan, 13-8, Udagawacho, Shibuya Ku, Tokyo To, 150-0042, Japan | Host:METAX