Several tokens were alleged as securities earlier this week, leading to a possible risk-off among traders.
Tokens of major blockchain networks slid more than 20% in the past 24 hours amid a likely risk-off event days after 13 tokens were alleged as securities in a U.S. Securities and Exchange Commission (SEC) lawsuit against crypto exchanges Binance and Coinbase.
The bulk of these losses came in the wee hours of Saturday, data shows. Solana (SOL), polygon (MATIC) and cardano (ADA) fell as much as 25% within hours – leading some on Crypto Twitter to wonder if a major crypto fund sold their holdings amid rather illiquid market conditions.
Such moves pushed weekly declines for these tokens to as much as 34%, the data shows.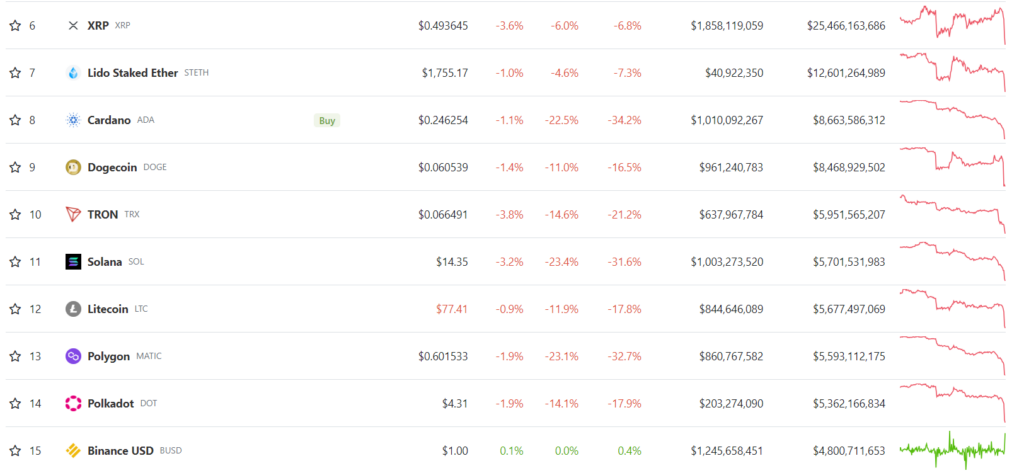 Tokens fell as much as 25% in the past 24 hours. (CoinGecko)
As such, major tokens such as bnb (BNB), dogecoin (DOGE), xrp (XRP) fell over 11%. Bitcoin (BTC) dropped 3.6% while ether (ETH) slid 4.5%.
Crypto-tracked futures saw nearly $300 million in liquidations in the early hours on Saturday, data from Coinglass show, exceeding the nine-month record liquidation figures from earlier this week.
Crypto liquidation refers to the process of forcibly closing a trader's positions in the cryptocurrency market. It occurs when a trader's margin account can no longer support their open positions due to significant losses or a lack of sufficient margin to meet the maintenance requirements.
Earlier this week, the SEC identified tokens issued by foundations and companies or tied to protocols Polygon (MATIC), Sandbox (SAND), Filecoin (FIL), Axie Infinity (AXS), Chiliz (CHZ), Flow (FLOW), Internet Computer (ICP), Near (NEAR), Voyager (VGX), Dash (DASH) and Nexo (NEXO) as securities.
This has led to some major retail trading avenues such as Robinhood to end support for tokens ADA, SOL and MATIC, likely as a response to the regulatory filings.