The Philippines is set to issue a one-year tokenized government bond worth $179 million.
The final deadline for license applications for South African crypto companies is November 20.
Pyth Network's token PYTH will unlock 1.5 billion tokens and open for airdrop claims.
The Cosmos Hub community proposal "ATOM Reduction: Setting the maximum inflation rate to 10%" has concluded voting.
Avalanche will unlock 9.5 million AVAX tokens on November 24, valued at around $218 million.
Key Events
The Philippines is set to sell a one-year tokenized government bond worth at least 10 billion pesos ($179 million). The final interest rate will be determined through an order book and announced on November 20, with the issuance and settlement set for November 22. The Development Bank of the Philippines and the Land Bank of the Philippines are the issuing managers. In recent years, the trend of utilizing blockchain and tokenization technologies for fundraising has become increasingly apparent in the Asian region. In February of this year, Hong Kong successfully issued an $80 million tokenized green bond, using distributed ledger technology (DLT) to enhance liquidity and transparency in the debt market.
The Financial Sector Conduct Authority (FSCA) in South Africa previously announced that crypto financial companies in the country need to apply for licenses between June 1, 2023, and November 20, 2023, to operate legally. November 20 serves as the final deadline for applications. The FSCA stated that obtaining this license does not mean the legalization of cryptocurrencies but aims to enable authorities to combat crypto-related scams and protect consumers, excluding NFTs from the declaration scope.
Project Progress
The Immutable zkEVM is set to undergo reconstruction on November 20, transitioning to a Geth-based client. During this reconstruction period (from November 20 to 23, Eastern Time), the testnet and its services will be unavailable for three days. The team plans to utilize this time to upgrade fiat gateways, DEX integrations, EVM monitoring, transaction relayers, and other functionalities. The full testnet and all its features are scheduled to be back online on November 24.
The Blur NFT marketplace hinted at a potential Season 2 airdrop scheduled for November 20. Blur previously indicated that they would distribute 300 million BLUR tokens in their Season 2 incentive campaign, providing maximum rewards to users with a 100% loyalty score.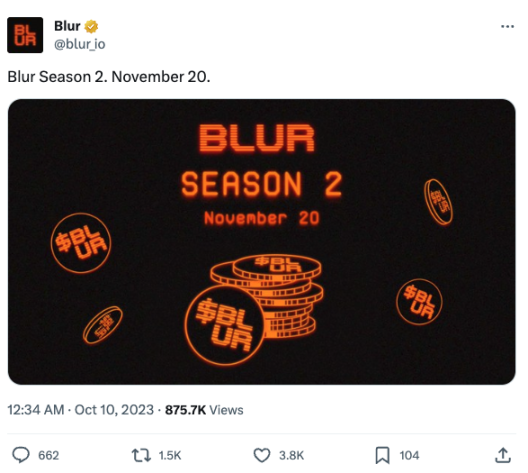 Arbitrum's on-chain decentralized trading platform, Vertex Protocol, will commence token distribution on November 20, 2023. The total VRTX token supply is 1 billion, allocated as follows: 34% for continuous incentives, 20% for the founding team, 10% for the Initial Token Phase (the first phase of the Trade & Earn program), 11.7% for the treasury, 9% for the ecosystem, 8.8% for early investors, 5% for future contributors, 1% for LBA, and 0.5% for advisors.
Additionally, the cross-chain trading platform Chainflip announced that its FLIP token generation event (TGE) will take place at 12:00 UTC on November 23.
Upcoming Events
The 5th CRYPTO FEST 2023 is scheduled to take place in Cape Town, South Africa, on November 24. The summit will focus on various themes including Web3.0, cryptocurrencies, blockchain technology, DeFi, NFTs, and Metaverse gaming.
Token Unlock
The decentralized oracle provider, Pyth Network, is set to unlock 1.5 billion tokens on November 20 at 22:00 Beijing time. This release includes allocations for Publisher Rewards, ecosystem growth, protocol development, and community and launch portions.
Specifically, within the "community and launch" category, which accounts for 6% (600 million tokens) of the total supply, PYTH tokens will be allocated for a retroactive airdrop. Eligible participants include Pyth community members who have contributed to the Pyth network, 27 blockchain applications using Pyth data, and individual users of these applications. The claiming process for the airdrop will commence at 22:00 on November 20 and will be available for 90 days until February 18, 2024. The distributed token quantities comprise 100 million PYTH tokens for dApps, 255 million PYTH tokens for on-chain activities in DeFi, and 100 million PYTH tokens for active community members.
Avalanche is scheduled to unlock 9.5 million AVAX tokens on November 24. Recent price surges in AVAX have elevated the value of the unlocked tokens from around $100 million to approximately $218 million, accounting for 2.7% of the circulating supply. Approximately $50.4 million will be allocated to the project team, $25.2 million to strategic partners, $18.7 million to the Avalanche Foundation, and $12.6 million for potential airdrops.
Governance Voting
This week's noteworthy governance activities include the Cosmos Hub community's proposal for reducing ATOM inflation and Horizen's security node reward redirection.
The proposal in the Aave community regarding the integration of native USDC into Aave V3 pools on Optimism is set to conclude voting tomorrow. The proposal suggests positioning native USDC as the primary stablecoin version bridging with USDC.e.
The Cosmos Hub community's proposal, "ATOM Reduction: Setting the Maximum Inflation Rate to 10%," has a voting deadline of November 26. This proposal aims to reduce the maximum inflation parameter from 20% to 10%, thereby reducing ATOM's current inflation rate to 10% and decreasing the stake annual yield from 19% to 13.4%.
Horizen DAO will open voting for ZenIP 42206 on November 20 at 8:00 UTC and will continue for 72 hours. This vote will decide whether to redirect Horizen's security node rewards to the Horizen EON Forger subsidy fund. ZenIP 42206 marks the first community proposal voted through Horizen DAO by the Horizen community.