Here's a rundown of the most noteworthy web3 industry events and project developments to look out for in the coming week
The main event of ETH Hong Kong will take place from October 23 to 24.
Approximately 100 million DOT tokens locked in the first batch of Polkadot Crowdloans will be unlocked.
Blockchain Life will be held in Dubai from October 24 to 25.
The proposal to "transfer unclaimed NTRN airdrop tokens to the Cosmos Hub" in Neutron will conclude its voting on October 27.
Over Protocol, a lightweight node protocol for Layer 1 blockchains, will launch a closed beta testnet on October 26.
Key Events
This week, the ETH Hong Kong event continues, with the main venue hosting the opening ceremony on October 23. The first-day highlights include an online speech by Ethereum co-founder Vitalik Buterin on "The Future of Ethereum and Its Development Roadmap." Additionally, there will be a roundtable forum on wallets titled "Redefining Web3 through Account Abstraction" starting at 10:00 today and a roundtable forum on Layer 2 titled "Can Real Rollups Stand Up" beginning at 11:15 today.
On October 24 at 9:47 AM Beijing time, the first batch of parachain slots on Polkadot is about to expire. This means that approximately 100 million DOT tokens that were originally locked in the Crowdloan will also be unlocked. These DOT tokens represent about 7.4% of the total supply. Crowdloan participants can release their staked DOT by going through the channels they used for participation, including Polkadot.js or the project's official websites, liquidity staking products, centralized exchanges, and more. Exchanges like Binance and OKEx have also announced that they will support DOT token redemptions through the DOT slot auction page starting on October 26.
To address this unlocking event, the Polkadot community has passed governance proposal number 166. This proposal suggests increasing Polkadot's network ideal staking rate from 52.5% to 60%, allowing the network to accommodate the newly staked DOT entering the system after unlocking, without reducing staking rewards.
Project Progress
Recently, the Web3 social trend is gaining momentum, and the Web3 social application Tip Coin is set to launch TipChat on October 23. Tip Coin opened the token TIP for claiming on September 19. According to the token economic model they previously disclosed, besides reserving 40% of TIP for airdrops in three epochs, Tip Coin has allocated 35% for TipChat users, with only 10% left for the community and the team. This shows significant user incentives for Tip Coin, and the announcement of the new product TipChat has quickly gained attention. There isn't much information available about TipChat at the moment, but according to their teaser, it will be a social application for mobile phones.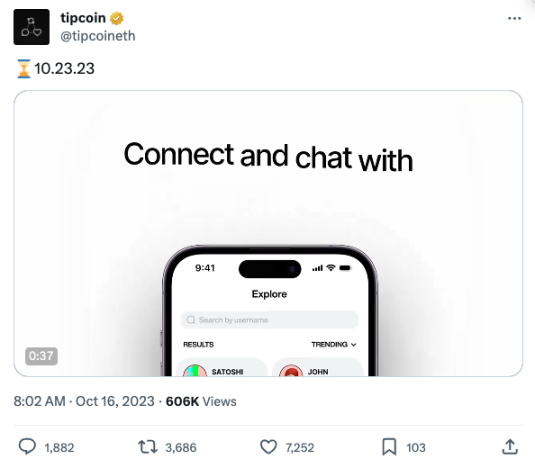 Out of the approximately 134 million WLD tokens currently issued by Worldcoin, 100 million are provided as loans to market makers, and 34 million are distributed as grants to users and Orb operators. Since the loans are due on October 24, Worldcoin has announced a reduction in the loan amount due from market makers to 25 million WLD on October 24, with the remaining 75 million extended until December. The Worldcoin Foundation will pay WLD tokens to Orb operators instead of USDC.
In addition, Layer 1 blockchain lightweight node protocol Over Protocol will launch a closed Beta testnet on October 26. Over Protocol is a blockchain network that utilizes full-node lightweight technology called "Ethanos." According to their description, it will support users in running nodes and participating in staking with a simple interface on a PC. The official product is planned for release in the first quarter of the next year.
Upcoming Events
This week, apart from ETH Hong Kong taking place in Hong Kong, there are several major blockchain events happening worldwide:
The 11th Web3, Cryptocurrency, and Mining International Forum, Blockchain Life 2023, will be held in Dubai from October 24 to 25.
Caracas Blockchain Week (CBW) 2023 will be held in Venezuela from October 24 to 28. It includes a hackathon and workshops from October 24 to 26, followed by a summit on October 27 and 28.
Token Unlock
According to Token Unlocks data, from October 23 to October 29, CTSI, ACA, EUL, GAL, YGG, and AGIX tokens will be unlocked all at once this week. Among these, 12.58 million YGG tokens (approximately 2.96 million USD) will be unlocked on October 27 at 22:00, constituting 6.8% of the circulating supply.
Governance Voting
This week, the Aave community's "Activate Governance V3" proposal is set to conclude voting on October 23 at 16:53. The proposal aims to migrate Aave Governance from v2 to v3 and transfer all permissions from v2 to v3.
Additionally, the Neutron proposal to "Transfer Unclaimed NTRN Airdrop Tokens to the Cosmos Hub" will conclude voting on October 27. The proposal seeks to securely transfer approximately 42,727,950 unclaimed NTRN tokens to the Cosmos Hub community pool.