Here's a rundown of the most noteworthy web3 industry events and project developments to look out for in the coming week
ETH Hong Kong will be held from October 22nd to 24th.
The auction floor price for FTX 2.0 will be announced on October 16th.
The ZTX token will be airdropped and listed on October 16th.
Mina will launch its Testworld Mission 2.0 upgrade.
Approximately $64.59 million worth of AXS tokens will be unlocked this week.
The bankrupt cryptocurrency exchange FTX confirmed its restructuring plan in May this year. The bidding for FTX 2.0 ended on September 24th, and the auction protection price for FTX will be announced on October 16th, continuing until October 23rd. The Stalking Horse, also known as a fake horse bid, refers to the initial public bid made by the buyer selected by a company applying for bankruptcy protection. The Stalking Horse bid is used as the starting price or the minimum price that the seller can accept. Other potential buyers must bid higher if they want to successfully acquire the property. According to the schedule provided by FTX creditor Sunil, the FTX auction is planned to take place from November 23rd to December 33rd, although it may also be subject to delays.
FTX revealed that since May, the FTX restructuring team has been in contact with over 75 potential bidders, considering options including acquisition, merger, capital restructuring, or other transactions to relaunch FTX.com and/or FTX US exchanges. According to a tweet from the FTX 2.0 Alliance on October 12th, it was mentioned that after the end of the second round of bidding, there are now only three creditors remaining.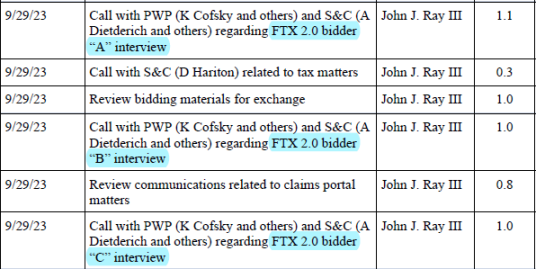 In addition, as the regulatory environment for cryptocurrencies becomes increasingly stringent in the UK, another traditional financial institution is imposing restrictions on cryptocurrencies. JPMorgan's subsidiary, JPMorgan Bank in the UK, will prohibit cryptocurrency-related payments for its UK customers starting from October 16th. JPMorgan Bank stated that the primary reason for this move is the growing frequency of fraudsters using cryptocurrencies to steal significant amounts of funds.
Project Updates
project updates for this week are focusing on ecosystem and incentive activities, airdrops, and testnet launches:
The second week of Arbitrum's Odyssey event is set to resume on October 16. This round of interactive tasks will take place on the NFT marketplace TofuNFT and the perpetual order book DEX Aboard Exchange. Users who have already completed the tasks for the second week don't need to redo them. The event was previously paused due to an attack on Galxe.
The deadline for LooksRare NFT marketplace's Season 3 platform incentive program is October 16. The season offers a reward pool of 1 million LOOKS tokens. Users can exchange these tokens for gems at the end of the season. Users who didn't claim incentive airdrop LOOKS tokens in the second season can still do so throughout the third season.
The metaverse platform ZTX will release ZTX token airdrops and listing details on October 16. ZTX tokens have various utilities, including governance and in-game usage. The team also plans to support a token buyback program using platform revenue. ZTX has a total supply of 10 billion tokens, with allocations to early investors and advisors, ZEPETO, the core team, social fund, initial ZTX liquidity, genesis airdrop, X2E Rewards, ZTX Foundation treasury, and MM liquidity.
Mina's Testworld Mission 2.0 program will launch on October 17. This upgrade aims to make ZK programmability on the mainnet more accessible.
Upcoming Events
The "Plan ₿ Forum," a Bitcoin conference, is scheduled for October 20th in Lugano.
ETH Hong Kong will take place from October 22nd to 24th at Hong Kong Cyberport.
ETH Hong Kong aims to gather members from various regions to collaborate in building the Ethereum community. The event will feature prominent guests, including Ethereum co-founder Vitalik Buterin, 9GAG CEO Ray Chan, Evident CEO Florian Spiegl, zkSync Head of Business Development Marco Cora, Matrixport COO Cynthia Wu, EthStorage Founder Qi Zhou, Orderly Network Co-founder Ran Yi, and Asia Crypto Alliance Co-founder and Chair Vivien Khoo, among others.
Token Unlocks
According to Token Unlocks data, from October 16th to October 22nd, FLOW, APE, AXS, and ID tokens are set to unlock. Among these, AXS tokens worth approximately $64.59 million will be unlocked on October 20th at 21:10 UTC, accounting for 11.5% of the circulating supply.