A considerable shift has been observed in Ethereum's Layer 2 scaling solutions landscape. As of July 27, Optimism recorded 944,668 daily transactions, surpassing Arbitrum, which logged 658,013 transactions. This surge in activity on Optimism is primarily attributed to the recent launch of Worldcoin.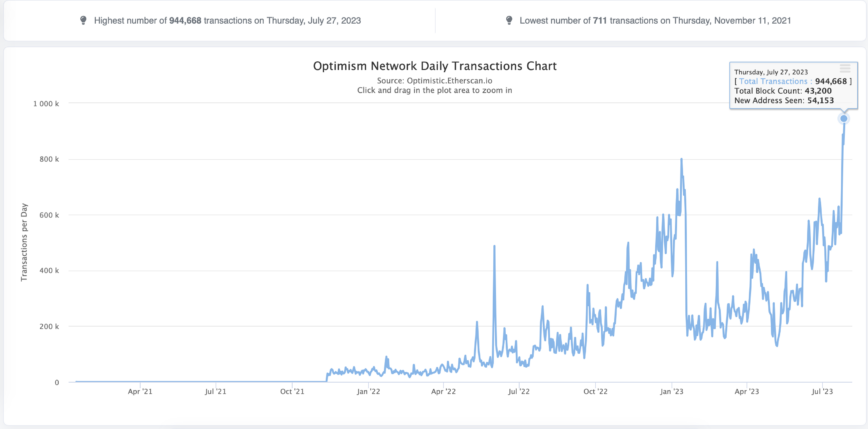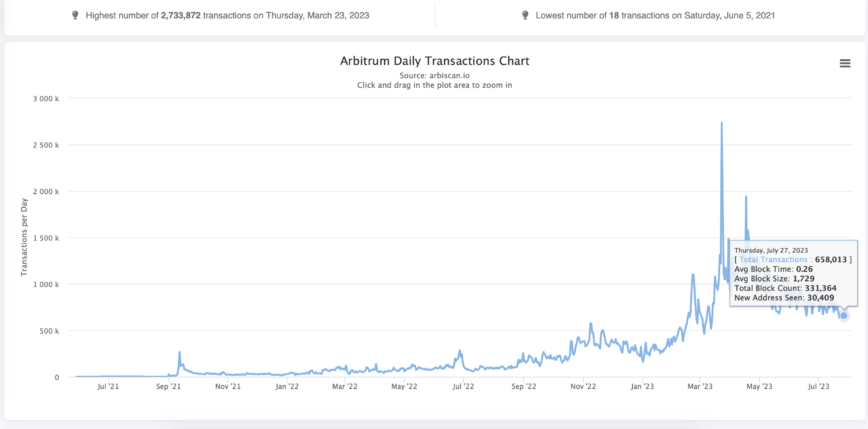 Worldcoin, associated with Sam Altman, co-founder of OpenAI, officially launched on July 24, starting testing in 2021 after its official project announcement. The project started onboarding clients onto Optimism in June 2023,
This introduction has fueled Optimism's daily transactions, leading to a 240% increase from about 277,000 on June 1 to over 944,000 on July 27. Meanwhile, during the same period, Arbitrum reported a slight decline, with transactions dropping from 745,000 to 660,000.
Data from Dune Analytics show a rise in Worldcoin wallets on Optimism, nearing 1 million, excluding pre-release wallets yet to be migrated.
Despite losing ground in daily transactions, Arbitrum remains robust in other metrics. DeFiLlama data shows that Arbitrum leads in total active addresses at 8.75 million and in daily active users with 123,000. On the other hand, Optimism reports 4.01 million active addresses and 89,000 daily active users.
The recent introduction of Worldcoin on Optimism has significantly influenced the daily transaction volumes on Ethereum's Layer 2 scaling solutions, highlighting the profound impact a single project can have on user dynamics.