AFFLUX selected 59 start-up companies representing the future Web3 trend from nearly 200 projects from all over the world, focusing on the special roadshow of WEB3, aiming to strengthen the communication between AFFLUX incubation ecology and investment institutions, including Infrastructure, DeFi & GameFi, DID&Dapp, Security&Wallet four tracks. The event lasted for two days, and a total of more than 100 first-line fund investors participated. The total traffic attention was nearly 300,000, and the atmosphere of on-site communication was very enthusiastic.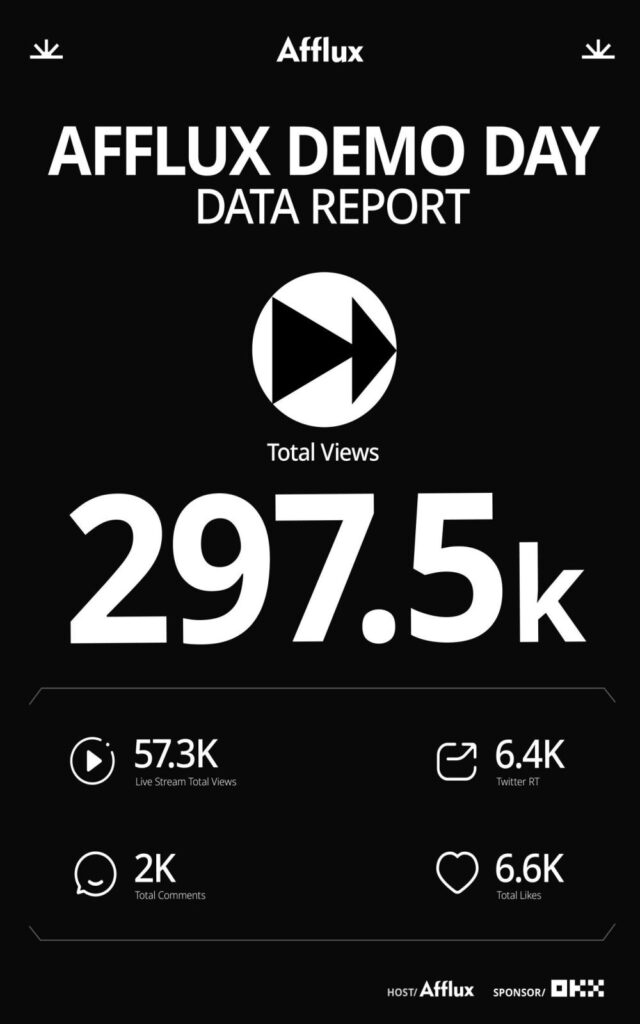 Since its establishment, AFFLUX has been striving to build an integrated, full-cycle post-investment management service, actively helping entrepreneurs at different stages to solve their needs. The New Year's Eve Demo Day held on January 19, as an important part of the comprehensive post-investment service of AFFLUX's incubation ecology, won the honor of guests and audiences with its high-quality project quality, efficient docking process, and the wonderful sharing of the speakers. unanimous praise.
AFFLUX founder J said at the event: "This event is held several times a year, covering Europe, North America, East Asia and other regions. Startups and enterprises at different stages are actively participating in the Afflux ecosystem. With the dynamic changes in the market in recent years, The liquidity of the entire market is a topic of great concern. In addition to the occurrence of many major events that we are familiar with, various web3 project parties, between project parties and communities, and between project parties and investors, are extremely lacking in information exchange and Resource exchange. For example, investors cannot find a good project party, and a good project cannot match a suitable community, technical support, symbiotic effect between project parties, etc. So Afflux was born.
Afflux means never-ending flow. We empower more early-stage projects through active resource flow and customized services throughout the life cycle, and support project development with a diversified and extensive resource network. We will provide our clients with all the resources we can. "
This Demo Day brought together investors from many top Web3 institutions such as ABCDE, GSRV, and Huobi Ventures to assist in guiding and participating in projects. In this Demo Day, nearly 200 teams signed up for Afflux Demo Day, 59 projects participated in the demonstration, and finally 16 teams stood out from the major tracks. They are WeaveChain, Wormhole3, Topia in the Infrastructure track; Soonswap, Arc Finance, CEBG, Hipo, IMPAKT in the DeFi & GameFi track; NFTScan, Andiam, Voice Street, Mail3 in the DID&Dapp track; Beosin, Meta in the Security & Wallet track Defender, Bitizen, Meta Trust.
Afflux is very grateful to all partners for their support. At the same time, everyone is welcome to log in to the Afflux official website to view the basic information of all projects on this Demo Day.
If you are interested in any project, and have business cooperation intentions such as financing and activities, you can log in to Afflux official website to view or go to YouTube to check out the recap of Demo Day.
Website: www.affluxcon.com;YouTube:https://www.youtube.com/@affluxcon/streams
If you are a Web3 entrepreneur with a good idea, but currently lack resources such as capital, technology, and team, you can contact us and put your project on the official website of Afflux, and we will provide full-lifecycle Web3 product customization services.
Here are brief profiles of 16 start-ups.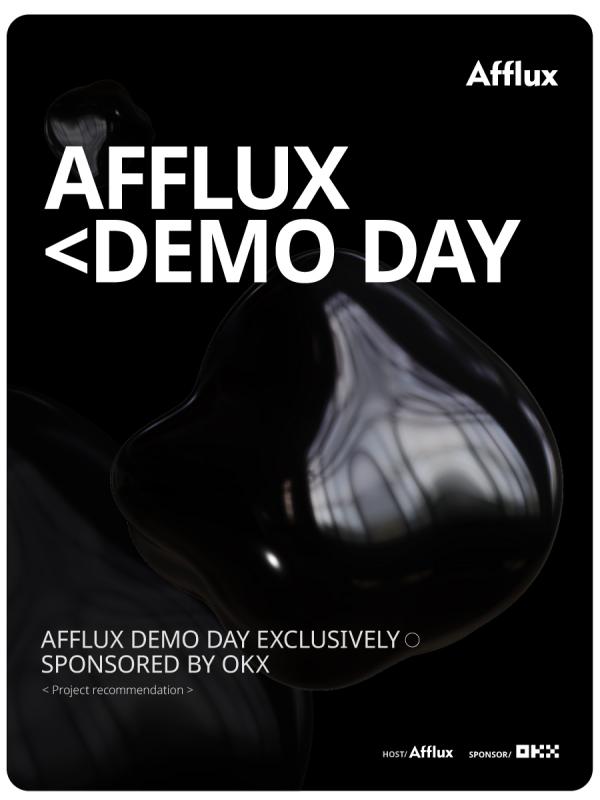 In the future, Afflux will continue to empower more start-up teams with patience and wisdom, accompany their growth along the way, and create a more complete Afflux entrepreneurial ecosystem.
WHAT IS AFFLUX
Afflux is a Web3 incubator headquartered in Singapore with branches in Europe and North America. Afflux was initiated by encrypted VCs, entrepreneurs, American university professors, etc. Currently, there are more than 300 blockchain projects, more than 100 VCs, and 15,000+ community members in the Afflux ecosystem.
Twitter:https://twitter.com/Afflux_con
Telegram:https://t.me/+X_bpaLxc8CUzYTdl
YouTube:https://www.youtube.com/@affluxcon