A New Competitor Has Arrived for ChatGPT: Grōk
Eccentric and fashionable Elon Musk has announced a new feature on social media called This is part of Elon Musk's xAI startup, which was created for humorous and interactive purposes, and it integrates with X.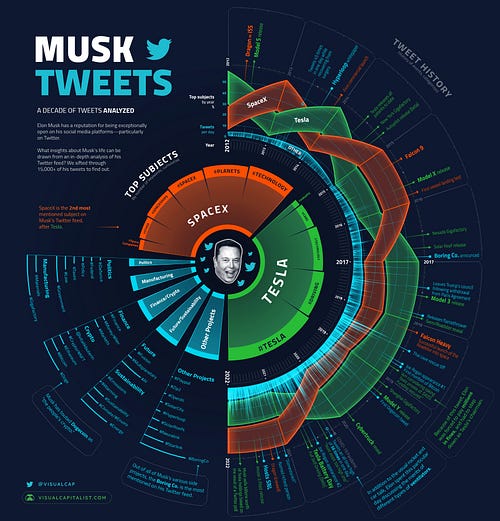 Is Grōk a new toy from Elon?
Let's start with this new word —  Grōk.
And for anyone curious about the origin of the word "Grōk," it's a verb that means "to understand intuitively or through empathy" or "to establish a relationship with," according to the Oxford English Dictionary. The word was coined by the writer Robert A. Heinlein back in 1961 for his science fiction novel "Stranger in a Strange Land." Today, this term is more commonly used in technical circles as a word to indicate a deep understanding.
Returning to our news, according to a message posted on X, the conversational chatbot Grōk will be made available to all "X Premium+ subscribers" after the completion of the "early beta version" phase.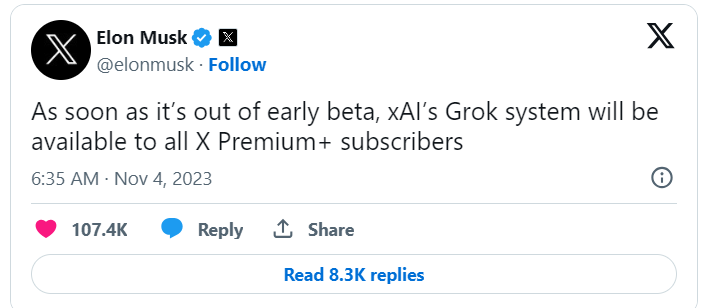 The bot is the first innovation from Elon Musk's AI startup, xAI, which he announced back in July. Musk has given the company, consisting of 12 individuals, an ambitious mission to "understand the true nature of the Universe."
Musk, who was one of the co-founders of OpenAI earlier and left the board of directors in 2018, citing conflicts of interest with Tesla, had previously stated that xAI "definitely completes" with OpenAI.
Musk pointed out that the "significant advantage" of Grōk over other AI models is that it has "real-time access" to X. Grōk also "appreciates sarcasm" and was designed to have "a bit of humor" in its responses, Musk noted in his post.
Grōk's Influence on the Cryptocurrency Landscape
As for Grōk's connection to cryptocurrency and blockchain, Elon Musk's activities on social media have been known to influence markets, whether it's the stocks of his own companies like Tesla or cryptocurrencies like Bitcoin and Dogecoin. When Musk tweets, the crypto world listens and often takes action. Enterprising developers and traders frequently seize the opportunity to create and sell new tokens based on Musk's tweets and public statements.
Elon Musk's AI bot, Grōk, has sparked widespread interest in cryptocurrency tokens. Moreover, over the past week, approximately four hundred different GROK tokens were launched in the cryptocurrency market by various anonymous developers.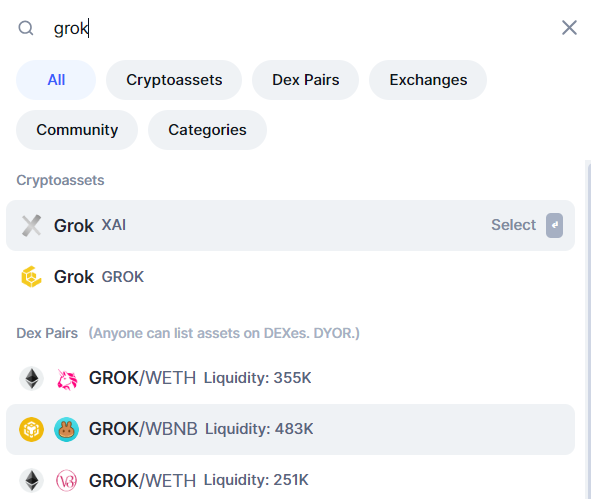 Collectively, they have reached a market capitalization that has reached tens of millions of dollars, according to Fortune. These tokens capitalized on the hype surrounding the launch of Elon Musk's artificial intelligence chatbot called Grōk. Of course, none of them are officially associated with the controversial tech entrepreneur or his artificial intelligence initiative.
Projects utilizing AI and blockchain technology
Blockchain and AI can have numerous points of convergence for collaborative applications across various domains, and some projects have already taken serious steps towards realizing this idea.
Also, Blockchain and AI can be used in various areas: logistics, medicine, the information sector, etc. The applications are limited only by human imagination.
AI blockchain projects
The project aims to incorporate blockchain and artificial intelligence technologies into coffee supply chains. AI adapts the coffee bean growing process to weather conditions and assesses their quality. Data obtained at each stage of the supply chain is recorded on the blockchain, where it can no longer be altered or compromised. This way, the entire coffee journey is properly tracked and controlled.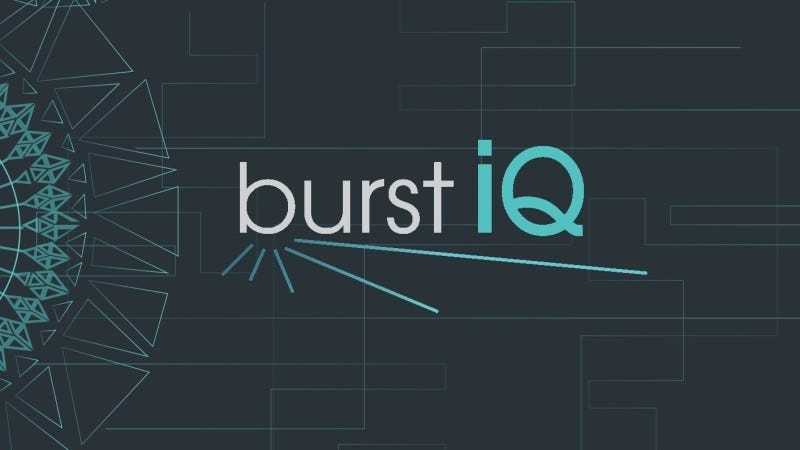 The company has launched a service called "Health Wallet" aimed at the healthcare sector. It is a network for exchanging health data about users and their treatment. Patients can grant access to this data to medical professionals for researching specific illnesses and treatment methods.
The project utilizes a combination of two technologies to combat fake news and hate speech. AI verifies the accuracy of information and categorizes it, while the already verified content is stored on the blockchain.

An automated cryptocurrency trading platform that offers a combination of automated artificial intelligence strategies and user-driven decision-making. The platform allows users to choose how they want to interact with it, emphasizing flexibility, transparency, and a personalized experience. Overall, Diamond Pigs provides a comprehensive solution for anyone looking to trade cryptocurrencies. The platform provides flexible wallet management, customizable asset allocation, and various trading strategies on platforms such as bitvavo, Binance, WhiteBIT, and Huobi.
What Are the Benefits of Using Trading Bots?
— Trading bots are active 24/7 continuously;
— Users can buy and sell a lot faster;
— Platform responds to fast market sell-offs;
— Users can monitor large amounts of coins at the same time;
— Possibility to stay out of the market during downtrends and thus limit losses;
— Flexible wallet management with customizable asset allocation and diversified trading strategies.
Conclusion
We've seen the emergence of Grōk, a dynamic fusion of AI and interaction that has captured global attention. Elon Musk's impact on cryptocurrency markets through his social media presence, evident in the surge of GROK tokens, is undeniable. The potential of AI and blockchain integration is constantly evolving, reshaping industries and unlocking limitless future possibilities.