From January 19th to January 20th, 2023, just as the Chinese New Year is approaching, AFFLUX wishes everyone a happy and prosperous New Year. In this joyous New Year atmosphere, AFFLUX joins hands with hundreds of Web3 experts to discuss a Web3 industry exchange conference.
At the same time, the conference will launch the first Demo Day of the AFFLUX incubation ecology, and nearly a hundred projects will have in-depth exchanges with you. In this Web3 revolution, countless projects are galloping on the Web3 battlefield, and they will jointly compose a gorgeous Web3 epic.
This Demo Day is exclusively sponsored by OKX. Welcome to OKX,the world's leading digital asset financial&Web3 service provider.
This Demo Day is exclusively supported by Amazon cloud.Amazon cloud technology provides free cloud resources for qualified teams. The evaluation rights are owned by Amazon Cloud Technology.
The Demo Day will incorporate dozens of co-organizers from the crypto field and nearly 100 venture capital, dozens of media outlets, and more than 100 Web3 early-stage projects. It is expected that the Demo Day will involve more than 1 million people that covering the vast majority of Web3 users and Web2 users who are interested in this field.
AFFLUX will take on the important task of leading Web3 VC and Web3 builder to carry out the collision of ideas and launch discussions on the future imagination space, combining the former's understanding of market users with the latter's deep understanding of technology and concepts,
Let us explore and touch the future together.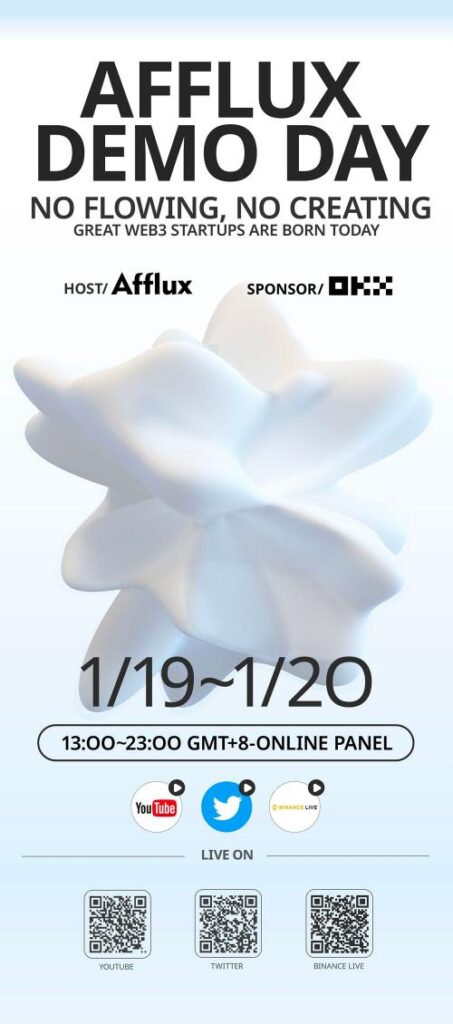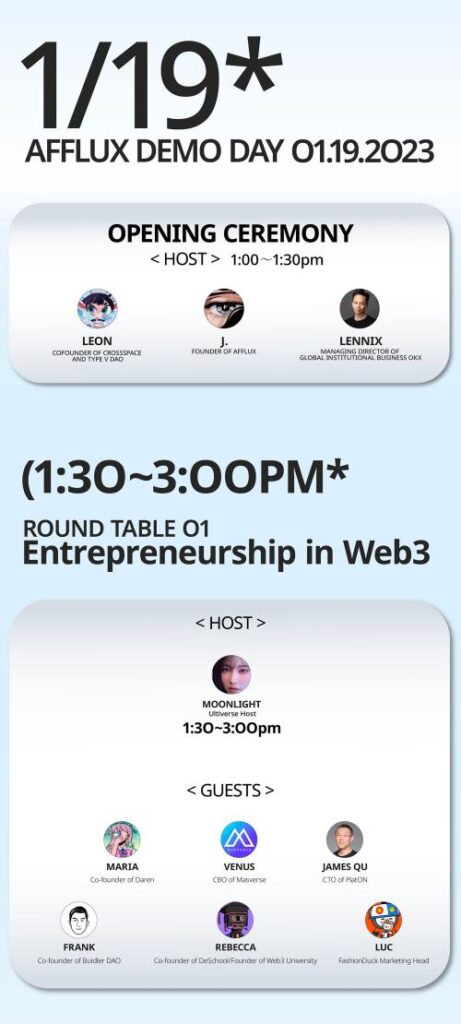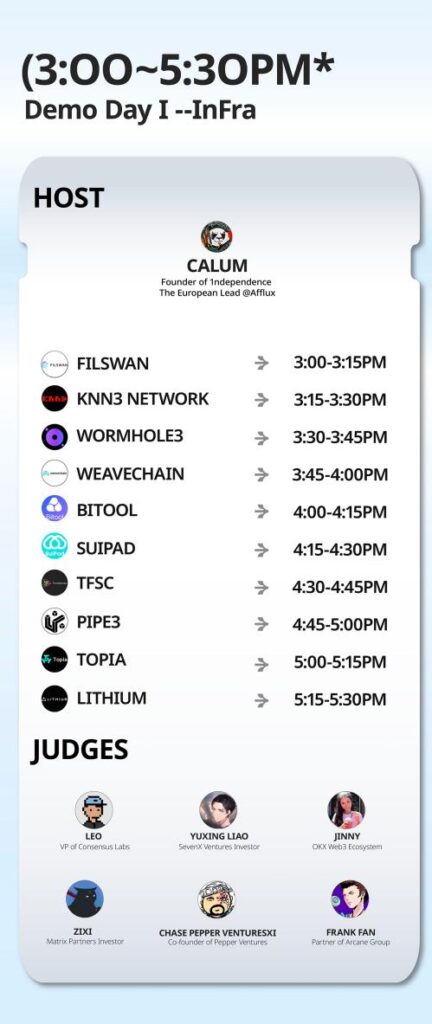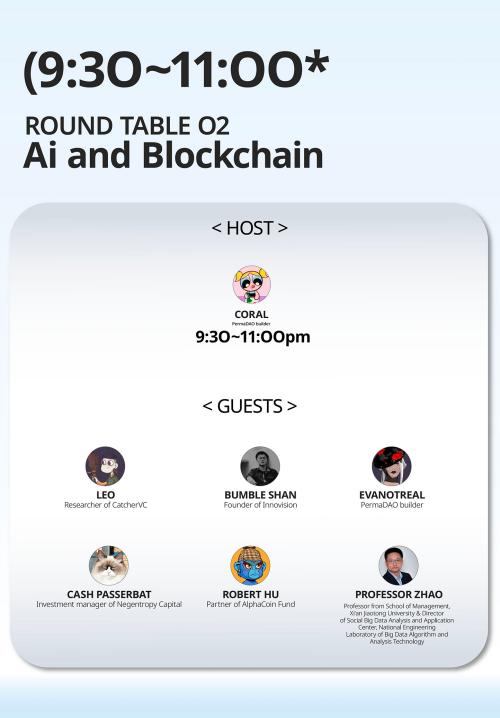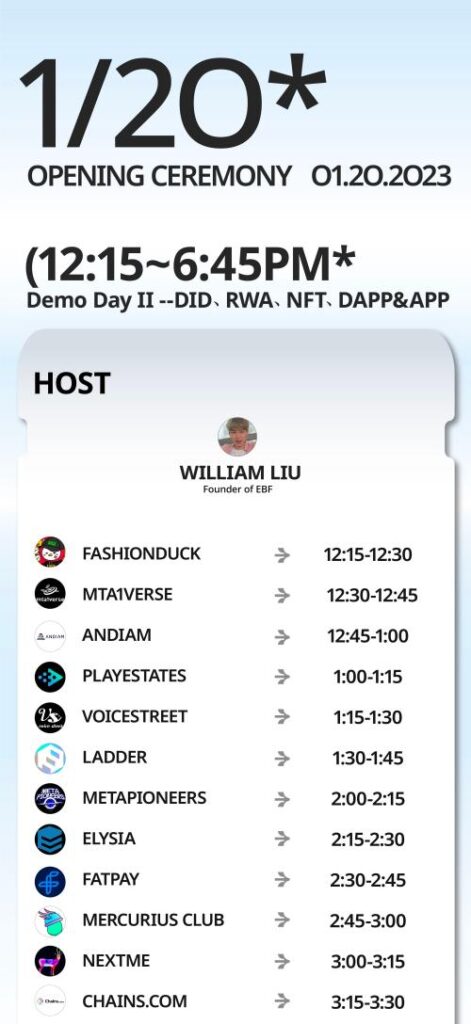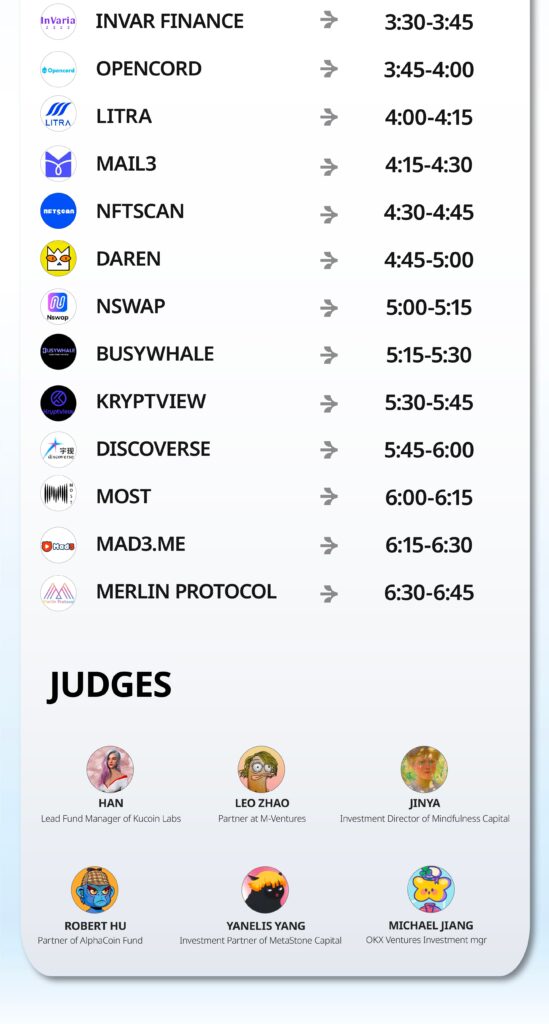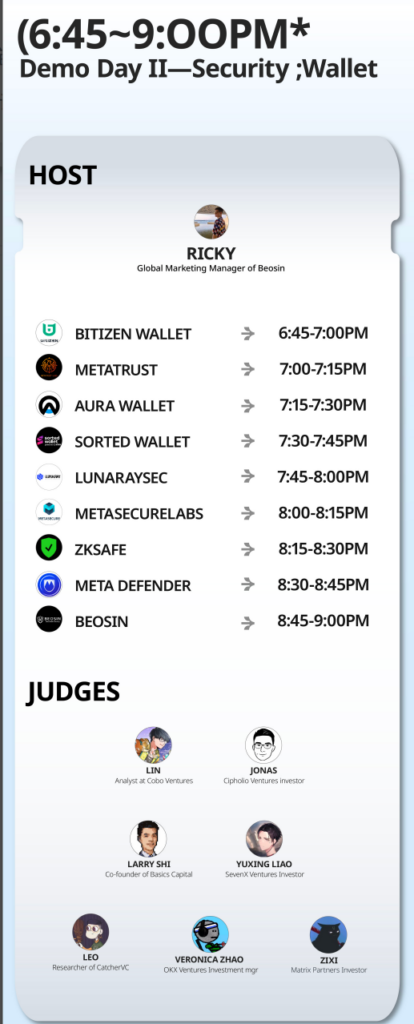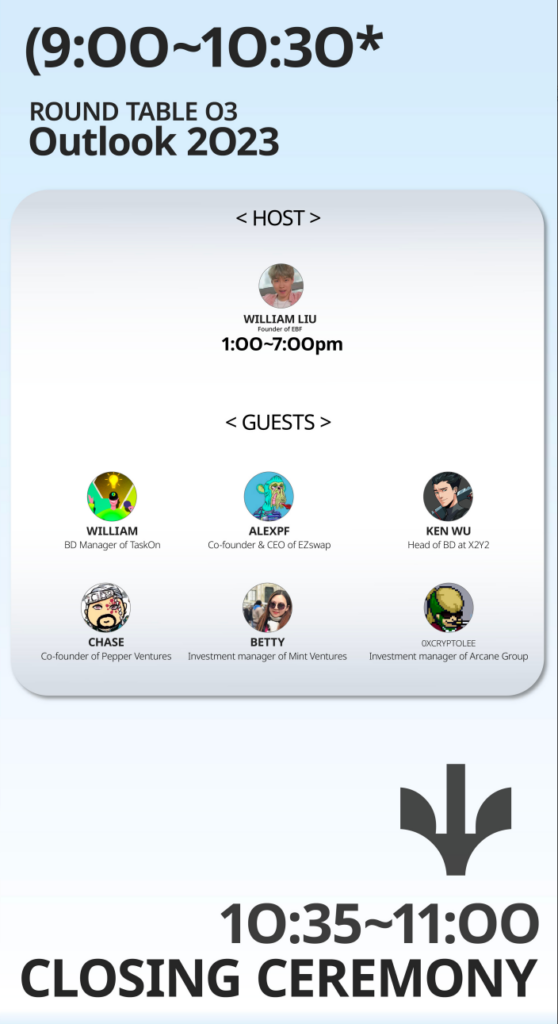 The following are the 59 project parties participating in the demonstration on AFFLUX Demo Day, as well as our co-organizers, investment institutions and media organizations. We are very grateful for their support for AFFLUX Demo Day.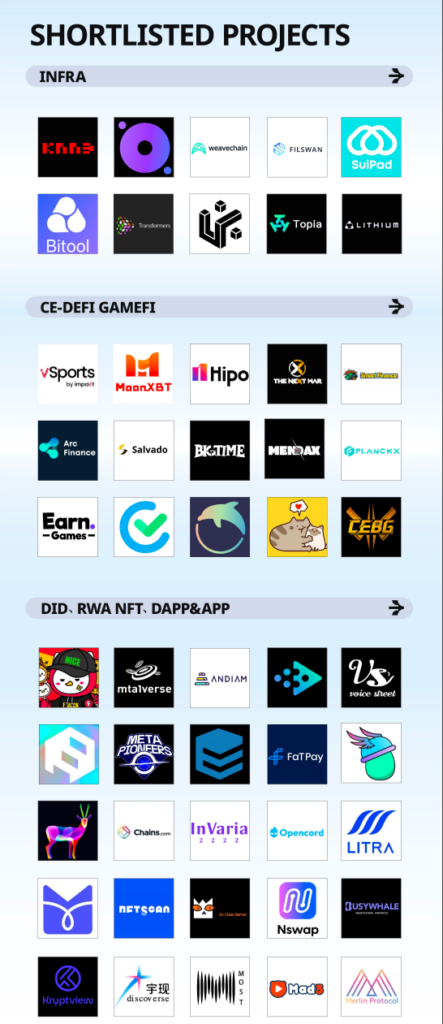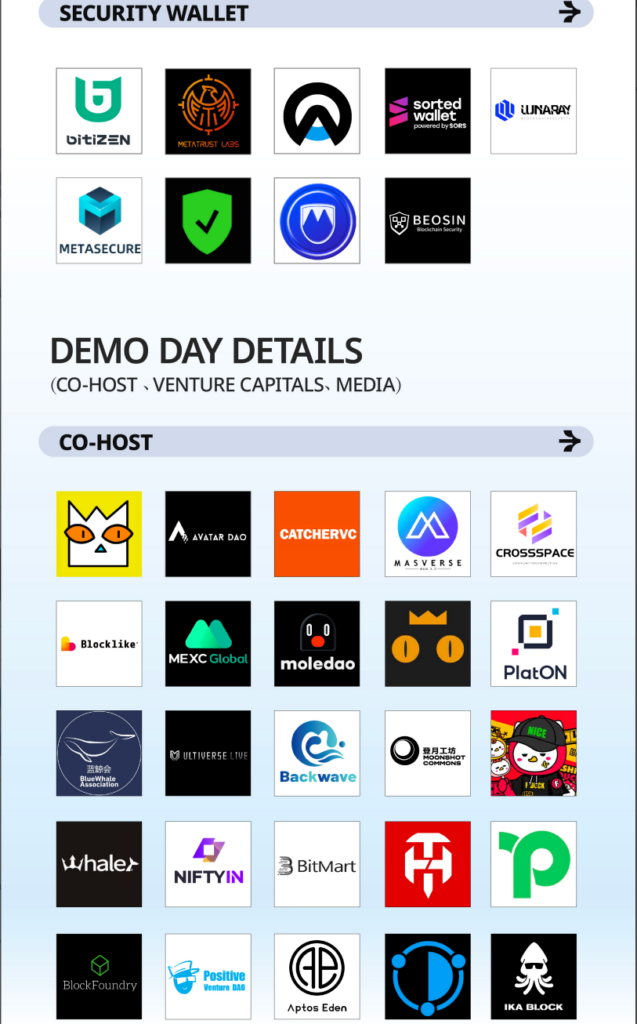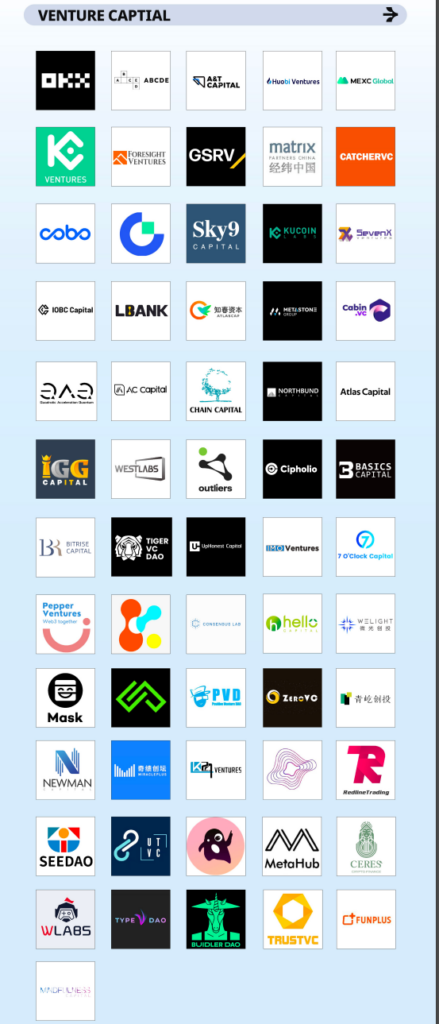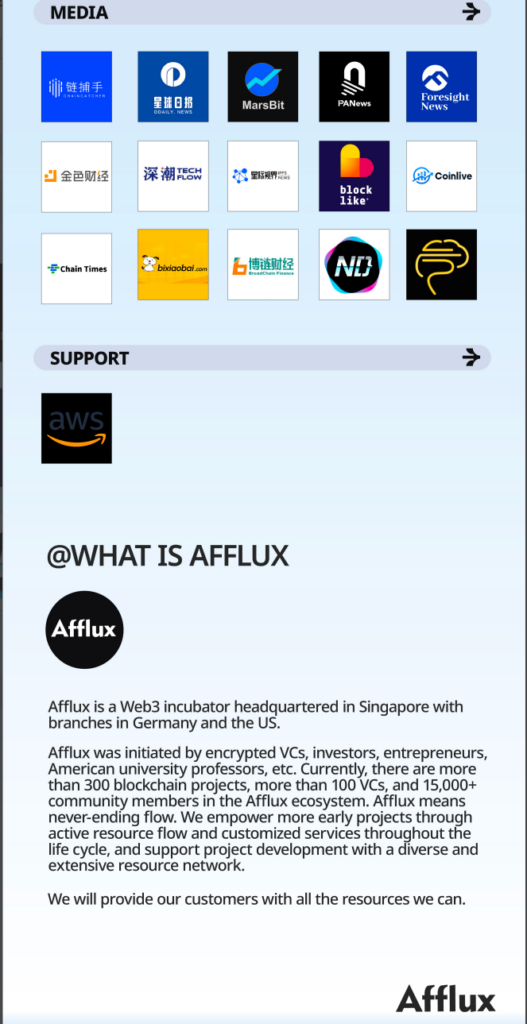 If you are interested in any project and have the willingness to cooperate in financing, activities and other business cooperation, you can log on to the Afflux website to check
If you are a Web3 entrepreneur and you have a good idea, but currently lack funds, technology, team or other resources, you can contact us and list your project on the Afflux official website at the same time, we will provide full life cycle Web3 product customization services.
Making business development no longer difficult is our goal, and making Web3 resources flow quickly is our vision.
According to the professional opinions of the judges, we will select three winning projects from each of the above four track sessions. AFFLUX will incubate these projects in depth to help them develop rapidly.

At the same time, all the project information, investment and financing information, cooperation demand information and a complete Demo Day review of this Demo Day will be published on the AFFLUX official website after the event, please feel free to browse.
AFFLUX OFFERS BENEFITS, NEW YEAR'S CARNIVAL, START NOW!
In this event, we provide participants with a lot of generous rewards, including prizes for multiple projects (Peripherals/Whitelists/Tokens/Bonus), with a total value of more than 10,000 USDT! Let me show you the tip of the iceberg of prizes.
1.USDT, snowboards, mechanical keyboards and other prizes provided by OKX.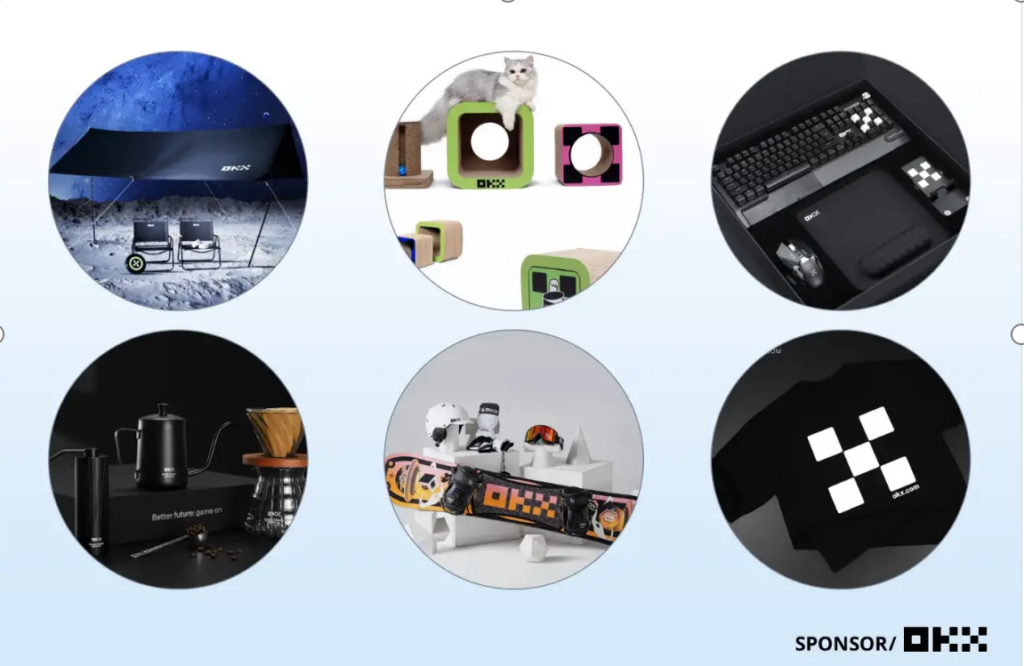 A.Follow the official Twitter of AFFLUX and the official Twitter of OKX
B.We will randomly select online viewers to get prizes during the Demo Day. The longer the online time, the greater the probability of winning, so please stay tuned
2. Afflux & TaskOn demo day commemorative NFT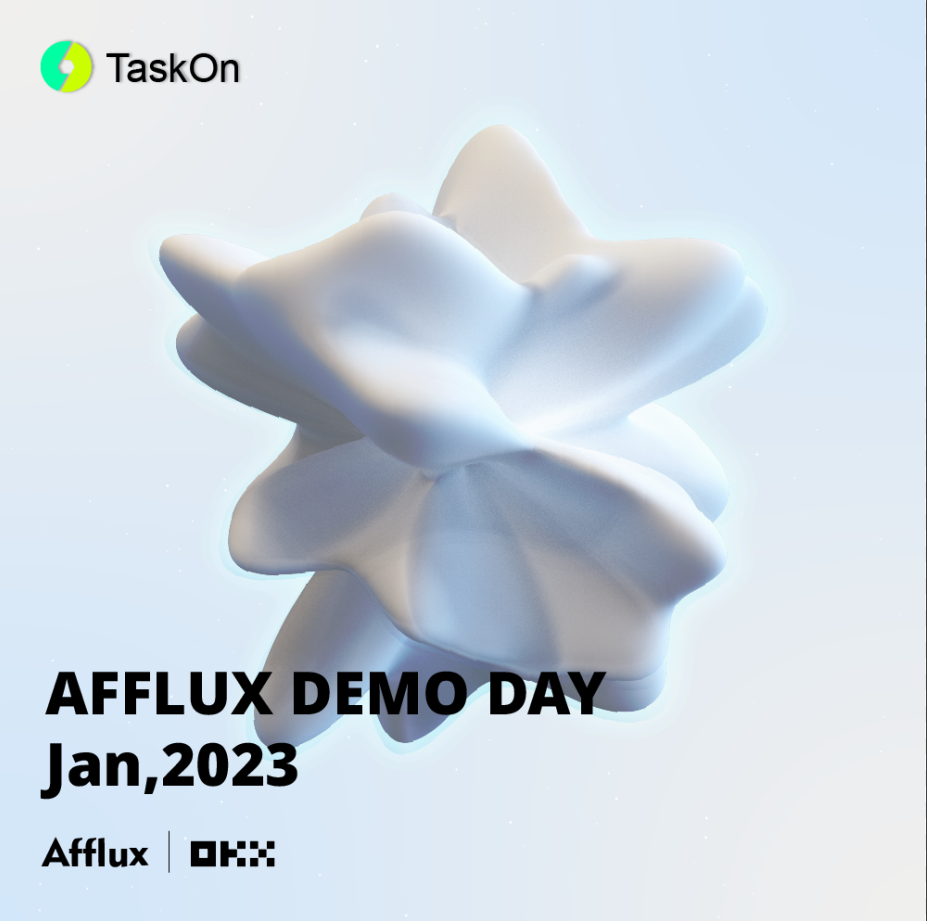 The way to claim NFT:
A. Follow Afflux's official Twitter + taskon's official Twitter
B. Retweeted the activity tweet of demo day
C. Visited the demo day activity link
TaskOn is a Web3 task collaboration platform ideal for marketing and operations. It enables you to easily run campaigns to promote your brand, acquire new real users, grow your community, drive up volume, mint NFTs or manage a whitelist.
It's a free Web3 version of Gleam, but way better, complete with a variety of templates for on-chain and off-chain tasks.
3.Afflux&Wormhole3's Mysterious Prize Pool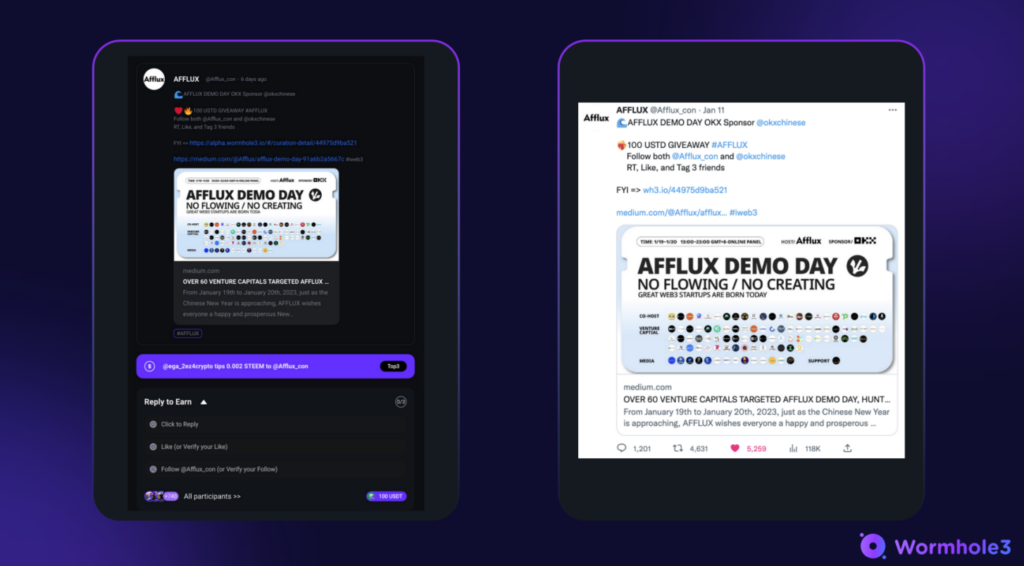 This Demo Day is a traffic aggregation event, with a total of 59 project parties and 20+ co-organizers.
24H before the event starts, the project party can use Wormhole3 to release the exclusive event prize pool (voluntarily choose to participate), the purpose is to help everyone attract/increase fans.
Wormhole3 was used for all AFFLUX events this time and it worked out great. Afflux DEMO DAY announces Tweet, the effect is as follows [100USDT reward, get 119K Views, 4628 Retweets]
so you get it?
The airdrops, tokens, and prizes of nearly a hundred Web3 projects are gathered together, this will be your best Web3 gift package
For more details about Wormhole3, please check Official Medium
WHAT IS AFFLUX
Afflux is a Web3 incubator headquartered in Singapore with branches in Europe and North America.Afflux was initiated by encrypted VCs, entrepreneurs, American university professors, etc. Currently, there are more than 300 blockchain projects, more than 100 VCs, and 15,000+ community members in the Afflux ecosystem. Afflux means never-ending flow. We empower more early projects through active resource flow and customized services throughout the life cycle, and support project development with a diverse and extensive resource network. We will provide our customers with all the resources we can.
CONTACT DETAILS:
Twitter:

Telegram Group: