The edition of 45,000 NFTs features the former president in various fantasy costumes and poses. It will be minted on Polygon.
By Cam Thompson
Former President Donald Trump released a collection of 45,000 fantasy non-fungible tokens (NFT), he announced on Thursday via Truth Social, the social media site he founded last year.
According to the collection's website, the Trump Digital Trading Cards feature images of the president in a style similar to collectible baseball cards. The tokens, minted on Polygon, cost $99 and can be purchased with ether (ETH) or in fiat currency.
At the end of the checkout process, customers are prompted to choose how many Trump Trading Cards they want to purchase. The pop-up promotes a guaranteed ticket to a gala dinner with Trump for purchasing 45 NFTs at once, as seen in the screenshot below. This would cost a customer $4455.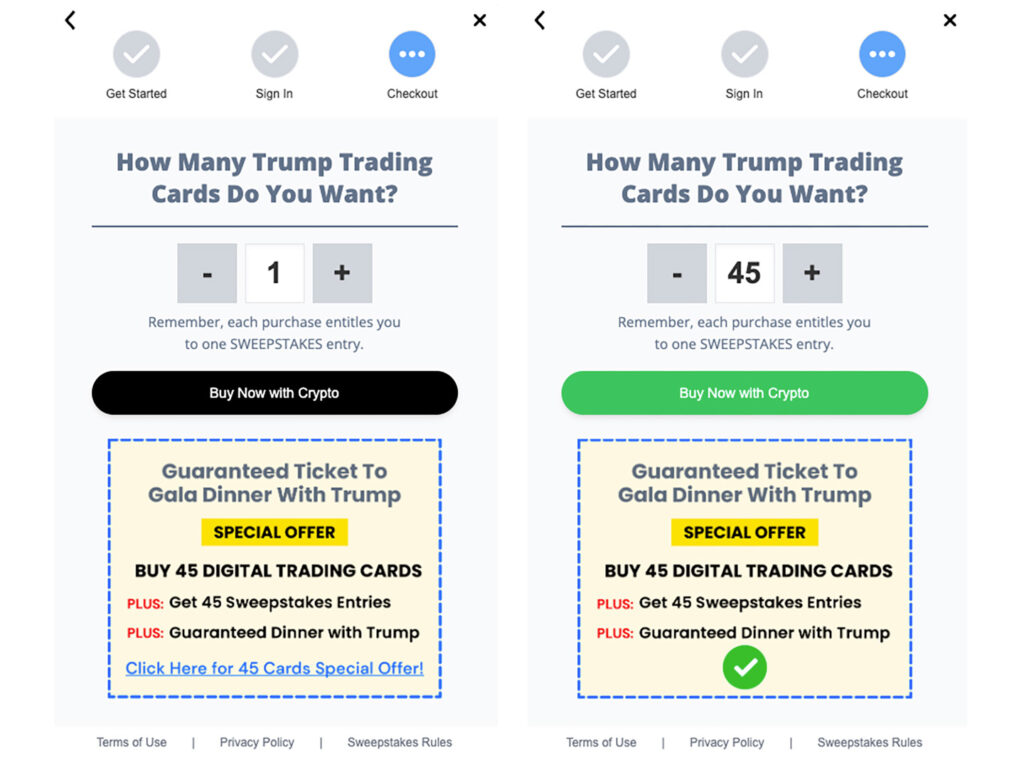 Collectors who purchase one of the digital trading cards will be automatically entered into a "sweepstakes" to receive experiences with Trump, including a zoom call, a dinner in Miami or a cocktail hour at Mar-a-Lago. The trading cards will have rarity traits from one-of-ones to "2, 5, 7, or 10 copies. No Trump Digital Trading Card will have more than 20 copies in existence" according to the site.
Although Trump said he was "not a fan" of cryptocurrency in July 2019, he appeared enthusiastic to promote his new collection. "GET YOUR CARDS NOW! Only $99 each! Would make a great Christmas gift. Don't Wait. They will be gone, I believe, very quickly!" he wrote in a post on his platform.
The site also features a promotional video from Trump, in which he declares "Each card comes with an automatic chance to win amazing prizes like dinner with me. I don't know if it's an amazing prize but it's what we have."
The project initially received criticism on Twitter, with some labeling the collection a "scam." Others noted previous reports of his questionable 2020 campaign fundraising efforts and allegations of murky spending.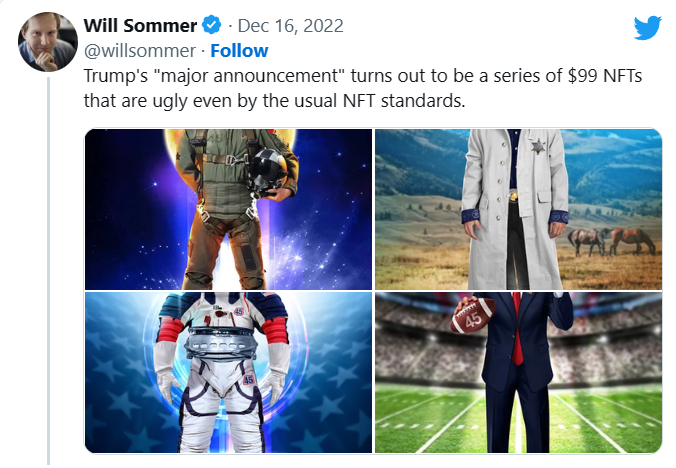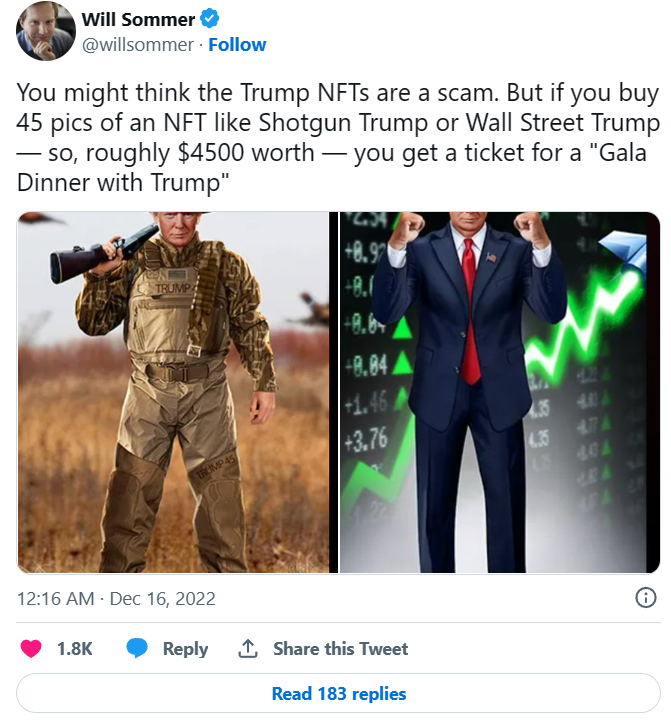 Shares of Digital World Acquisition Corp (DWAC), a special purpose acquisition company (SPAC) that entered into a proposed merger deal with Trump's social media company, was down by about 7% following the announcement.
While this is President Trump's first official NFT project, the former First Lady, Melania Trump, launched her debut NFT collection "Cobalt Blue Eyes" almost exactly a year ago.