Social media has become a wild, untamed beast. What if we could take back ownership? Aave & Lens Protocol have the answer
Lens Protocol is a blockchain-based open-source social graph designed to reshape social media concepts in the age of Web 3 and decentralization. It enables creators to own the connections between themselves and their communities, resulting in a fully user-owned social graph.
Lens was introduced in early 2022 and received a lot of attention in the crypto community due to its social networking product and the well-known Aave team developing it. Familiarity working in its favor!
The protocol seeks to address significant flaws in the current social media environment. It does this quite successfully by gradually gaining a base of dedicated users from a Web 3-ready community.
How does Lens Protocol work?
When users make a profile, they're making a reusable NFT. This interactive NFT saves their content, comments, likes, and reposts. A wallet address is associated with their profile.
Value for fans/creators:
Users can receive a tradable NFT for being a loyal fan of someone's publication
As a content creator, you can control who can view your publication
Creators can charge others a fee to access certain content.
Lens Protocol relies heavily on modules (smart contracts with code that run under specific conditions). Users can access modules to add custom functionality to features like Follow, Collect, and References.
Here's how to get started:
Create the Profile NFT
Follow and Post anything
Like what you see
Create and Collect a publication
Experience all the dApps
Some useful links if you want to join and experience Lens👇:
Users need an NFT Profile which can be bought on Opensea using $USDC or $WETH on the Polygon Network
Claim your handle and edit your profile
There are two dApps you should check out building on Lens:
ORB – social media platform where users have ownership
What makes Lens unique?
NFTs and modularity. The protocol relies heavily on establishing user profiles as NFTs.
As a system property, modularity refers to innovation, availability, and connectivity. The social graph of the Lens is open to all creators who want to propose and implement new features.
Because of these mechanisms and the lack of a central actor controlling information, new social media networks can emerge while preserving free speech. Something invaluable, I mean Elon Musk spent $44B trying to save free speech in Web 2.
Lens Protocol Risks
Because blockchains frequently have limited on-chain storage capacity, not all content and NFTs can be stored on this level and must be stored offchain.
The storage issue is inextricably linked to security concerns. Original files may be lost or damaged if not recorded on a blockchain.
There is also a risk of smart contracts and NFT maintenance because there are several scenarios in which hackers can attack networks.
Will Lens Protocol have a token?
$LENS does not exist at the moment. But the protocol is compatible with wallets like MetaMask, Gnosis Safe, and Argent, allowing for interoperability.
There are numerous areas to explore within the Lens ecosystem, including:
Social media
Creator monetization
Curation
Community tools
Analytics
Algorithms
DAO tooling
Developer tooling
Identity
Bridges
Music
Events
Loyalty
Here's an overview of the Lens ecosystem done by Polygon Daily: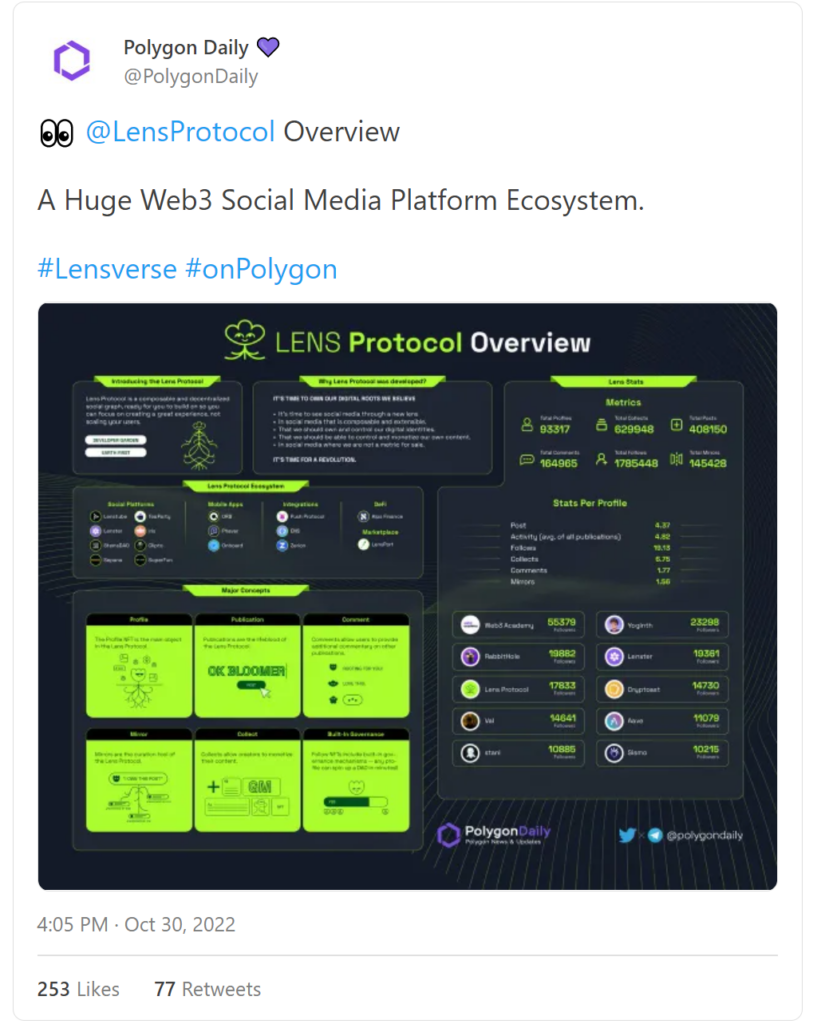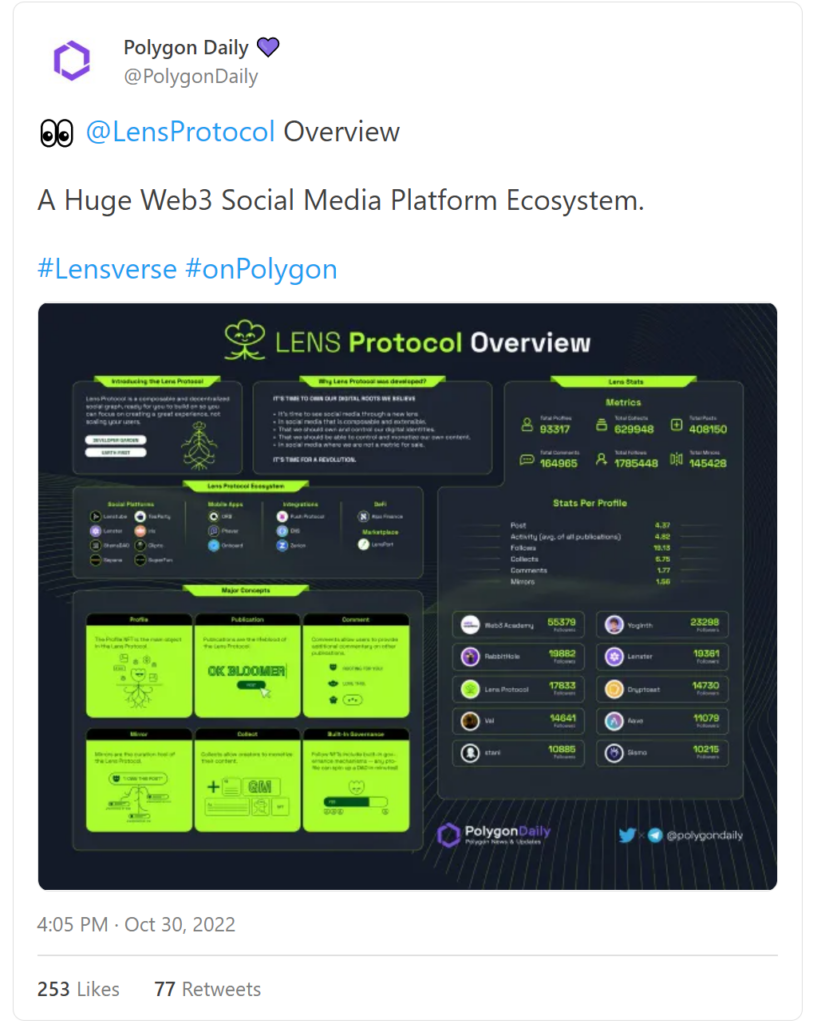 Future plans
Lens is currently a multisig Web 3 platform, but the team intends to transform it into a DAO to give users a say in decisions. They would be able to vote on new features and modules that were proposed. A native token could be a future addition.
Interested in experiencing Lens IRL? On Dec 8,
Nader Dabit is hosting a Lens community event in Mexico City. They'll be giving an introduction to Lens, as well as a developer workshop, and all attendees will be able to claim a Lens handle.