Having gone through the "year of the NFT" in 2021, some pioneering NFT project owners started to put their ideas into practice in 2022. In this section, we will take a look at some of the high quality projects that have made amazing developments or achieved good market results in 2022. Most importantly, these projects have contributed significantly to driving NFT culture to greater heights.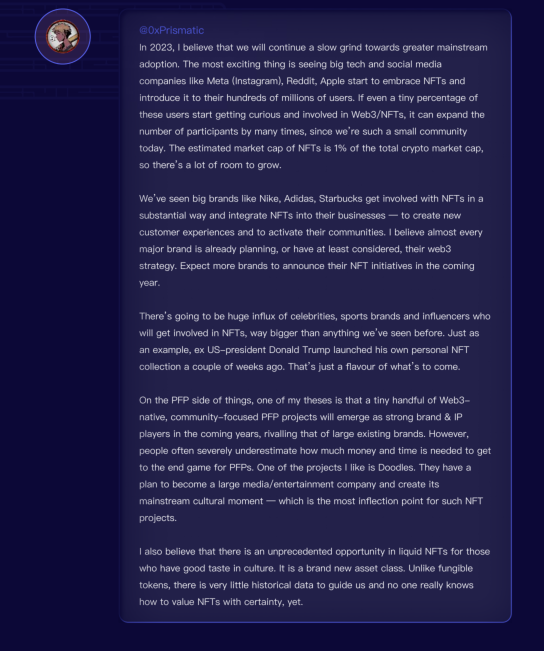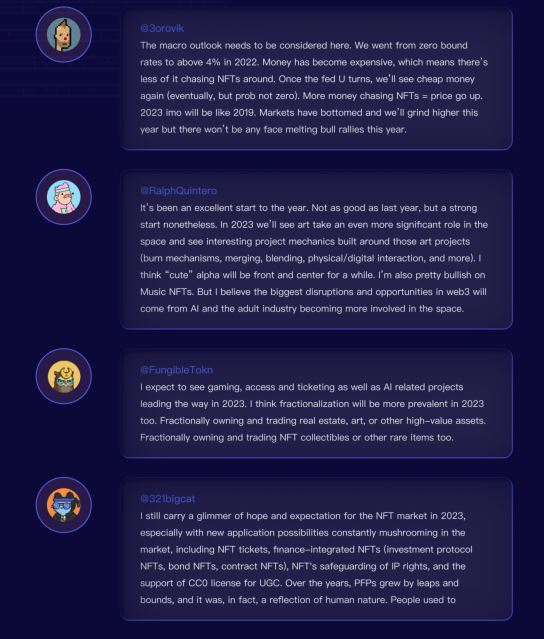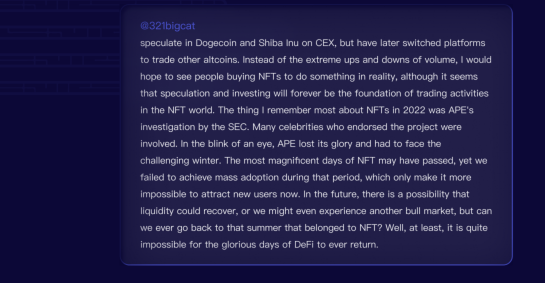 Blue Chip Collections
Bored Ape Yacht Club: Ready to tackle the gaming industry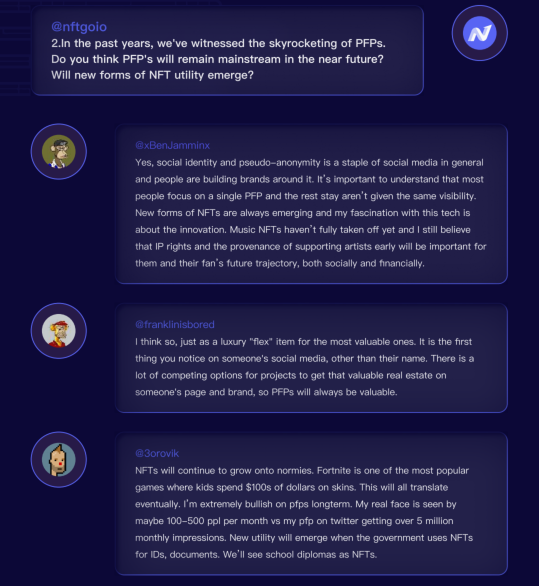 Bored Ape Yacht Club is an NFT PFP project created by Yuga Labs, which was founded in February 2021.
Following the success in 2021, BAYC's hype continued through the first half of last year as the floor price was seen surmounting 100ETH in January and peaking at 150ETH in April. In addition to its impressive performance in the secondary market, Yuga Labs branched out and expanded its ecosystem with numerous milestones achieved in the NFT space last year.
1. $450 million raised through financing
In March, Yuga Labs secured $450 million from a16z and other investors with a valuation of $4 billion. This was the biggest amount ever raised in the NFT space. The funds will be used to expand the team and businesses, and to develop a new metaverse project named Otherside.
2. The acquisition of CryptoPunks
March saw a series of acquisitions by Yuga Labs of IPs created by Larva Labs: CryptoPunks and Meebits. Included in the acquisition are the rights to use these IPs for branding, artwork copyrights, etc. On July 29, Yuga Labs announced that the royalty on all secondary market sales of Meebits would be revised from 0% to 5% for operational purposes. Now, Yuga Labs has advanced from owning an individual NFT PFP project to building an NFT matrix, and it still plans to further expand its IP universe through NFT.
3. Launching ApeCoin
Yuga Labs released ApeCoin in March and claimed that the token would be used for RPG and DAO. Moreover, its soon-to-be-launched metaverse project Otherside will be adopting ApeCoin to trade lands. The staking of $APE went live around November.
4. Land sales in the metaverse
On May 1, Yuga Labs released Otherdeed for Otherside, metaverse land project. The news quickly became one of the hottest events of the year in the crypto space. On that day, traders flooded into the market and caused a steep upsoar in gas fee. It cost traders at least 305 $APE (about $5800 at the time) and a whopping $10,000 in ETH gas fee to buy into Otherside.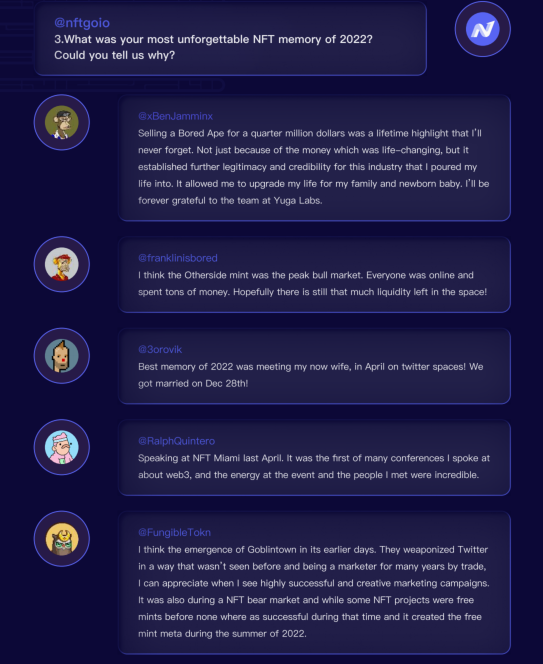 5. Developing MMORPG games
In July, Otherside held its first stage of load testing whereby landowners of the project could participate. The feedback received was good. Following that, the development team promised that gaming features will be powered by Improbable's M² technology and players will be able to voice-chat naturally while playing. In addition, the team will utilize machine learning to solve bandwidth and rendering problems in order to handle more than 500 million operations per second, which will ultimately contribute to an immersive experience for users.
In December, Yuga Labs hired Daniel Alegre, former president and COO of Activision Blizzard, as its new CEO. The move set a strong foundation for the team's venture into the gaming industry and is a show of Yuga Labs' determination to bet on the game.
6. Future development
We can find some clues about the future plans of Yuga Labs and Bored Ape Yacht Club in a funding deck from Yuga Labs. The document begins with an analysis that addresses the biggest problem of the current Web3 metaverse: isolation and the lack of association between different NFT roles. Therefore, Yuga Labs' initiative is to build an interconnected and interactive metaverse that features sustainable stories. So far, actions of the team tell us that Yuga Labs has begun on the journey to completing this puzzle.
Azuki: Establishing streetwear brand to integrate the physical and the virtual
Azuki is an ACGN project launched in January 2022 and is backed by a California-based US company with a team of four founders. It adopts Dutch auction for NFT mints and incorporates the new NFT smart contract standard ERC-721A. With a starting price of 1 ETH, the project sold out within 1 minute.
However, in May, the price of Azuki briefly plummeted due to the inappropriate comments of founder ZAGABOND.ETH, but Azuki still plays a very positive role in promoting the development of NFTs. Its unique art style evoked extended discussions on NFT aesthetics, while the iterations of mint contracts also led to breakthroughs in NFT technology. The project's online and offline integration has driven the progress of NFT community culture as well.
1. Financing
Chiru Labs, the parent company of Azuki, has raised $30 million in its latest Series A round, which will see its valuation rise to $300-400 million. However, the news has not been confirmed by Chiru Labs.
2. An attempt at fractionalization and community governance
When Azuki was first released, Azuki #40 Bobu, an NFT reserved by the team, did not go on sale. Last year, the NFT was fractionalized and broken into 50,000 shards that each adopt the ERC-1155 standard. Holders of Bobu Token are eligible to vote on the future development of Bobu NFT and community governance. This approach is a viable way to solve the liquidity issue of NFTs.
3. Launching Beanz to reach a bigger audience
In April, Azuki released a total of 20,000 Beanz NFTs, of which 10,000 were airdropped to Azuki NFT holders and the remainder could be freely minted by the public. What's more, Beanz was also assigned the persona of "Azuki's partner", which allows users to integrate Beanz with their Azuki without changing the original Azuki NFTs. Beanz has lowered the threshold for new users to join Azuki's ecosystem and created innovative ways to integrate Azuki NFTs.
4.Integrating virtual and physical worlds with PBT
In October, a new open source token standard PBT (Physical Backed Token) was officially launched on Twitter, aiming to support the binding of physical items to blockchain as a way of rendering new experiences that integrate physical and virtual elements. Azuki has given it the name "scan-to-own".
Azuki's team has been advocating the integration of on-chain community and offline events, which can be seen all year long through Azuki's official physical events and self-initiated community events. In June, Azuki held an offline event themed "Enter the Alley" at NFT.NYC, the world's largest NFT event, showcasing a variety of art installations, tattoo stores, physical merchandise and more.
5. Future development
According to the official plan, the team will build metaverse games, 3D virtual scenes, etc. around this IP. Besides, physical merchandise comics and clothing are also coming along with offline events including fan meetups and music festivals.
In addition to the information on Azuki's roadmap, we find the brand's determination to become a well-rounded brand and IP through a series of activities such as live installations, music design, food booths, tattoo stores, physical merchandise, etc. At the same time, Azuki has also made it clear through Bobu the Bean Farmer and Beanz NFT that it will continue to explore community governance and co-creation.
Doodles: Assortment of entertainment and emerging consumption
Doodles is an NFT released on October 17, 2021 by Canadian artists Scott Martin, Evan Keast, and Jordan Castro.
Doodles started at 0.123 ETH and soared to a peak of 20 ETH in May last year — a result inseparable from the series of empowerment strategies implemented. Doodles' business expansion plans after its financing also allowed us to gradually see the blueprint of the brand and its potential in turning PFP NFT into a form of entertainment.
1. $54 million raised through financing
In the midst of a generally sluggish market in September, Doodles raised $54 million in equity funding with the support of Reddit co-founder Alexis Ohanian's 776.
2. Developing games based on Space Doodles
In March, Doodles launched the Space Doodles conversion portal. Space Doodles is not a new NFT series for airdrop, Doodles holders can convert Doodles NFTs to Space Doodles NFTs anytime, or vice versa. In June, the brand announced its plan to team up with game developers to create a game named Space Doodles V2.
3. Venturing into the music industry with Doodles Records
Last year, Doodles established a new division called Doodles Records and partnered with Columbia Records to release a music album associated with the documentary Doodles Records: Volume 1 (executive produced by Pharrell and designed by Scott Martin). Through its move into music, Doodles has accomplished the convergence of NFT music and visuals. For example, Doodles 2 users will be able to layer music into their new animated NFTs.
4. Doodles 2 is underway
In June, it was announced that Doodles 2 supports customizations of Doodles NFTs. The original image can be decorated with different wearable and accessory NFTs and stored on-chain, gas-free. Since Doodles 2 showcases dynamic NFTs, owners can change their appearance as they wish. Other perks include switching between full body or PFP views, unlocking animated versions of their NFTs, and original music.
Simultaneously, NFT Dooplicator (which brings rare OG features to Doodles 2), wearables NFTs The Genesis Box, and the documentary Doodles Records: Volume 1 are the projects that will be complementing the evolution of Doodles 2.
5. Future development
Regarding the future, Doodles co-founder Keast has repeatedly mentioned that the ultimate goal of Doodles is to become a comprehensive Web3 entertainment company. This year, we have also witnessed the team taking initiatives to facilitate this goal. In addition to the implementation in the Web3 space, Doodles has been expanding its user base with measures such as allowing users to pay with credit cards instead of cryptocurrency to purchase characters and animations.
Furthermore, the company's addition to the board of directors — famous pop singer Pharrell Williams as the new chief brand officer, and the new partnership with e-commerce platform Shopify are expected to bring in more users from the entertainment industry. It is expected that the team will integrate music, games, animation and other entertainment products to form a new entertainment consumer complex.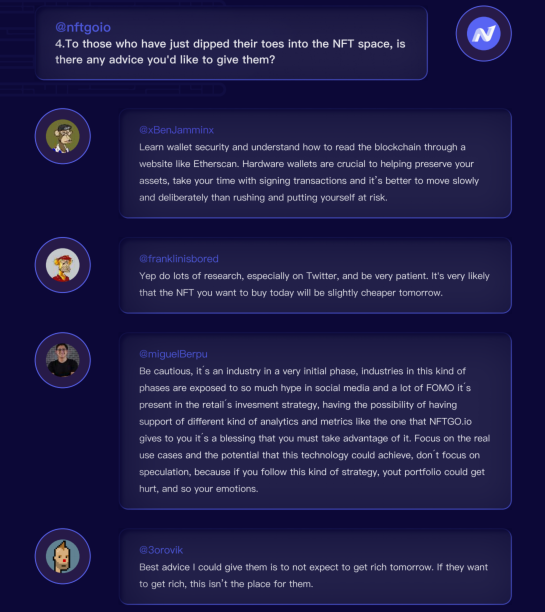 Moonbirds: Social platform with practicality
Moonbirds is a PFP NFT launched by PROOF Collective, a podcast community founded by Kevin Rose. With a floor price spiking up to 34 ETH this year and its ability to maintain a high trading volume for a long time, Moonbirds' launch is undoubtedly the most classic example of PROOF Collective's influence. Plus, the project's PASS and funding approaches are also followed by many.
1. $50 million raised through financing
Shortly after Moonbirds' launch in April, Kevin Rose announced that Seven Seven Six (Reddit co-founder Alexis Ohanian's venture capital firm) had invested $10 million in PROOF. Subsequently, in the second half of the year, PROOF announced the closing of a $50 million Series A round led by a16z.
2. Empowering practicality
Moonbirds emphasizes that NFT holders can access PROOF's private Discord channel, which allows users to communicate directly with PROOF founders and PROOF Collective, as well as participate in various Moonbirds benefits and access to future PROOF projects. The PASS attribute of the project is further accented throughout.
3. Launching Moonbirds Oddities
The airdrop of Moonbirds Oddities was announced in May of this year to NFT holders. When the project was launched in July, the supply was 10,000 NFTs, some of which were airdropped to Moonbirds holders. On August 10, the floor price of Moonbirds Oddities NFT series was 0.78 ETH, which is about $1,388.
4. Moving to CC0 and establishing Moonbirds DAO
In August, Moonbirds officially announced the moving of Moonbirds and Moonbirds Oddities to CC0 (the "no copyright reserved" option in the Creative Commons toolkit ) and the establishing of Moonbirds DAO. These approaches enable any user to create derivative work based on this NFT project without having to buy or hold the NFT. This means that anyone can turn Moonbirds and Oddities images into derivative artworks and products for branding purposes.
5.Supporting offline collaborations
The PROOF team has also been promoting collaborations with artists this year, such as the Curated brand, which allows well-known creators to publish the work of their favorite artists. On the other hand, the Genesis brand will feature NFT projects from famous traditional artists. As we can see, CC0 and offline collaborations are some of the most important strategies for PROOF to increase popularity and brand awareness online.
6. Launching tokens and Mythics
After the financing, the team revealed its upcoming PFP series — Moonbirds Mythics. Moonbirds holders will get a Mythics NFT by staking their NFTs, while Oddities holders can destroy their NFTs in exchange for one. At the same time, the team announced that the full reveal of its token program will take place in the first quarter of 2023.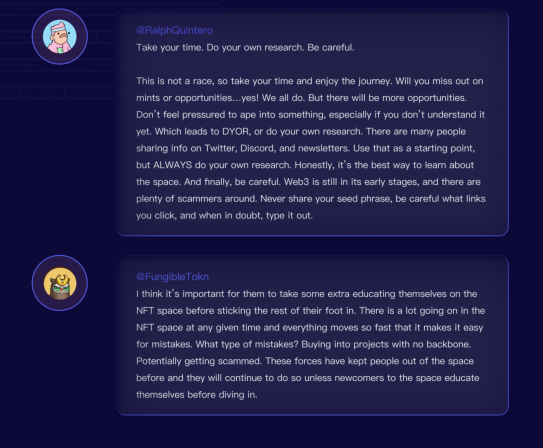 7. Future development
The PROOF team is very determined that Moonbirds will be like a starter for the early funding of a Web3 company, after which they will quickly start building a more substantial Web3 business for the startup.
In several interviews Kevin Rose participated in, we found him emphasizing the concept of a social platform and revealing that Moonbirds was building a "social platform of the metaverse" that would be launched first to Proof members and Moonbirds holders, with exclusive content for holders and then to the outside world. PROOF's team has always been highly motivated to highlight the practicality and spreadability of the platform, and it is believed that the launch of the new series of NFTs and tokens will also contribute to this goal.
Clone X: Three-in-one and crossing over to the metaverse
Clone X NFT is a PFP-like NFT launched in November 2021 by digital fashion brand RTFKT Studios and Japanese artist Takashi Murakami. It was recognized as a blue chip NFT project upon launch, with a floor price of nearly 20 ETH in April of this year.
The founding team, RTFKT, received $1.5M in angel funding back in 2019, $8M in financing led by a16z in 2021, and was acquired by Nike in December of the same year. The acquisition brought RTFKT a large fan and customer base. Clone X NFT is now the centerpiece of the RTFKT ecosystem, and this year they have made significant strides in Web3 virtual goods and digital streetwear brands.
1. Continuous airdrops of virtual goods
(1) Space Pod NFT allows holders to showcase virtual items they own in a space. In April, officials airdropped MNLTH to holders, from which users can find virtual shoes, EVO X, and MNLTH 2.
(2) In August, RTFKT's apparel for Clone X holders went up for sale. The apparel line "Clone X Forging" includes T-shirts, sweatshirts, jackets and coats, down jackets, pants, hats, and sneakers. Each clothing piece comes with an NFT version for users to wear in the virtual world, and a physical version for NFT users to redeem for physical wearable.
2. Clone X Story Mode
On October 5, a promotional video for "Clone X Story Mode" was released. Two days later, another scene featuring a Clone X avatar holding an egg-shaped device that contains an unknown creature was revealed. On October 8, a new video unveiled that the egg contains a new character named "Animus". RTFKT stated that EGG will be an element of its next metaverse project Animus. This series of actions indicates that Clone X has drawn the curtains on a new story.
3. Collaborations with offline brands
The company teamed up with RIMOWA in October to release the co-branded luggage NFT that combines craftsmanship with the virtual realm. Through its success in the Web3 space, RTFKT has released a series of assets in conjunction with RIMOWA, including four different wearable devices for avatars. In addition to the digital and physical versions of the luggage, users also have the opportunity to purchase a RIMOWA x RTFKT WorkerBot.
4. Future plans
Although Clone X was originally released as PFP NFTs, RTFKT seems to have placed more emphasis on defining Clone X as an NFT avatar. For example, Clone X has been giving the impression of a 3D model since its creation and all Clone X NFTs have their own 3D modelling files. Moreover, Clone X was given a complete body in the latest video. At present, RTFKT is still testing out the AI programming for avatars. If all goes well, Clone X will enable AI chip implants to allow for interactions with its holder. Coupled with other VR devices, the three-in-one concept of NFT+AI+VR can be achieved. Besides, the brand's collaboration with Nike provides it with more opportunities to experiment with offline streetwear brands and virtual goods.
The team revealed that Clone X will explore several application scenarios in the future and the limit of development is relatively high. The company promises that the current Clone X is only a part of the entire RTFKT ecosystem and that it will not only develop more spaces centered on Space Pods, but also cooperate with more brands to bring in application opportunities and scenarios. In addition, the company aspires to bridge into a diverse range of metaverses like Decentraland and SandBox, which will allow Clone X avatars to be used within.
Innovative Concepts
We selected several NFT projects that have sparked a great hype in the NFT market this year. All of them excel in market performance and project design. For more real-time data on these projects, visit nftgo.io
Among new NFT releases in 2022, goblintown.wtf accounted for the largest volume — 70K ETH, or 42% of the total volume of emerging NFTs. goblintown.wtf is an NFT collection based on Ethereum that consists of 9,999 goblin-themed PFP images. Due to its free-to-mint characteristic, the collection's floor price soared from 0.244 ETH on May 21, 2022 to 6.8 ETH at one point in time.
goblintown.wtf: Ugly goblins going viral
The project distinguishes itself from the mainstream NFT project by its ugly, and crudely hand-painted art style. There was no roadmap and Discord community at the beginning of this project's release. Besides, the creator decided to adopt a free-to-mint basis. A few days into its launch, the project caught the attention of KOLs like Mike Dudas, the founder of Linksdao, and Steve Aoki, a music producer. The floor price reached as high as 6.85 ETH.
The goblintown.wtf team is known for their marketing skills, especially story-telling through a unique style. For example, as seen on the project's website, the team designed a cool animation and a dialogue between two goblins to bring out the atmosphere of the village. In addition, its official Twitter account tweets very frequently, thus attracting a large number of users. Amidst a cold NFT market, NFT enthusiasts find the satirical style and unusual marketing agreeable. The project also sparked new discussions around NFT with its innovative marketing approach and NFT consensus.
The GODA Mint Pass: A new paradigm for business incubators
The GODA Mint Pass is an art pass NFT launched this year. The project is also an incubation platform backed by celebrities and artists. On the day of launch, its floor price skyrocketed to around 7.4 ETH and peaked at 10.89 ETH. Thus, the project successfully attracted further attention to the pass attribute in the NFT space. The GODA Mint Pass is different from most of the projects in the market, because it has a strong celebrity endorsement and team resources to ensure the practical rights and interests of holders. At the same time, the supply is only 1,000, which upholds rarity for its members.
The team comprises celebrities from the music, fashion, and Web3 fields, including the 13-time Grammy Awards winner Pharrell Williams, Neff Headwear founder Shaun Neff, famous art collector Kramer, and artist Nina Chanel Abney.
The GODA has a team for art commercialization. For traditional artists, The GODA offers artists and their works complete access to the Web3 world for NFT launch and operation. Following the launch, The GODA provides full support for branding, operation, expansion of influence, and commercial revenue. Therefore, The GODA Mint Pass has become one of the leading pass NFTs for traditional artists' transition into the Web3 world.
Launched on July 13, Nina's Super World was the first project of the team, which was also created by one of its core artists Nina Chanel Abney. The artist has been well-recognized by several museums for her work. Seeing her NFTs reaching a floor price peak of 1.1 ETH in August, it is apparent that her venture into the NFT world has achieved good results as well.
The Potatoz: The road to NFT for Web2 social media
The Potatoz is officially endorsed by Memeland, an NFT project launched by 9GAG. 9GAG has a global audience of 200 million people on its website, app and social media sites like Twitter, and is known for its meme culture.
The Potatoz NFT is a ticket to the Memeland ecosystem. Produced by Memeland and 9GAG, the project is a prequel to the main series Memeland Captains. There are 420 premium alpha-group membership passes in the ecosystem. Membership benefits include 2 free Memeland Captains quotas and whitelist admissions to all future Memeland and 9GAG projects (like The Potatoz).
The Potatoz reached 5,000 ETH a day after its release and the price is currently stable at around 2.5 ETH. Gary Vaynerchuk, founder of VeeFriends, and Kevin Roose, founder of Moonbirds, are both involved in the project. The Potatoz has become a successful project that fuses Web2 and Web3 culture together with NFT and is well known for its pop culture.
RENGA: The NFT style of "long-termist" artists
Renga has a unique art style. It is the second generation of DirtyRobot's NFT productions. The other two collections associated with DirtyRobot are Renga Black Box and The Art of Seasons. These NFT collections caused a big hit in September, occupying 20% of the daily NFT trading volume on September 18 alone. The current floor price of Renga is 1.39 ETH.
Renga's success is inseparable from its art style. DirtyRobot has exhibited a prominent printmaking style since its first NFT collection named The Art of Seasons, a style that has breathed new life into the NFT market. Many KOLs have even taken the initiative to display it as their Twitter background image.
Secondly, the support from its user community. Since March, the brand has launched The Art of Seasons, airdropped Genga Black Box and released it publicly, and finally burned Renga Black Box to obtain Renga. The long operation of the project has screened out a large number of speculators, thus leaving behind users who truly value the work and those who will become loyal holders of the project.
Renga's market performance has also proved that high quality work is still favored by users in the NFT market. This has also encouraged many artists who are committed to longtermism.
QQL: The NFT of generative art
QQL is a generative art NFT collection on Ethereum created by Tyler Hobbs, the founder behind the Fidenza algorithm on Art Blocks. QQL artworks can be generated with a fine-tuned algorithm deployed to the chain. With the official tool site provided, users can generate waves of large and small colored circles. Anyone can create unique artistic images using QQL's algorithm, but only the purchaser of the NFT can generate and mint the final artwork as an NFT.
QQL was launched in October of last year. However, QQL managed to pump its floor price to 20 ETH upon launch, which certainly captured the NFT industry's attention.
To begin with, this engagement and interaction with collectors established a new paradigm for the creation and ownership of NFTs. It also gamified the minting process of NFTs and gave holders the opportunity to become artists.
Following that, those who generated specific seed artwork also received a portion of the royalties obtained from reselling the artwork, which is a new idea for creators' income.
Art Gobblers: Validating innovative theories with actual practices
Art Gobblers is an NFT project released this November by Justin Roiland and Paradigm. Justin Roiland is a voice actor, animator, producer and director, known for his voice in the animation "Rick and Morty", and Paradigm is a well-known crypto investment agency. This combination has garnered Art Gobblers a decent amount of attention.
In less than a week since its launch, Art Gobblers' floor price has soared to 11.95 ETH. However, the floor price is currently down to 1.65 ETH, leaving aside the short-lived hype. The collection adopted multiple innovative mechanisms, including Variable Rate GDAs and Gradual Ownership Optimization (GOO), both of which are useful in addressing the common challenges encountered by current NFT projects.
On NFT creation, Art Gobblers also provides drawing tools to encourage users to create their own artworks. These creations will then be "digested" in the belly of the Gobblers to produce unique and collaborative NFTs. Essentially, this is one of the innovative mechanisms of the project.
Future Trends
Post-funding: Transitioning from the virtual world to the tangible reality
In late March, Yuga Labs, the parent company of Bored Ape Yacht Club, announced the closing of a new $450 million funding round at a $4 billion valuation. This round of investment is led by a16z, as well as supports from Animoca Brands, Coinbase and MoonPay. Being a benchmark for quality project parties, Yuga Labs' funding immediately triggered copycat actions from other projects, such as Doodles, Azuki, Moonbirds, DigiDaigaku, etc. These blue chip collections prompted their own financing procedures and successfully raised several rounds of funding in the range of over $10 million in less than a month. Against the backdrop of a bear market, this phenomenon is extremely conspicuous.
Some call it a "self-rescuing" act by blue chip NFT projects to cash out before the market turns cold. However, we can still grasp some trends from the statements released by these projects after announcing the funding. Firstly, Yuga Labs has made a series of moves after the announcement, which includes the expansion into crypto with the introduction of a DeFi mechanism that features ApeCoin. Secondly, Yuga Labs invested heavily in terms of both manpower and resources to develop metaverse games. It has also been adjusting its team composition to become more achievement-oriented by hiring Daniel Alegre, former President and COO of Activision Blizzard, as its new CEO. Yuga Labs is transforming from an NFT project to a brand supported by physical businesses in Web3, gaming, and IP, thus completing its transition from the virtual world to the tangible reality.
Source: Yuga Labs Pitch Deck
Furthermore, Doodles 2 concept, Moonbirds' Project Highrise, and Azuki's roadmap all foreshadow the development of physical applications to bring business scenarios into reality. In this round of the bull market cycle, these blue chip projects have each ushered in their own window in which to evolve. There is no doubt that new projects will emerge in the future to overtake those that are struggling. Hence, converting the influence they currently have into long-term strategies such as "chips" for business negotiations and a leverage for resources seems a more secure option.
The unveiling of the physical implementations of some NFT projects.
Continuous userbase expansion
The boom in NFT projects since last year has attracted a large number of speculators. In order to preserve the long-term health of their projects, creators have started to intentionally screen users.
Usually, before a quality project releases its NFTs, creators would design a mechanism to pick loyal users. The most practical one is the whitelist system, which raises the threshold of seed users and reduces the cost of reaching a consensus in the early stage of the project. However, when a project reaches the middle stage of development, such a system becomes an obstacle to attracting new users. In the past year, all NFT projects that performed well in the market have carried out "secondary issuance" or "sub-series issuance" to cater for users with different needs. For example, the BEANZ series is priced at one-tenth of the price of the Azuki collection with a supply of 20,000 units, and Azuki's fractionalized series #40 Bobu is priced at one-hundredth of the price of the Azuki collection and comes with a supply of 50,000 units. In addition to this, projects like Doodles, Cool Cats, PROOF, etc. have designed NFT collections of different price points. These derivatives are as follows:
The derivative projects of some of the blue chip NFTs.
By issuing sub-series and fractionalized NFTs, a price difference is created. With this method, users with different consumption structures are able to purchase their own NFTs series, thus allowing a diversified user base to exist in the NFT market and generating more revenue. This trend is expected to last until 2023.
Refinement of concepts
This year, many fresh NFT designs have entered the market, including art styles, values, contracts, concepts, etc. At the same time, they are more versatile compared to the past, which allow for more possibilities for NFTs to be applied in PFP, gaming, music, and other niches.
Innovations in NFT-related contracts:
ERC721, ERC721A, ERC721s, ERC721P, ERC721G, ERC7210, ERC1155, ERC4907, ERC2981, ERC5192
Innovations in NFT concepts and approaches:
Omni-chain NFT (LayerZero), generative art (QQL), ugly-style marketing (goblintown.wtf ), CCO (mfers), equity avatars, gamified interaction, metadata storage, dynamic variability, delicate drawing style, multiple burn upgrades, etc.
Examples of topical NFTs
NFTs that integrate with reality:
Commemorative event NFT (World Cup, Proof of Merge), celebrity NFT (Neymar Jr.), physical merchandise NFT (RIMOWA x RTFKT), IP incubation NFT (The GODA Mint Pass), etc.
It is predictable that iterations of technology and design will render NFT with more diverse concepts. Current projects will continue to inspire new designs, resulting in the gradual refinement of NFT categories. Moreover, as tradable NFT categories on the market become abundant, people will place more emphasis on practical feature designs and reasonable value designs.