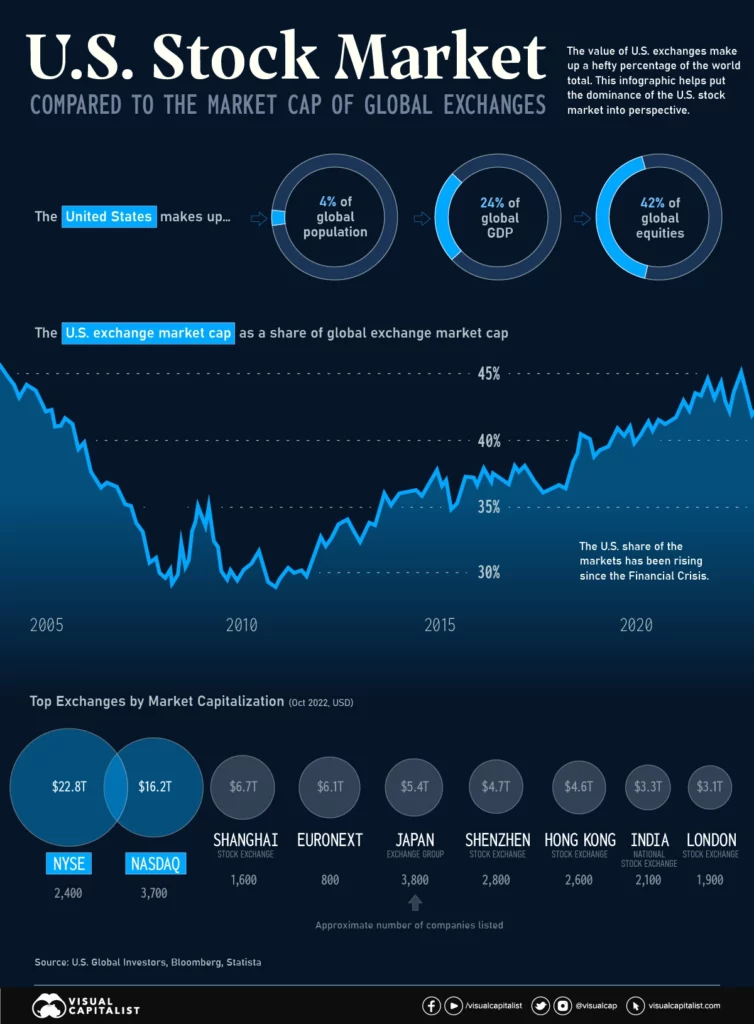 Visualizing the Global Share of U.S. Stock Markets
One of the most potent symbols of American financial dominance is the combined market capitalization of the country's two biggest stock exchanges⁠—the New York Stock Exchange (NYSE) and NASDAQ⁠.
These two major listing hubs dwarf all other exchanges around the world. In fact, the NYSE on its own is larger than the Shanghai, Shenzhen, Japan, and Euronext exchanges put together.
| Rank | Exchange | Market Cap (Oct '22) | Location | Approx. # of companies |
| --- | --- | --- | --- | --- |
| #1 | NYSE | $22.8T | United States | 2,400 |
| #2 | NASDAQ | $16.2T | United States | 3,700 |
| #3 | Shanghai Stock Exchange | $6.7T | China | 1,600 |
| #4 | EuroNext | $6.1T | Europe | 800 |
| #5 | Japan Exchange Group | $5.4T | Japan | 3,800 |
| #6 | Shenzhen Stock Exchange | $4.7T | China | 2,800 |
| #7 | Hong Kong Stock Exchange | $4.6T | Hong Kong SAR | 2,600 |
| #8 | National Stock Exchange of India | $3.3T | India | 2,100 |
| #9 | London Stock Exchange | $3.1T | UK | 1,900 |
| #10 | Toronto Stock Exchange | $2.7T | Canada | 1,500 |
One of the key reasons for this dominance is the sheer size of the U.S. economy. With a GDP of over $25 trillion, the U.S. economy is the largest in the world, and American exchanges are home to some of the world's largest and most valuable companies, including tech giants like Apple, Amazon, and Microsoft.
As of January 2023, the value of stocks listed on U.S. exchanges made up 42% of the global total. How does this total stack up, historically?
The U.S. Share Over Time
For much of the 1970s, the U.S. made up more than half of global stock market value. Over the course of the 1980s, the U.S. share of the global total began to dip, driven in part by the asset price bubble in Japan.
More recently, the U.S. slice of the equities pie bottomed out temporarily around the time of the Financial Crisis, but has been steadily rising ever since.
Will U.S. Exchanges Ever Be Surpassed?
U.S. stock exchanges have several advantages that make them attractive to investors, including strong regulatory oversight, a stable political and economic environment, and a diverse pool of well-known companies to invest in. The U.S. stock exchanges also have a long history of innovation and technological advancement, which has helped to maintain their position as leading global exchanges.
In 2018, PwC surveyed hundreds of capital market participants on the future of stock exchanges. Respondents felt that, by 2030, many of today's top exchanges would remain popular choices for companies looking to go public.
Despite obvious advantages, U.S. exchanges do face plenty of competition, especially in emerging markets like China and India. The Shanghai Stock Exchange, for example, has seen significant growth in recent years and is now the world's third-largest exchange by market capitalization.
Even as other markets continue to grow, U.S. exchanges are likely to remain a preferred destination for investors around the world for years to come.